Carbon Credits Made Biogas Affordable To Farmers: Piyush Sohani, Sistema Bio
Sistema Bio is a Mexican biogas company that recently opened the world's largest manufacturing unit of biogas plant near Pune in Maharashtra. The plant is spread over 130,000 square feet and has a production capacity of 100,000 prefabricated biogas plants (bio-digester).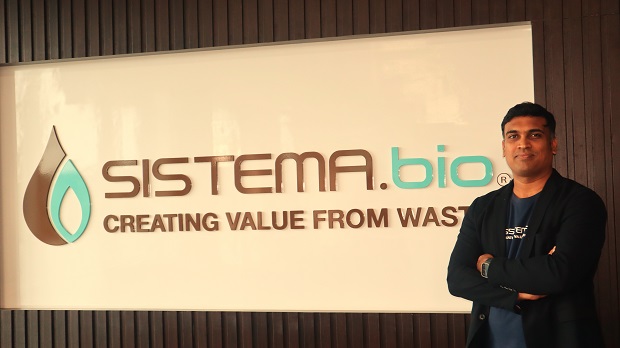 Piyush Sohani, Country Head (India), Sistema Bio. Photo by-IamRenew
Piyush Sohani, Country Director (India) of Sistema, in an exclusive interview with IamRenew, talked about the scope of biogas plants in India, the role of the company, and also how carbon credit trading and CSR funds are making biogas plants affordable to the dairy farmers of India. Excerpts from the interview:
IAR: Why did Sistema choose Maharashtra to open its largest biogas plant?
Piyush: We wanted to establish the plant somewhere in the country's central region. It was because, through this, we could cater to the south as well as the northern parts of the country. We also wanted a location which is closer to ports too. 
Although we have now opened our largest plant in India, we have been operational in India for more than a decade. In the last few years, we did most of our work in states like Maharashtra, Karnataka and Gujarat, but now we have our presence in 21 states. 
IAR: How are you planning to change the landscape of biogas growth in India?
Piyush: Sistema Bio is a technology company. We design, innovate and work mostly in biogas with dairy farmers. To implement this technology successfully in rural areas, we need to get out of working on the technology part alone. 
There was a need to excel in implementation too. We partnered with organizations that had direct relations with the farmers. For example, we collaborated with the National Dairy Development Board (NDDB), which had 17 million dairy farmers with them. This is in addition to our collaborations with other dairy farmers. Such initiatives helped us to work like teams toward the propagation of the technology. We also formed partnerships with local organizations which had rural technicians. We worked with them to reduce our installation and service costs. 
IAR: How did your organization work towards making the technology more affordable for the farmers?
Piyush: We take up innovative financing models. We work with governments and also with corporates who have net-zero plans. We use net-zero, sustainability, and climate finance funding to subsidize the biogas digesters through these financing models. 
We have registered our carbon programme, where we are channelizing climate financing for small farmers. We run a dedicated programme with NDDB through which farmers are able to afford the biodigesters at around Rs 6000-Rs 9000 depending upon the geography. 
IAR: Can rural family households save more by shifting to biogas and your technologies?
Piyush: Any small family living in an urban or rural area requires at least one cylinder per month and ends up investing around Rs 1200 per month on it. If the same family shifts to bio-digester, it can produce all of its required cooking fuel through the biogas produced from our bio-digesters. 
So the only hurdle for farmers is the higher upfront cost. As several farmers get subsidies from several financing models, they pay around Rs 6000 to Rs 9000. So within 6-8 months, these farmers can get a Return on their Investments (ROI). We meanwhile, give a service warranty for 10 years. So with this, calculate the farmers' monetary benefits by shifting to biogas. By using biogas, the farmers become self-producers of their cooking gas without any extra charge. They need to dispose of their cow dung in these bio-digesters regularly. 
IAR: How is the government helping the farmers push them towards deploying more biogas plants? 
Piyush: The governments at the Centre and in states give special incentives for farmers who want to go for biogas. The Union government gives Rs 15000 subsidy per plant whereas different states give anywhere between Rs 4000 to Rs 9000 per plant. 
In addition to this, financing from carbon markets and CSR funds, this technology becomes more affordable for farmers. There are CSR funds from companies like Infosys Foundation, Nesly, and other international corporations, which helped the farmers reduce their higher upfront cost on this technology. 
IAR: Do you think the Carbon Credit market can help Sistema to expand the deployment of their bio-digesters? 
Piyush: Yes. In fact, large funding of several of our biodigesters happened due to our carbon credit trading with an international market through the voluntary carbon credit market. The Union government is now making an inhouse credit programme. The Ministry of Environment and Forest has also announced a Green Credit Market. Both will allow firms in India to trade carbon credit. For this, one needs to generate carbon credits.
We at Sistema are creating these carbon credits. Our one biodigester creates 10 carbon credits in a year. Corporates can buy these credits, and this money will be channelized to subsidize the farmers to adopt these biodigesters. 
IAR: What are the main challenges you see in the growth of biogas plants in India?
Piyush: Earlier, the technology was not mature enough. But now, technologies have become quite robust. We are now also seeing the government pushing biogas more aggressively. It has led to more corporate interest in funding the sector. India produces waste in large quantities, which could be tapped and converted to biogas. 
IAR: Do you have plans to go for Bio-CNG production too?
Piyush: Currently, we are not looking at bio-CNG. We are focused on the decentralized installations of biogas plants. There is ample opportunity in the sector. There are around 17 million farmers who need biogas. We want to confine ourselves to farmers alone. 
IAR: Can we think of utilization of biogas beyond cooking fuel? Any work toward that direction?
Piyush: Biogas could be primarily used as cooking fuel. However, we also sell biogas plants in packages for farmers possessing several cows. They can use biogas not only as a cooking fuel but also to run electrical appliances and power their household and become self-dependent for electricity production. 
IAR: Do you see any lack of support from the government for the biogas sector in terms of policy? 
Piyush: There is subsidy support from the government for biogas consumers, making its affordability easier. However, as per the Paris Agreement, countries can have bilateral agreements to finance technologies and India can become a beneficiary. It can allow India to take the benefit of carbon credits. But so far, the government has not allowed the biogas sector. So we recommend the government to allow small biogas plants under Article 6.2 of the agreement. 
IAR: Besides energy generation, what other benefits do you see with biogas?
Piyush: One biodigester installed for households reduces around 10 tonnes of carbon dioxide emissions. It also reduces the dependency on LPG. If we expand this, there will be a reduction in the greenhouse gases from the agricultural sector. It reduces deforestation and indoor pollution as many rural populations shift from burning wood for their cooking needs. 
IAR: What are your future plans?
Piyush: Our future plan is to reduce 1 percent of global greenhouse gas by 2030. And in India, we plan to install 10 lakh biodigesters by 2030. 
(Visited 164 times, 1 visits today)