Volkswagen Premiers Its Affordable Electric Car ID.3
Volkswagen's electric car ID.3, which first made an appearance as a concept car in September 2016 at the Paris motor show, has come a long way as the parent company is all set to start production of this electric car and launch it next year.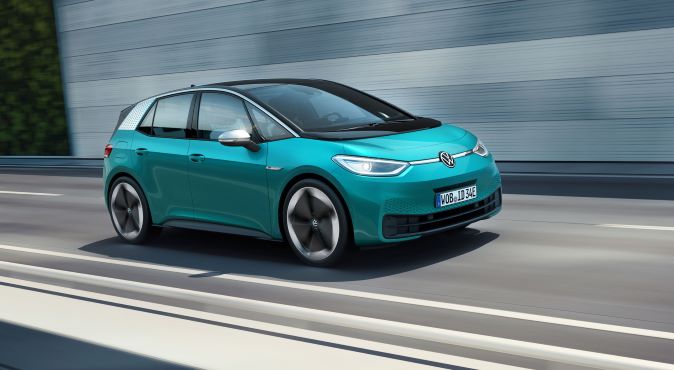 The German carmaker and one of the world's leading auto giant, Volkswagen, has premiered its affordable electric car ID.3 which is a part of its I.D. series at the Frankfurt motor show. This electric car is based on the MEB platform and is said to compete with US electric car maker Tesla.
The company has remained tight-lipped about the launch date but the car will be priced around Rs 24 lakh or under €30,000. VW ID.3 will be rolled out in three variants which will offer between roughly 330 and 550 kilometers of range. However, real-world range may be more like 230–280 kilometers.
The EV is expected to hit the roads in mid-2020 and is being marketed as a long-range e-car.
The ID.3 is an all-electric hatchback that comes in three different battery configurations. The base model of the ID.3 has a 45kWh battery and will offer 330 kilometers of range while the two larger capacity variants of the car will feature 58 kWh and 77 kWh batteries, and will respectively offer around 420 and 550 kilometers per charge.
The car's interiors feature a spacious cabin. Drivers and passengers will find an interior that is quite high-tech. The focus is a new 10-inch touchscreen that adds beauty to the middle of the ID.3's dashboard. VW has also opted to rely on touch-sensitive buttons everywhere in the cabin except windows and the hazard lights. It has an optional 'augmented reality' heads-up display that projects information onto the ID.3's windshield, and voice-activated controls that can be triggered by saying 'Hello ID.'
With its launch, VW can lure the customers of Hyundai Kona, Nissan Leaf ad Tesla as these have long queues for delivery in Europe and America and add that Tesla cars are more expensive as well. So the production capacity at the time of its launch will play a huge role in pre-orders and delivery, and at the same time which markets VW decides to launch and when.
Picture Credit: Volkswagen
(Visited 325 times, 1 visits today)