US Crosses 2 Million headed for 4 Million Solar Installations by 2023
The report forecasts that there will be 3 million installations in 2021 and 4 million in 2023, continuing the swift rise of solar.
A new report has revealed that the United States has crossed the 2 million solar PV installations landmark. Progressing at an astonishing rate, the second million installations came in a period of 3 years after the country crossed the 1 million installations mark in 2016.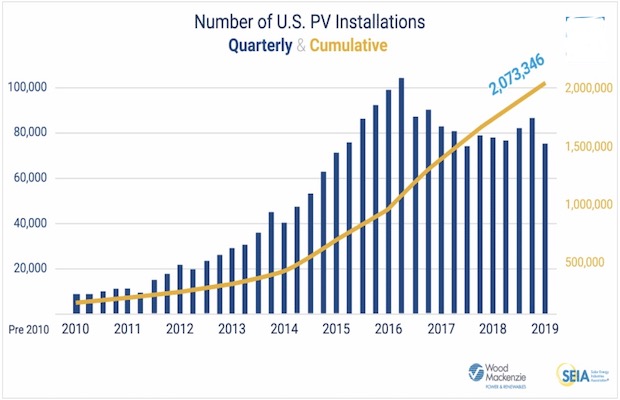 The Solar Energy Industries Association (SEIA) and consultancy firm Wood Mackenzie Power and Renewables revealed in a report that after the first million mark took 40 years the next million only took 3 years. And the research now expects the country to hit the 4 million mark by 2023. A number that comes with the backing of legislation in states like California, that have made solar power mandatory in cases. Not to mention the drop in solar prices over the past three years. Going forward, a projected drop in storage costs might mean an even bigger shift to solar powered homes, if the price drops and efficiency gains become a reality. 
California represented 51 percent of the first million installations but accounted for 43 percent of the second million. This is in large part due to a growing residential sector that is rapidly diversifying across the state markets. South Carolina, for instance, was an emerging market in 2016 with 1,160 cumulative installations. Today, the state is home to more than 18,000 solar systems and is expected to add 22,000 systems over the next five years.
"Other fast-growing states over the last three years include Texas, Utah, Florida, Rhode Island, and Maryland, which combined have grown from around 50,000 installations to more than 200,000," the report highlighted.
Looking ahead, Illinois will see cumulative installations increase from 4,000 today to nearly 100,000 by 2024. While California will continue to lead the nation in installations, the remaining top 10 state markets will see faster growth. Nearly 750,000 installations are expected in those markets over the next 5 years, compared to 500,000 installations over the last 5 years.
"According to our latest forecasts, by 2024, there will be on average, one solar installation per minute. That's up from one installation every 10 minutes in 2010," Michelle Davis, Senior Analyst (Solar).
The United States is at least the third nation that's now home to more than 2 million solar installations. Australia hit the milestone in late 2018, and Japan topped 2 million back in September 2014.
Published with permission from saurenergy.com
(Visited 132 times, 1 visits today)