Offshore Wind at Reinvest2018. Slow and Steady to Big Numbers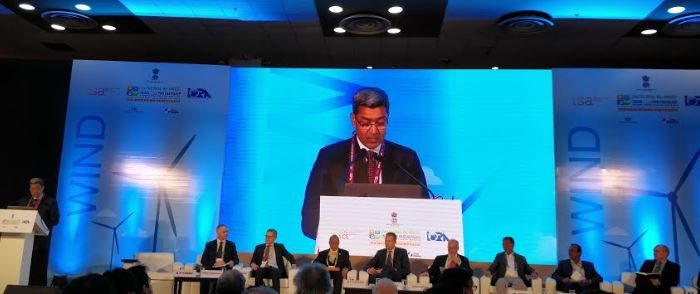 High Winds ahead for Offshore
Offshore Wind, till recently a poor cousin of Wind Energy if finally coming into its own, with global success stories. That means, India has also upped its targets to 30 GW for 2030. Will it deliver this time?
At the ongoing REInvest2018  Expo, members of European wind energy solutions companies along with representatives from MNRE, NIWE discussed India's first offshore wind project.
First Offshore Wind Project of India (FOWPI) is a project funded by European Union (EU) and it aims to support Ministry of New and Renewable Energy (MNRE) and National Institute of Wind Energy (NIWE) in strengthening the country's offshore wind energy sector.
B P Yadav, Joint Secretary, MNRE set the tone for the discussion. Yadav, confirmed that SECI will be responsible for conducting the tendering process and that NIWE will be one stop connecting point between the bidders and all the involved ministries.
He further said that the department is moving at good pace but also being cautious, as it attempts to make the project completely risk free and destined to be successful.
The EU will also provide technical assistance in preliminary implementation of the off-shore wind farm project of India, on a sea bed area of 70 sq. km. with a tentative capacity sizing of 200 MW near the Gulf of Khambat, approximately 25 km off the coast of Gujarat.
Mr. Morten Bæk, Vice Minister, Ministry of Energy, Utilities and Climate, Denmark, said, "I was quite surprised with India's ambitious targets of (5 GW by 2022) 30 GW of offshore capacity by 2030." The minister went on to suggest that it is critical to have a consistent pipeline of projects, to make the sector sustainable.
Being the first of its kind project in the country, it is safe to assume the tariff rates that will be discovered through the auction will be higher than normal. But, all financial incentives that are viable for onshore wind developers will extend to the project.
Mr. Ulrik Stridbæk, VP, Regulatory Affairs, Ørsted Wind Power said, "We see great potential for offshore wind power in India and are really attracted by the governments growing interest and activity in the sector."
Recently,NIWE floated an EOI for the project and it garnered interest from a total of 35 developers comprising of both national, as well as international corporations. The interested parties will be involved in the auction expected to be held once the draft tender is finalised.
Dr K Balaraman, Director General of NIWE, said, "5 more LIDARs will soon be installed off the coasts of Gujarat (2) and Tamil Nadu (3) along with the 2 systems that are operational in Gujarat presently."
Yadav added, "The ministry will also look to close tenders for five additional single GW projects in Gujarat (2) and Tamil Nadu (3) in the next 18 months."
As per the officials, the reason for choosing Gujarat is because the state has the potential to generate 106GW of offshore wind energy.
Mr Steve Sawyer, Senior Policy Advisor, Global Wind Energy Council (GWEC), said, "Tamil Nadu has the better winds and the more consistent winds but the organisation is better in Gujarat. So we'll, in the near future need to a bit of mix and match."
Having said that, it is clear that the 5GW target is set to be missed, as the time between tender , award and execution needs at least 2 years in Offshore, especially in Indian systems. Besides obvious issues with possible evacuation and transmission infrastructure that may or may not be ready by 2022. So lets hope that while the smaller target is missed, the sector does move on to make a serious effort to achieve the bigger, longer term target of 30 GW.
(Visited 33 times, 1 visits today)