GE 'Misjudged' Green Energy Transition And Lost Billions: IEEFA
IEEFA's report notes how GE misjudged the potential of renewables to derail its business, leading to a $23bn write-down in 2018 for the goodwill balance of a purchase made just three years earlier (the Alstom acquisition).
Investors lost "billions when the (once) most valuable company in the world, General Electric Company (GE) and its largest shareholders – BlackRock, Vanguard, State Street and Fidelity – misjudged the pace of the global energy transition," says the IEEFA report.
The report by Institute for Energy Economics and Financial Analysis titled, General Electric Misread the Energy Transition: A Cautionary Tale, highlights GE and its primary shareholders as a case study in how rapidly the global energy transition away from fossil fuels travels up the economic chain and destroys value.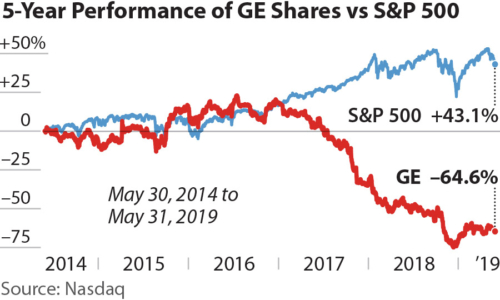 From an all-time high of US$600 billion in 2000, the total market value of GE's outstanding shares has fallen to US$87 billion, and the company's reputation has been severely damaged. Its largest shareholder, BlackRock investors suffered an astronomical $16bn loss in the three years of 2016-2018 related to its GE holdings, representing in effect a huge stranded asset loss. U.S. financial markets priced in a rising probability of bankruptcy in late 2018.
Co-author Tim Buckley, Director of Energy Finance Studies at IEEFA says GE badly misread the tea leaves and its shareholders have paid a massive price.
"GE lost investors an almost unprecedented and simply staggering US$193 billion in just three years to 2018, 74% of its market capitalization," said Buckley.
As a result of staggering losses, GE's reputation has been severely damaged–IEEFA Report
However, the report which clearly elaborates GE's epic failure of corporate governance thinks that investors could have turned up the heat.
"It is in [shareholder] hands to ensure companies evaluate and understand the inevitable energy transition as the world accelerates towards meeting the Paris Agreement," said report co-author and IEEFA financial analyst Kathy Hipple.
"The world is transitioning away from fossil fuels – particularly expensive imported thermal coal and gas – into low-cost, zero-pollution domestic renewables such as wind and solar," said Sanzillo. "This is where the smart money is, but GE failed to pick the trend – and ultimately failed."
GE assumed wrongly that demand for natural gas and coal would continue to track global economic growth. The company did not recognize the ever-lowering costs of renewable technologies and the increased take-up of energy efficiency, which decoupled energy demand from economic activity.
(Visited 489 times, 1 visits today)