Energy Horizons 2019: The Curtailment Issue
On day 2 of Energy Horizons 2019, a session titled 'Circumventing the Challenge of Grid Adoption" was actually a session about the challenge of curtailment of renewable power by Discoms. A topic so sensitive, that even calling it that is an issue, apparently. Thankfully, a healthy discussion did follow, although a solution was still elusive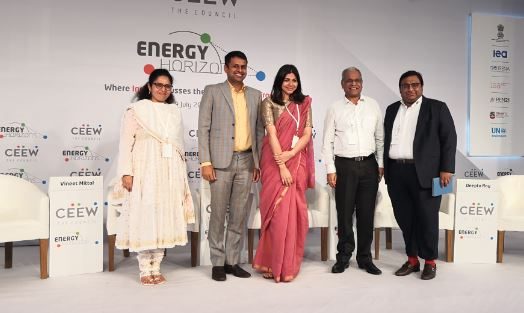 End of the Discussion, but the Conversation Continues on Curtailment
On day 2 of Energy Horizons 2019, CEEW's Director Kanika Chawla, who moderated the session on "Circumventing the challenge of grid adoption", made it clear that the word on everyone's mind was actually curtailment. Curtailment, the industry term for Discoms refusing to take up power produced by renewable energy producers on reasons that can be defined or left unsaid. But usually linked to the 'high' cost of renewables, according to most people.
On the other hand, for the Discoms, curtailment is an unfair charge not only because of the rarity of the event itself, but also because in their world RE producers blame every genuine issue behind curtailment on the cost avoidance issue.
Kanika, who has also authored a report " Grid Integration Guarantee- A financial Buffer to Address Renewable Energy Curtailment"  along with her colleague Manu Aggarwal at CEEW,  shared just how much of a hot potato the term is. Apparently the report had to be titled Curtailment Guarantee, but peer feedback was so strong to avoid the word, that they went with Grid Integration Guarantee finally.
On the panel for the issue were:
Pallavi Bedi, lawyer from Luthra and Luthra
Vineet Mittal, chairman, Avaada Group
Deepto Roy, representing  Shardul Amarchand Mangaldas & Company and
Sushil Kumar Soonee, advisor, Power System Operations Corporation, the custodian of the national grid.
Laying the case for RE producers, Vineet Mittal's first salvo was aimed squarely at the way curtailment happens, not if.
"The issue of curtailment is rarely a technical one. Most of the time, a phone call is all that is made to us when curtailment has to be done. The call is simply a threat to reduce power, or we will stop. There is neither any official date, or any official admission on record.  Simply adding in a specific requirement to give reasons for such requests will bring in a lot more discipline, when it comes to the issue", Mittal said.
Mittal also made a 'larger issue' scale.  His contention was that scale has not really worked in India, when it comes to really large size power production. Speaking from his experience, he said that be it thermal UMPP's (Ultra mega Power Plants), or now, large solar parks, scale is nor working. "It's counter productive to make large 5000MW or larger projects in solar, when the country has over 700 districts. It is much more cost effective to make 300-400MW of solar installations in multiple districts, from a view of transportation of that energy. Setting up an ISTS network doesn't make sense." He cited an example  of one of Avaada's earliest projects in MP where almost 80% of the power produced was consumed locally, educing T&D losses drastically.
Sushil Kumar Soonee was clear that the issue had to be placed in perspective, as a lot of work was being done to ensure renewables get the priority, and deliver results.  He referred to two reports they are working on implementing, SAMAST (Scheduling, Accounting, Metering and Settlement of Transactions ) and CABIL (Capacity Building of Indian Load Despatch Centres), which, he was hopeful, would go some way in resolving issues between power producers and Discoms.
Soonee also made it clear that 100% offtake, or 0% curtailment was not even a target as 1-1.5% curtailment was acceptable after taking into account the cost of that versus the investments required to ensure 100% offtake.  He expressed his skepticism on the PPA's being entered into some cases, while reserving comment. He stressed that people need to be positive about the government's intent on renewables, referring to how he had personally seen the grid take on 35GW of renewables at a time, and the unprecedented  investments made in building up a robust transmission network in the recent past.
The legal perspective, from both Pallavi Bedi and Deepto Roy, was fundamentally around two issues. One, curtailment was a reality and an issue that needed to be addressed. On the broader issue of resolving it, their views echoed the broader view that the answer lay with the existing framework of PPA's and not with power being traded through say, energy exchanges.
While a clear solution was not really offered, the discussion was refreshingly frank and open, a rare sight in the sector with such a heavy government overhang.  For that, credit to the speakers and the organisers.
(Visited 549 times, 1 visits today)