Decentralized Biogas Plants: Empowering India's Path to Net-Zero Carbon Economy
India's journey with decentralized biogas plants has been characterized by both opportunities and difficulties. Clean cooking, rural development, and climate change mitigation are just a few of the urgent concerns that biogas technology might help with. The country is a prime contender for biogas generation because of its huge agricultural industry, which offers a wealth of organic waste materials.
Opportunities
Many emerging and developing economies rely on decentralised renewable energy (DRE) technologies to enable an equitable energy transition and ensure energy security. The role of DRE systems in closing the energy access gap is critical to ensure that India's rural population receives good quality services.
With more people becoming aware of its technological potential, the decentralized biogas sector has seen a significant increase in its annual investment. Corporate social responsibility (CSR) funds and impact investments are becoming more popular as viable financing solutions. Additionally, the possibility of using climate financing to build biogas plants to offset carbon emissions has given the financial landscape a new perspective. However, despite the potential, companies working on decentralized biogas plants face several challenges.
Roadblocks
The most prominent one being securing sufficient investment and financing. Despite the rising interest in impact and climate funding, many businesses still place high priority on finding reliable and enough funding. The initial expenses of establishing biogas facilities can be high, and businesses sometimes struggle to close the gap between investment and returns. In addition to this in order to promote further usage of biogas technology, regulatory frameworks must be simplified and supportive. Regulations that are unclear or burdensome can impede the sector's expansion. Furthermore, it is essential to standardize biogas plant technology in order to increase consumer, investor, and business confidence. Lastly, despite the potential advantages of biogas, it is still difficult to raise awareness of the technology and its benefits in rural areas. In order to overcome opposition to change and promote adoption, outreach and educational programs are crucial.
India may have taken great strides in the utility-scale deployment of renewable energy (RE), but the 2030 targets – as promised by Prime Minister Narendra Modi at the climate summit last year – can be achieved only by increased de-centralised installation of RE.
To meet the issues that climate change, rural development, and resource constraints are projected to confront in the coming decades, new emergent views must be established. Energy systems are undergoing a fundamental upheaval. Some of the old paradigms are vanishing.
A market survey recently conducted with enterprises showed the prospects of various DRE applications and their scope to integrate with sectors like cooking fuel, agriculture, food processing, textiles, cold storage, and other energy-enabled sectors. This has the potential to increase rural economic resilience.
For countries to attain net zero, the integration of renewables must improve significantly. Decentralised renewable energy devices like small & medium biogas plants have a vital role to play in allowing a range of clean energy sources to be integrated into daily lives, and make farmers (users) self-dependent on fuel and fertilizer input.
Biogas plants as DRE applications
For DRE applications like biogas plants to penetrate the market, standardization of such applications is important to develop confidence and acceptance among end users, companies, and investors.
Modern biogas plants address three of the most pressing challenges faced by developing countries like India:
Supports key energy needs, that is, cooking and, thereby, the livelihoods of large populations;
Helps in reaching the last mile, specifically in climate-vulnerable geographies with unreliable clean cooking options; finally,
Meets rising energy demands in a climate-responsible manner.
Decentralization of biogas plants has been talked about for decades but, as markets seek to rapidly integrate more renewables and improve grid flexibility, it is encouraging that, with stronger regulatory support and responsible private sector companies' presence, we are now beginning to see real progress.
With a more energy-resilient future on the horizon, it is now time to seize the power for a more flexible energy system. Innovations in the small & medium biogas sector – specifically focusing on thermal appliances & electricity generation devices that are powered by biogas energy – have changed entrepreneurship and life in rural India.
Road Ahead & Net Zero
The Saubhagya and Ujjwala programs, spearheaded by the Government of India, have made significant strides in addressing critical energy access issues across the nation. Subhagya is playing a critical role in bringing power to even the remotest location in India. On the other hand, the Ujjwala program has been instrumental in providing clean cooking solutions. However, the challenges still persist, hence the integration of Distributed Renewable Energy (DRE) becomes integral.
On the other hand, the government's focus on LPG distribution under the Pradhan Mantri Ujjwala Yojana (PMUY) scheme, making India the second-largest consumer of LPG in the world, has challenged the DRE sector to an extent. Nevertheless, the push on clean cooking has also unearthed an opportunity for small & medium biogas implementers to grow, especially in areas that are currently underserved, or when customers are unable to refill their LPG cylinders.
India has a diverse population with different income groups, and the livelihoods of millions of marginalized farmers are strained due to a lack of access to reliable and affordable cooking fuel. A large part of India's rural population (800 million people) still cooks on an open fire. The combustion of biomass contributes significantly to greenhouse gas emissions, deforestation, and air pollution.
Decentralized modern biogas plants are fast to install, 100% smokeless, and improve health, especially among women and children. The by-product of the process is bio-slurry, which enhances crop yields, leading to increased production of vegetables for sale and providing extra income to families.
Amongst the key challenges to implementing biogas plants as an effective DRE solution, financing remains a top concern. Enterprises in India that were looking at debt as future sources of investment, as well as corporate social responsibility (CSR) and impact funds, are now keenly looking forward to the inflow of climate funds to mitigate carbon offset through the installation of biogas plants. This trend despite having its challenges will continue because DRE applications are not only making an impact and boosting the local economy but also aiding economic and social growth.
To overcome obstacles and realize the full potential of decentralized biogas plants, a number of solutions can be used. First off, incentive systems can be crucial in encouraging people and businesses to invest in biogas technology. Governmental initiatives like subsidies, grants, and tax breaks can help with this. Second, it is essential to enhance local communities' capacities. Residents can be empowered by training initiatives and capacity-building programmes to not only understand the benefits of biogas technology but also to successfully run and maintain the biogas plants.
Third, encouraging partnerships between public and private organizations has potential. Partnerships between for-profit businesses, non-governmental organizations, and governmental organizations can hasten the adoption of biogas technology by combining their resources, knowledge, and communication efforts.  Additionally, as biogas technology advances, investment in research and development projects can further attract the attention of users and investors by providing improved and more affordable options. And last, extensive awareness campaigns can be helpful. These efforts can dispel myths, emphasize the benefits of biogas technology, and promote use of it in rural areas.
Conclusion
In 2023, the G20 countries and other invited nations came together to foster developmental dialogue. India's national framework for "Promoting Decentralised Renewable Energy Livelihood Applications," a first-of-its-kind policy framework to drive the adoption of DRE livelihood solutions in the country, will serve as a valuable resource for other G20 countries developing similar policies that incorporate DRE into their development agendas.  Biogas plants as DRE devices have a strong complementary role to play and we should be actively promoting modern biogas solutions as the energy is produced where it is best consumed. It can also help reduce drudgery by minimizing or eliminating the human effort of collecting firewood and LPG cylinders far from the rural homes, thereby bolstering income levels, especially for women.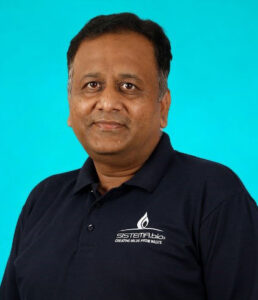 Atul is an entrepreneurial senior executive who has worked with brands like British Petroleum, Philips Electronics, Max New York Life, Wockhardt and then social start-ups like d.light solar and MicroEnergy Credits.
He is currently leading Global Partnership development activities with Sistema.bio, a global social enterprise that provides smallholder dairy farmers with biogas technology, service and financing.  Since Mar 2019, Atul is trying to establish biogas for smallholder farmers in India, South Asia and East African countries by working through partnerships. 
(Visited 181 times, 1 visits today)