Coming Soon. Bloomberg's Decarbonization Index Tracing Utilities' Progress
Bloomberg, whose NEF has been an unexpected success in the renewable space, has announced plans for a new Decarbonization Tracker to measure global progress against climate goals for utilities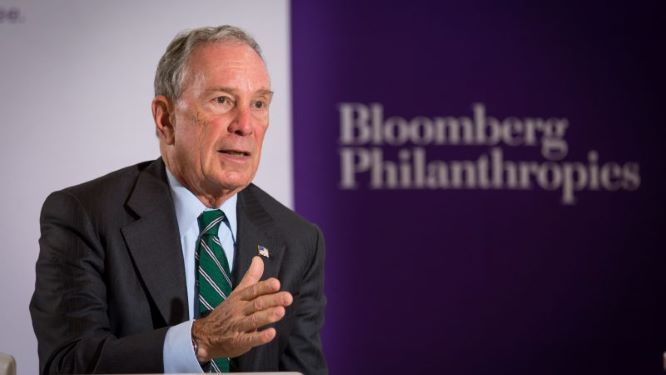 Michael R. Bloomberg brings utilities in focus
Bloomberg will soon start tracking the progress utility companies are making towards decarbonizing their energy supplies, the firm announced this week.
Michael R. Bloomberg, founder of Bloomberg LP and Bloomberg Philanthropies, announced plans for a new Decarbonization Tracker for utilities. The Decarbonisation Tracker will track the progress made by utility companies transitioning away from fossil fuels, as part of the larger global effort to reduce carbon emissions to levels in line with those established by the Paris Agreement. Thus, the idea would be presumably to track progress with the aid of a single number, uch like a stock index, when it comes to decarbonisation efforts.
Bloomberg was joined on by Xcel Energy and ENGIE, two utility companies that have both made commitments to decarbonization.
"Utilities have a critical role to play in reducing the emissions that drive climate change – and stopping the destructive effects it is already causing," said Bloomberg, who also serves as UN Special Envoy for Climate Action. "We've long known that replacing coal with clean energy is good for our health, but increasingly, it's good for our pocketbooks, too. The trouble is: we don't have access to data that would reveal how utilities are doing in reducing greenhouse gas emissions. Thanks to the leadership of companies like Xcel Energy and ENGIE, the Decarbonization Tracker will help change that."
The Decarbonization Tracker will provide clear metrics that demonstrate each company's progress in converting to clean and renewable energy sources – serving as a useful tool for the utility sector, as well as investors seeking to adhere to recommendations made by the Financial Stability Board Task Force on Climate-related Financial Disclosures (TCFD). With a deeper understanding of the financial implications of the reliance on unsustainable energy sources like coal, they will then be able to better align their business plans and investment strategies with long-term climate goals.
Bloomberg's announcement today supports the scale up private sector investments in climate solutions.
Ben Fowke, Chairman, President and CEO of major U.S. utility Xcel Energy, which last year announced its plan to provide 100 percent carbon-free electricity by 2050 said, "As a national leader in renewable energy we're committed to providing our customers with more low-cost, clean energy while working toward our 100 percent carbon-free vision. Our carbon reduction goals are bold – the most ambitious in the industry – and we're proud to advance this clean energy transition."
Grzegorz Gorski, Managing Director of Power Generation at major international utility ENGIE, which is in the process of selling or closing its remaining coal plants said, "ENGIE strategy is to be the leader of the zero-carbon transition. With exits and closures of our coal fired power plants, over the last 4 years, we reduced share of this technology in our fleet from 13 to 6%. We massively invest in renewables, aiming at adding 9GW of new capacity in the next 3 years. We are also helping our clients to become zero-carbon, reducing their consumption through energy efficiency, signing green corporate PPAs with them and installing decentralized renewable generation on their premises."
The Decarbonization Tracker is taking shape in consultation with key stakeholders and is scheduled to be released at the UN Secretary-General's Climate Summit in September 2019.
The tracker serves a clear need, although its commercial implications will become clear only with time. Like the Dow Jones Index, Bloomberg will hope that its tracker also grabs pole position as a global indicator, watched, believed and followed by as many people as possible.
(Visited 397 times, 1 visits today)