Carbon Trading to Encourage Mangrove Conservation in Africa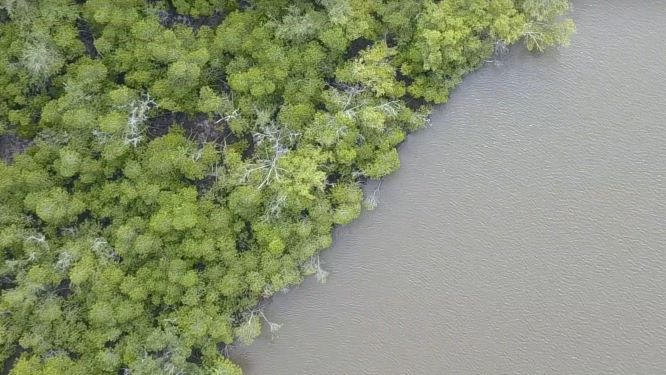 Mangroves need conservation
Understanding the complex yet vital role that mangroves play in sustaining rural and sea-facing communities, a unique carbon trading project has recently been launched in Kenya for mangrove conservation.
Mangroves are special due to their ability to sequester vast amounts of carbon, act as a coastal buffer against erosion and storms, and act as nursery sites for fish and other marine life.
This is why the Leonardo Dicaprio foundation backed the Vanga Blue Forests Project and it was launched recently by U.N. Environment Programme, the Kenya Forest Service, the Kenya Marine and Fisheries Research Institute and its partners on the Kenyan coast.
This is a ground breaking initiative to trade carbon credits from mangrove conservation and restoration.
After three years of research and a successful run as one of the world's first community-based mangrove conservation project to be funded by the sale of carbon credits in Gazi Bay, the project expanded in the second site at Vanga in June this year, which is home to the largest mangrove area in the south coast of Kenya.
The project will attempt to protect more than 200 ha of mangrove forests which will result in over approximately 4000 tons of CO2e saved through avoided deforestation.
There is ecological importance of mangrove conservation, and economic. Project research has found that adopting pro-conservation policies for mangroves will generate more than USD 61 million over twenty years compared to business as usual scenarios that include the decline of mangrove forests.
According to the plan, mangroves in Kwale County will be co-managed by Kenyan bodies. The management plan includes the sale of carbon credits on the voluntary carbon market verified by the Plan Vivo carbon trading standard similar to the ones followed by the Gazi model.
"Globally, this is one of the first projects that is trading carbon credits from mangrove conservation and restoration," says U.N. Environment mangroves expert Gabriel Grimsditch.
"The project will conserve and restore over 4,000 hectares of mangroves in Kwale County and support the livelihoods of over 8,000 people in fishing communities in the area through community development initiatives," he adds.
Lilian Mwihaki from the Kenya Marine and Fisheries Research Institute highlights the benefits of carbon trading: "From the sale of carbon credits they're going to have funds that they can pump into the community. The Gazi community have been able to buy books for their schoolchildren. They've been able to buy some equipment for their hospital. They've been able to bring water to their community."
Mangroves, which are an excellent biome for many creatures, also act as a form of natural coastal defense against storm surges, tsunamis, rising sea levels and erosion. Their soils are highly effective carbon sinks, sequestering vast amounts of carbon.
Yet mangroves are disappearing three to five times faster than overall global forest losses, with serious ecological and socio-economic impacts. Current estimates indicate that mangrove coverage has been halved in the past 40 years.
"Estimates of the total mangrove area in the world vary but range from 12–20 million hectares. The Vanga project covers only a tiny percentage of this area, but its innovations are replicable and scalable—with local modifications—globally," says Grimsditch.
The International Day for the Conservation of the Mangrove is on July 26. We are hopeful that many more countries like India, Bangladesh, and others will see this model and the opportunity to launch similar projects.
(Visited 538 times, 1 visits today)