The School Project That Harvested Rainwater, And Taught Us Life Lessons
For Taira Bhargava (17) and Tia Bhalla (15) , studying at the Shri Ram School, (Moulsari) being in different classes was no obstacle to successfully building a remarkable rainwater harvesting project in Delhi. Here's their story
Rain Gardens: An Oasis of Hope
New Delhi, the capital city of India is home to 19 million people. In this densely populated metropolis,  despite the existing law that all plots  above 100 square metres and above must have rainwater harvesting, compliance has been patchy, leaving the city's groundwater severely over exploited  . A report by the Niti Ayog (the government's primary think tank) had also warned about an impending water crisis across top cities in India, something that has only been avoided due to plentiful monsoons these past two years. But that's the sort of luck one can't count on.
For both of us, this predicament of severe water scarcity, and a desire to contribute in some way  precipitated the the idea of Project Dhara.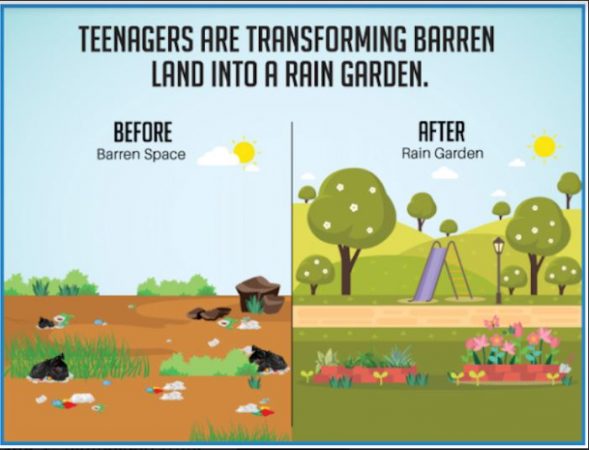 Project Dhara  was our effort at doing something that could support the making of Delhi into a sustainable city. To implement a sustainable solution to water scarcity in a targeted area, Ward-31-Sagarpur West in the South West Delhi region was chosen, with work starting in May, 2019 . In the selected site, bioswales (simple landscaping features used to slow, collect, and filter rainwater) were then installed to recharge the ground-water table. In transforming this barren land of the area into a rain garden, a green patch was thus created in a congested locale. This park proved to be multi-purpose: it provided a green lung of relief in the area, with its tree cover and recreational space for residents of the neighbourhood. Most importantly, the park that is 1.5 acres in area today, harvests close to 1.4 million litres of rainwater on a yearly basis, and caters to nearly 100,000 residents living in Sagarpur and adjoining neighbourhoods.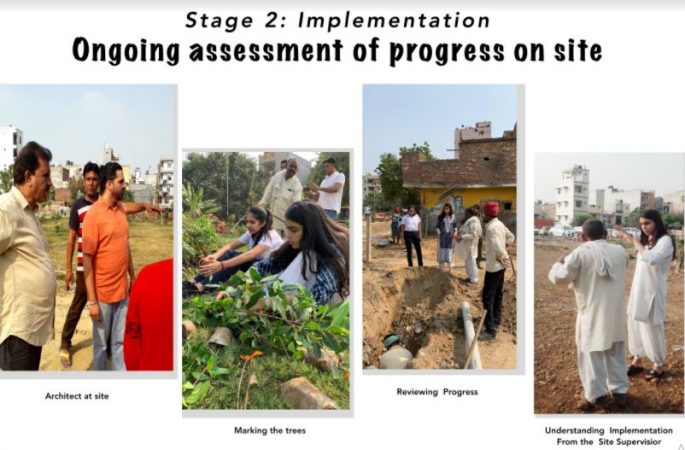 As much as it fills our hearts with joy to witness these developments, we can never forget the challenges we faced to make it happen. Both in terms of fieldwork and fund raising. Both were immense experiences from a learning perspective, besides introducing us to some amazing people who supported us.
Before selecting West Sagarpur, detailed studies and lengthy interactions on site were carried out in multiple areas. Following the selection, permissions needed to be obtained from the Municipal District Councillor of the area, (Sagarpur Ward,) Mr Mukkesh Suryyan. The next steps entailed contacting green architects with expertise in installing the designed rainwater harvesting structures. Post installation, the progress of the site had to be assessed, and finally, recreational equipment for the public park was designed and installed. A formal handover was done to the South Delhi Municipal Corporation on December 31, 2019. It was inaugurated by Mr. Anil Baijal, the Lt Governor of Delhi.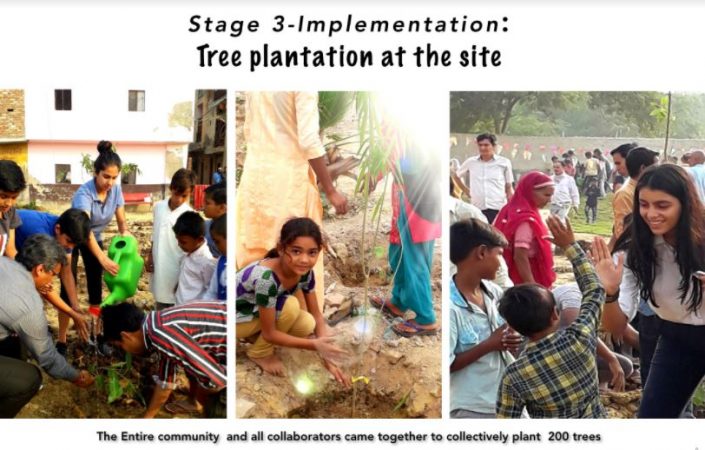 Today, the park sees enthusiastic participation from the local community for maintenance and sustainability, hopefully making it a model that can be replicated in multiple locations to recharge groundwater. For this implementation process to be seamless, an adequate amount needed to be raised through fundraising. Through an online crowdfunding campaign, social media channels, and flagship events such as 'the Banta Thela' ( a flavoured-soda cart raising awareness about water scarcity), the project was able to raise more than 700,000 INR.
It has been gratifying to see our efforts and all those who supported us  recognised by the community around us when it received the prestigious The Global Education and Leadership Foundation (TGELF) award in 2019, and was subsequently visited by the Lt. Governor of Delhi who also felicitated us. From a rippling stream (Dhara) to a sea of hope, Project Dhara stands testimony to two things: firstly, how passionate youth leaders can bring about tangible change in their communities. Secondly, and more importantly, how targeted fundraising and terrain-specific rainwater harvesting can yield phenomenal results even in the heart of urbanity.
(Ends)
Taira Bhargava, Tia Bhalla
(Visited 126 times, 1 visits today)