States Seek Support to Meet Emissions Norms for Power Plants
Come 2022, the power plants of India need retrofitting to comply with the revised emissions norms but states appeal that their plants need financial assistance in doing so
At a meeting with the Union power minister, representatives of states have asked for financial support to upgrade the ailing power plants in order to meet the emissions norms by 2022.
This follows a Supreme Court order that new norms should be implemented by 2022. Compliance with the new emission norms required retrofitting existing thermal power plants with auxiliaries to control SOx, NOx and PM emissions such as Flue Gas Desulfurization (FGD), Selective Catalytic Reduction (SCR), Electrostatic Precipitation (ESP) systems etc. However, to ensure uninterrupted power supply in the country, the implementation has to be done in phases to avoid problems in power supply, as many units cannot be taken out for retrofitting at the same time.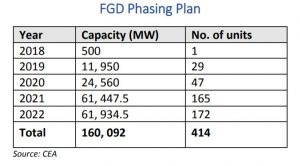 Further, the Court directs the CPCB to place all reports from 2010 onwards (commissioned or ready) on the website of the CPCB so that they are available to the public which will then be aware of the adverse consequences of air pollution and other environmental pollution.
States have an installed capacity of 72.85 GW, which would require equipment worth at least ₹ 36,000 crore, but state utilities are financially unviable because of inefficiency, power theft, technical losses and failure to get payments from all customers.
As per a recent Centre for Science, Technology and Policy (C-STEP) Report, the total cost of installing pollution control technology (PCT) in India's thermal power plants is around ₹ 3.91 – 3.96 lakh Crore till 2030. Out of this, equipment such as flue gas de-sulphurizer (FGD), catalytic reducer and electrostatic precipitators alone will account for ₹ 2.57 lakh crore.
According to the reports, states want money either from the Power System Development Fund (PSDF) or from the Clean Coal Cess to be able to upgrade plants. NTPC, the largest power generator, is spending Rs 31,500 crore on its plants. It has started inviting bids for the equipment, according to an anonymous source. The source added that the additional cost can be passed on to customers but it takes about two years to get regulatory approval, said the source. The banks have stayed away from lending to the power sector following a large number of bad assets that have been created.
On this power producers want this cost to be passed on automatically and say that soft loans can soften the impact on consumers.
(Visited 234 times, 1 visits today)