How India can meet its Wind Energy targets. Will it move fast enough?
Unlike Solar, which has grabbed headlines recently, Wind Energy has been well established in India for over two decades. With technology evolving massively during this period, that opens up a whole new market for Wind Energy Players. Replacement demand. But the Going has been surprisingly slow.
Bigger, Better and Smarter. And Waiting.
Wind Power developers at REInvest 2018 justifiably patted themselves on the back at the expo, pointing to how total wind generation capacity moved from just over 10 GW in 2008 to over 34 GW in 2018.  That scorching pace of growth, even though it slowed down  last year, has established a strong ecosystem of manufacturers, suppliers and other vendors in the country.
On top of that is the fact that the earliest commercial turbines, sourced from Vestas in 1986 for Maharashtra, are ridiculously backward both in terms of their size and efficiencies. The earliest, are 55 KW turbines that benefited from generous dollops of subsidies and tax exemptions, making them a magnet for investors. In fact, it was these tax breaks and GBI or generation based incentives, which have been gradually withdrawn, that have been blamed on investors losing interest in their wind investments, leading to poor performance. Thus, from an 80% accelerated depreciation to the GBI, most investors used the investments to reduce taxable profits.
A study commissioned by the Indo German Energy Forum Support Office, conducted by Mumbai-based IDAM Infrastructure advisory, has some more interesting facts.  Over 10 GW of installed capacity of wind Turbines with less than 1 MW capacity  are installed in high quality class 1 sites . Another 2.5 GW has  less than 500 KW turbine capacity.
That simply means that besides an obvious market for replacing these old turbines, the same sites offer the opportunity to more than double power generation by upgrading to the modern turbines, typically rated for a capacity of 2.5 to 3 MW , and a CUF (capacity utilisation factor) of 25-30% and higher, as compared to 15% or lower on the older models.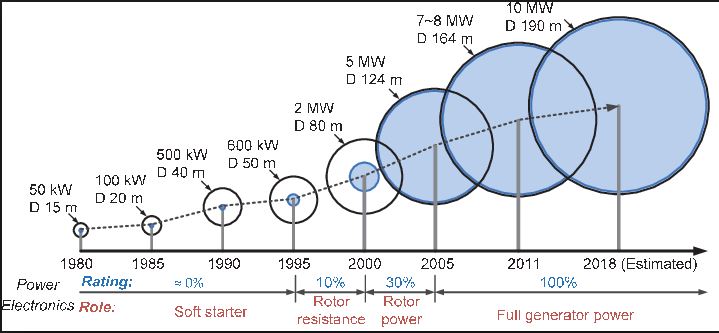 So what prevents the market from booming? State apathy is just one aspect, as the government will usually move only when prodded to. The IDAM study points to these other key factors too:
a) Fragmented Ownership: Owners earlier used to form groups to purchase wind farms, as they were called. That straightaway adds a layer of complexity to any negotiations to upgrade, as discussions have to be held with multiple owners. Who may or may not be interested anymore.
b) Loss of Captive Status: The new rules under the Electricity Act of 2005 mandate that to maintain captive status, a generator has to consume 51% of the power generated, and own at least 26% of the power asset in question. Modern turbines, which could be 5-6 times as efficient, might push a lot of owners below the 51% threshold. That would mean the dreaded CSS or Cross subsidy charges that a discom imposes in many states for renewable power , will kick in. Add to that point (a) above of many owners having say, a 10% stake each, and life stays complicated.
c) In key states like TN, where the older wind farms are connected to 11 KV substations for evacuation , the newer capacities will require an upgrade in evacuation infrastructure too , handled by PSU's. Enough said.
d) Finally, the report points out that factors like loss of generation during construction period as well as valuation of the older assets could be issues.
We believe that while valid, none of these issues provides a strong enough reason to justify the delay in what is now a proven and dependable renewable source. Being used at sub optimal capacities. The case for finding a way to make all stakeholders sit together and solve it on priority, especially with a potential upside of a relatively quick 10-15 GW of capacity and 3-5 GW of generation is obvious, and one hopes we will hear more about this soon.  The government will obviously have a major hand to play in making this happen, and with an industry willing to go the extra mile for business as well as growth, this could be one of the best options for the government to get close to its 175 renewable GW targets by 2022, where wind has to play a strong supporting role of 60 GW capacity.  To use a slightly tangential analogy, the problem is similar to the challenge of replacing diesel clunkers over 10 years old in the transportation sector.
In this case, with assets already written off completely in most cases, the government should find it much more easier to get things going for turbines over 15 years old. Watch this space to know when that happens.
(Visited 749 times, 1 visits today)