Cryptocurrency Miners Clean Up Using Renewable Energy
Among the many issues raised with Cryptocurrencies, especially Bitcoin, is their energy consumption. That is something the top miners are paying serious attention to now, as they increasingly seek out renewable energy for their mining operations.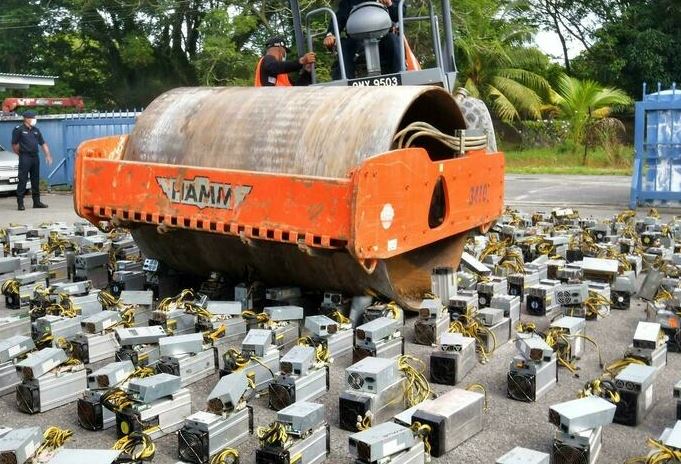 Power Thefts Caused By Crypto Mining Face Crackdown
While the cryptocurrency market is navigating through several obstacles, from the crackdown in China to worries about its impact on the climate, believers point to the support it has been managing too. From El Salvador becoming the first country in the world to adopt Bitcoin as legal tender,  to the move, early this year of  several major companies announcing a more open-minded approach to Bitcoin by accepting it as payment for product and services.
Overall, it has to be said, for all the wall of skepticism around it at times,  cryptocurrencies have definitely progressed with financial institutions, businesses and even governments.
The biggest issue rising to prominence is something that may not even have been anticipated wen Crypto's were first dreamed up.  Their environmental impact.  Bitcoin and other proof-of-work cryptocurrencies require large amounts of energy to operate, due to the computations needed for mining. It's true that the Bitcoin network uses as much energy in one year as Argentina.  Every month, we track stories of major power thefts, a new problem for developed and middle income countries, driven in many cases by large crypto mining operations.  The worst publicity for the currencies is the sort where Malaysian police crushed mining rigs after busting an operation for power theft.
That has sent firms committed to crypto scurrying to go green, notably by sourcing the energy for their operations from renewable power.
Firms like ISW Holdings Inc. announced last month  that they have "signed  a cryptocurrency mining hosting agreement (the "Agreement") with Bitmain Technologies ("Bitmain"), the world's leading producer of cryptocurrency mining hardware and a leading global cryptocurrency mining firm.
The Agreement will form the backbone of the Company's Phase One launch of its cryptocurrency hosting and mining operation in Georgia.
Irene Gao, Antminer BD Director NCSA Region, Bitmain, said, 'We are excited to have signed this new pioneering project to begin cooperation with ISW Holdings, a new milestone for the industry for creating hosting facilities overseas. The 200 MW facility is the first phase of our long-term partnership, utilizing renewable energy as its source. We expect to further expand this project into the future to support the development of the industry.'
 Similarly, SOS Limited reported earlier in June that it has entered into a joint venture agreement with Niagara Development LLC ("Niagara Development"), a New Jersey limited liability company, for a joint venture to be based in Niagara, Wisconsin. The joint venture, FD LLC, is expected to carry out crypto-currency mining operations and construct an international standardized Digital Super Computing Custody Operation Center. Under terms of the agreement, Niagara Development will be responsible for providing up to 150MW of electricity, including electricity generated from renewable sources, and construction the Digital Super Computing Custody Operation Center. SOS will be responsible for the management, operations and financing of the joint venture.
Talen Energy Corporation has also announced today that it has entered into a Joint Venture with TeraWulf Inc, a U.S.-based bitcoin mining company, to develop up to 300 Megawatts of zero-carbon bitcoin mining capacity. The Joint Venture, named Nautilus Cryptomine will leverage the strengths of both Talen and TeraWulf as they collectively work to advance the convergence of clean energy sources and digital infrastructure assets.
Phase I of the Nautilus Cryptomine facility is a 180-megawatt bitcoin mining facility which will be built on Talen's digital infrastructure campus adjacent to its Susquehanna nuclear power generation station ("Susquehanna") in Berwick, Pennsylvania. Nautilus Cryptomine will be powered via a direct interconnection to Susquehanna that will provide low-cost, reliable, zero-carbon electricity. The Nautilus Cryptomine facility is located "behind the meter" directly connected to Susquehanna which will provide Nautilus Cryptomine with one of the lowest electricity costs among publicly traded bitcoin mining peers in the United States.
The Joint Venture is expected to invest approximately $350-400 million in Phase I of the zero-carbon bitcoin mining operation with an aggregate anticipated hash rate that will exceed 5 exahash per second. Given its 50% interest in Nautilus Cryptomine, affiliates of Talen anticipate investing approximately $175-200 million of cash contributions into the Joint Venture, including contingency and other variables. Talen anticipates funding its share of the Joint Venture commitment from its current liquidity and from third party debt and equity sources. The commercial operation date for Phase I is currently anticipated in mid-year 2022.
All these efforts may or may not ensure mainstream acceptance for Crypto, but they certainly go some way to remove a wholly unneeded obstacle the sector had created for itself.
(Visited 331 times, 1 visits today)