A look into Global Chemical Outlook II- From Legacies to Innovative Solutions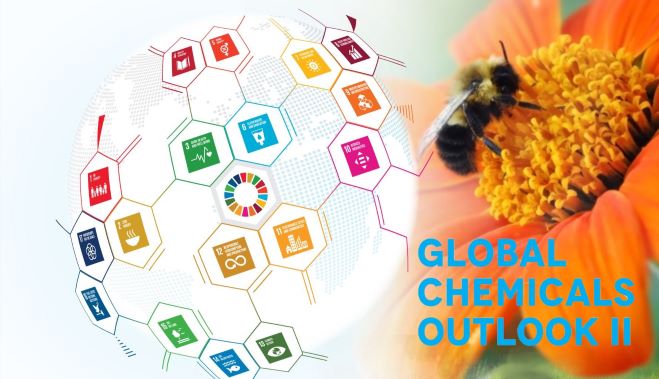 Global Chemical Outlook II- From Legacies to Innovative Solutions talks about implementing the 2030 Agenda for Sustainable Development, mandated by the UN Environment Assembly in 2016.
After the first outlook report way back in 2013, The UNEP recently released another Global Chemical Outlook II with a view to developing in the future as a tool for assessing progress towards the achievement of the sound management of chemicals and hazardous wastes, including the existing 2020 goal.
The outlook report seeks to alert policymakers and other stakeholders to the critical role of the sound management of chemicals and waste in sustainable development. Implementing the 2030 Agenda for Sustainable Development was mandated by the UN.
"Large quantities of hazardous chemicals and pollutants continue to leak into the environment, contaminating food chains and accumulating in our bodies, where they do serious damage," said Joyce Msuya, Acting Executive Director, UN Environment, " The World Health Organization estimates the burden of disease from selected chemicals at 1.6 million lives in 2016. The lives of many more are negatively impacted."
The report says that the size of the global chemical industry exceeded $ 5 trillion in 2017. It is projected to double by 2030. This means chemicals and pollutants entering our ecosystem will also increase and therefore a fully functional mechanism to regulate, control and mitigate at different levels needs to be in place.
Key Findings of the Report
The global goal to minimise adverse impacts of chemicals and waste set out in 2006 under the UN's global non-binding chemicals programme, the Strategic Approach to International Chemicals Management (Saicm) will not be achieved by 2020.
The report notes that despite the international agreement, reached at the high-level UN conferences, and significant action already taken scientists continue to express concerns regarding the lack of progress made.
Despite significant progress made major implementation gaps remain. In particular, developing countries, and economies in transition, still lack basic chemicals and waste management systems.
The report notes that Globally Harmonised System (GHS) for classification and labelling has not been implemented in more than 120 countries, mostly developing nations and economies in transition.
The report notes that the countries still lack pollutant release transfer registers (PRTRs), poison centres and capacities for hazard and risk assessment and risk management.
The report highlights the example of regulations on lead in paint as a revealing indicator.
The report notes that as of September 2018, only 37% of countries had confirmed the legally binding controls on lead in paint.
Further, even if regulations on specific chemicals are in place, implementation and enforcement may pose challenges.
The report notes that chemical production and consumption is shifting to emerging economies, in particular, China.
The Asia-Pacific region is projected to account for more than two-thirds of global sales by 2030 and cross-border e-commerce is growing 25% annually.
The report says that Progress remains insufficient and there is an urgent need to take concerted action to develop basic chemicals management systems in all countries. The report has numerous case studies from companies like HP (regrettable chemical substitution in its products), Chemical accidents, Life cycle analysis of chemical, to countries like Cuba (reducing the use of highly hazardous pesticides -HHPs by relying on Integrated Pest Management -IPM), which describes that alternatives and solutions are present but more ambitious, urgent actions by all stakeholders are needed.
For India, we believe the report is particularly relevant as like China, a lax policy and monitoring environment frequently  allows chemical industries to get away with outrageous practices. Be it dumping waste directly into water bodies, or allowing poorly or untreated waste to mix with the soil or local environment. With its dense population near industries, the land of the worst chemical disaster of all time has still not quite woken up to the longer term risks of laxity.
(Visited 217 times, 1 visits today)