Sustainability IS the new Godliness. India's religious destinations show the way
That religion plays an unusually large role in the lives of most Indians is well known. The country has some of the world's biggest religious destinations and monuments, attracting mammoth crowds on a regular basis. Even today, tourism in the country remains dominated by the search for godliness in what are called pilgrimage circuits, be it Hindu Temples, the Buddhist circuit and more. For the record, according to the census of India, the country has more religious 'places of worship' or buildings at 3.01 million, than schools or colleges( 2.1 million).
One very good trend, that has possibly been missed, but is becoming increasingly visible thankfully, is the way some of the biggest religious destinations have started on the path to sustainability. It is notable because, most do not get effective support from the government, and remain under the control of trusts, both family and government controlled.
Thus, while you have the Tirumala Tirupati Devsthanams (TTD), the trust behind the iconic Tirupati temple, taking another green step with the induction of 50 electric cars on lease from the EESL, a government body which recently started taking delivery of a 10,000 electric car order. Besides the cars, in April, the TTD also took charge of a solar power setup for 10 MW, set up by Vikram Solar. The host city of Tirupati is also taking other steps, like establishing waste to power plants,     bio-gas production and recycling, three  separate MOU's signed just last month. All these steps follow massive adoption of solar powered moves like heaters, kitchens and more.
In Kerala, a state with natural 'green' advantages, the Cochin Devaswom Board, which manages the states major temples, has started a 'Haritha Kshetram'  program, which involves greening of 120 of the states temples. Work has started on planting saplings that will bring back the wooded ambalaparambu of yore, temple grounds where the community could enjoy itself among trees too. Eventually al 403 emples will be covered by this initiative. You can expect a lot more path breaking work from Kerala.
In North India, efforts are on to do it, with some temples which are managed by well funded t
rusts like the capital'sLaxmi narayan mandir or Birla Mandir, the ISKON temples making huge strides in terms of composting waste primarily, besides increasing use of solar power, and now, the first signs of water conservation efforts too.
Of course, due to sheer numbers, a massive number of Hindu temples, dependent as they are on donations and offerings, simply do not have the resources to take meaningful steps towards sustainable practices, something that religions endowments and other institutions might want to consider next time they wish to do something for temples.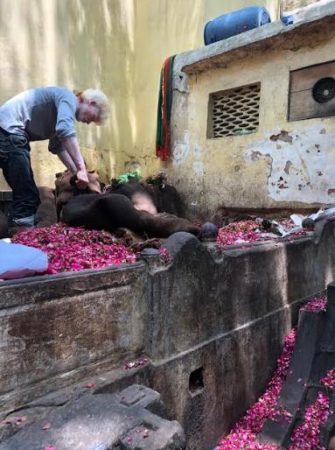 Islam, the second most adhered to religion has a similar story. In the capital Delhi, one of the the biggest and revered monuments for muslims  in the region, the Dargah of sufi saint Hazrat Khwaja Nizamuddin Auliya, which also houses a mosque nearby, has taken some good steps. In  Nizamuddin, these roses are collected from the shrines and are sorted into jute bags in a dedicated area. Some of the bags of flowers are handed over to people who need roses to make medicinal oils. The rest of the flowers collected are put in a pit in the nearby area where the flowers are decomposed to make manure, which is later used in the upkeep of the local parks. Earlier the flowers collected were put in a pit behind Humayun's Tomb; the MCD officials due to the tomb being a heritage site stopped this practice. Any other waste generated by the dargah is collected and disposed off by the MCD officials. Incidentally, since Islam does not allow for idol worship, Mosques don't usually have a problem of flowers and fruits being offered as offerings. While the city's biggest mosque, Jama Masjid remains somewhat of a closed door when it comes to information, the Jama Masjid in Mumbai's Kalbadevi switched to solar sometime back and has apparently seen power bills crash massively since.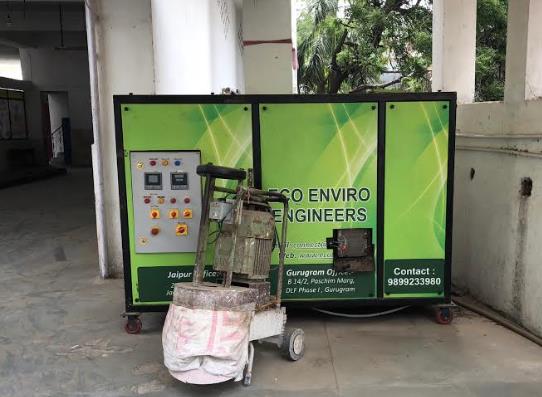 Gurudwara's managed by their Sikh trustees stand out for multiple sustainable practices. From a phased shift to solar power, starting with 1 MW, announced in February 2018 for 4 of the key Gurudwaras in Delhi, namely Gurdwara Bangla Sahib, Gurudwara Rakb Ganj, Gurdwara Nanak Piao, and Gurdwara Majnu ka Tila. Following that is practices like composters to recycle offerings like flowers etc, even though some Gurudwara trustees, like the ones at Rakabganj, even discourage the practice of bringing flowers altogether, as it attracts flies etc that can harm the Guru Granth Sahib Holy book.
Interestingly, the langar, or free food that Gurudwara's offer seems to be managed using steel utensils at most if not all Gurudwara's further enhancing the eco-friendly credentials of these amazing institutions.
Finally Churches. When it comes to sustainability, they simply don't quite face the challenges and scale of issues that the previous three categories of religious authorities do. At the capital's Sacred heart cathedral, for instance, offerings of flowers are low enough to be managed simply by handing over to the municipal authorities. The church does recycle the offerings of candles it gets, handing over the collected wax to a nearby candle maker to keep the cycle going.  On the energy front, however, perhaps we need to search harder, as we couldn't spot a major effort to shift to renewable power at any of the churches we checked out. Of course, Churches, with their separate social outreach centres do end up doing a lot of good, like pushing solar powered lamps for instance, as a low cost alternative in low income, poorly connected areas. For instance, the Seva Kendra Calcutta (SKC), affiliated to the  Archdiocese of Calcutta, West Bengal, does that, in rural areas of the state for many years now.
All in all the shift to renewables and sustainability by these amazing variety of institutions is a welcome signal to the broader community, and one hopes it is a message the people running these holy places will talk about more too. It's also one area where competitiveness would be welcome!
copyright:iamrenew.com
(Visited 634 times, 1 visits today)