NicoCaara: Experience Food The Right Way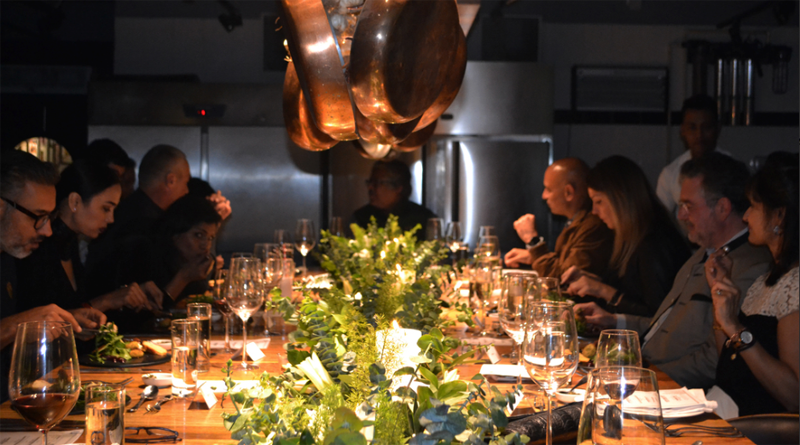 Food, is more than the sustenance needed by our body to survive. The ritual of eating is what bonds us together, as cheesy as it may sound a lot can happen over meals, bonds can be made or broken. As one of the more affluent regions in the country, Delhi's food scene is also evolving. However, it's been a tough time for restaurants in the capital, when it comes to their impact on the environment. Be it waste disposal, sewage treatment, or even safety standards, they have regularly come under the scanner and been found wanting.
As some of the largest consumers of food products and generators of waste, therefore, they have a special responsibility to follow the law and go beyond.
Consider something as simple as sourcing raw produce, which could be laced with harmful chemicals or pesticides during the cultivation phase. Enough studies and evidence have been presented to show this is a serious issue today.
While the trend of eating healthy and consciously is slowly becoming the norm in the west, there is a shift in the food industry in India as well with people preferring to eat at places which are in touch with their roots.
One such restaurant which is on the path to sustainability is NicoCaara. Tucked away in the corner on the second floor of the newly furbished Chanakya Mall at Chanakyapuri, Delhi. NicoCaara is cooking up a menu that seeks to combine healthy eating with a dose of sustainable living too.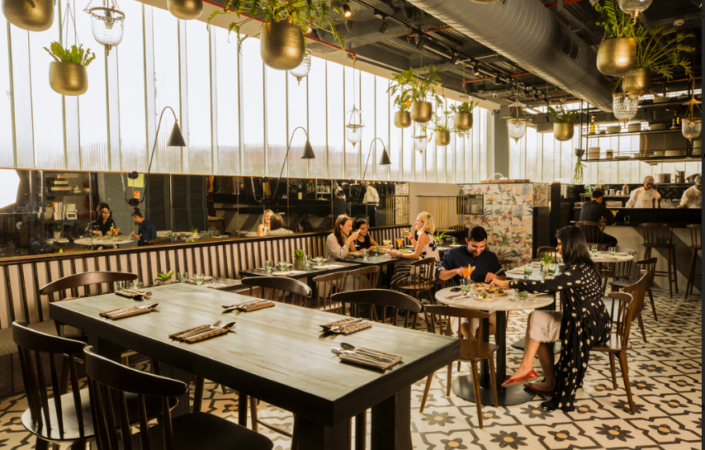 NicoCaara is a collaboration between Nicobar, the lifestyle brand and CAARA, an established, go-to fine-dining catering and fine-dining company. Headed by partners Ambika Seth and Alice, the small plates menu of NicoCaara capture both the brand's essence and their focus on sustainability and local produce by focusing their menu on seasonal and local produce.
Ambika spent 10 years living and studying in Switzerland where she completed her Bachelor of Science degree in International Hospitality Management from the École hôtelière de Lausanne. She then worked with Six Senses in Vietnam a chain of resorts spread across South East Asia that promotes sustainable travelling right from sourcing renewable materials to educating their guests about living sustainably. She finally came back to India with the mission to stay away from the usual "cookie cutter" hospitality services and start her own sustainable venture. What started off as an experiment by working with local farmers, soon developed into a catering service in conjunction with Ambika's partner Alice. The two soon realized that the only way to spread the word about sustainable food and healthy eating is by opening up their own place and that's what led to the birth of Caara and eventually NicoCaara.
"In order to be truly sustainable people need to believe in the ideology. When I started FarmLove (which is the farming initiative started by Ambika) it was all about providing the farmers with the seeds and giving them the know-how on how to grow the produce chemical free. Soon, we saw a positive response from both the farmers as well as an improvement in the soil in these areas. This how I met Alice, she loved my produce and was already in the catering business and laid emphasis on ethically sourced produce and more importantly eating right/healthy. We joined hands and started off on our Caara venture," said Ambika.
60% of NicoCaara's produce comes from Ambika's FarmLove venture which is an initiative that cuts the middlemen from the picture and enables the restaurant to directly source their vegetables from the farmers. Moreover, each farmer is provided with the seeds and the knowledge on how to grow them chemical free. Each batch of produce is tested in conjunction with the PUSA institute who carry out tests on the soil of the area, the water as well as the vegetables.
Ambika hasn't declared NicoCaara to be organic though. "A lot of the fields where we grow our plants in, used to be subjected to certain chemicals and that has a minor impact on the vegetables as well. It will take years for the chemicals to drain out of the soil or water, till that happens I won't proclaim us to be organic but we are chemical free."
"The microgreens used in the fish come from an organic cultivator in Delhi. The rye used in the sourdough (all our breads are made in house) is sourced from Conscious Organic. The millets with vinegar, orange and pickled onions as an accomplishment to the chicken is again from Conscious Organic.
Furthermore, NicoCaara lays emphasis on sourcing locally.
"All our cheeses are made domestically (sourced from Uttarakhand, Mumbai and Nepal), why import a brie from France when the you can get the same thing made precisely using the same standards right here. It promotes local businesses and reduces our carbon footprint when you look at it, as a bigger picture."
Ambika, Alice and their head chef are the custodians of a menu that change with the season. A practice that ensures that the menu utilizes the produce available at the time.
"We use most of the produce that we grow or get, it's very rare that have do have any excess left. If it does so happen that we can't fully utilize something from the farm we give it away to other restaurants".
Moving away from the food, NicoCaara also boasts of having an eco-friendly space to dine in. They have a policy against plastic straws and plastic bottles (all their bottles are glass, even their mineral water option is VEEN a Finnish mineral water company that uses glass bottles). Furthermore, they are about to start packaging their food using recycled paper, in addition to the paper bags they already use. NicoCaara (including the other Caara ventures) segregate all of their waste into wet and dry options. Their wet waste is composted and reused at their farms as for the dry waste, they try to recycle as much as they can and the rest is collected by the municipal body.
"Our set up is as sustainable as we could make it for now, furthermore every item gone into the space is again locally sourced, like the brass handis or the back kaddapa stone used as the bar top. Even the tiles are handmade locally."
Asked about her hopes for the future and where she stands on sustainable food, she smiles and passionately dives in, "I want to source everything locally;100% straight from the farm or local suppliers and be completely sustainable. That's my vision. Right now, I'm trying to educate the consumers on where their food is coming from, by highlighting the source of these ingredients in the menu. As for eating sustainably, it needs to happen the climate/environment demands it. We can longer blindly be consuming items, we need to change our ways so that our soil and water conditions may improve and most importantly our health will improve. I see the change happening slowly and steadily among us, it's not how it was 10 years ago. People are getting more conscious and that's going to revolutionize the industry".
Currently Caara has three outlets one at the British Council which is a café, one at Malcha Marg (Caara at Ogaan) and of course NicoCaara. There is even a digital presence at caara.com.
If you're looking for a place to unwind and grab a healthy bite in a niche, eco-friendly setting, I suggest you visit this lovely little place and don't forget to order dessert, I recommend their orange and almond cake!
copyright:iamrenew.com
(Visited 221 times, 1 visits today)