Saving Cornflakes To Make Craft Beer. Cheers to That!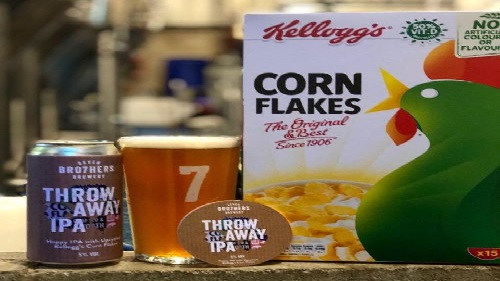 Food wastage besides being a problem also presents us with a business opportunity and big companies like Kellogg's are identifying newer ways to tap it
If wasted food were a country, it would be the third-largest producer of greenhouse gases, just behind the U.S. and China.
According to FAO statistics, more than a third of the world's food is never consumed, and the global economy loses more than $900 billion annually from food loss and waste. While there is a difference in the way food gets wasted in high income and developing countries, food waste nonetheless deserves some serious action.
While governments such as in Europe, US and other parts of the world are trying to build a stronger regulatory framework to minimize the wastage, food companies like Kellogg's are trying to bring a novice solution to the problem of rejected food.
The Cereal giant Kellogg's and UK brewers Seven Bro7hers are recycling the rejected flakes from a factory in Manchester to make Throw Away IPA a craft beer especially designed using rejected cornflakes, all the while cutting food waste into the bargain. The companies are working together and use the cornflakes that didn't pass quality control as a replacement for some of the wheat grain in the beer mix.
Read: Hydroponics- The Future of Farming Food
Using byproducts to make something people want taps into a growing awareness of how much we throw away every day and the need to cut down landfill. You must have read our story about Avocado pits being used to make biodegradable plastic. The idea to use food cuts is not new- In 2015, a group of Welsh students opened an ugly produce shop in Europe, featuring such taglines as "beautiful on the inside." Even the EU changed regulations to reduce waste, dropping its rules that forbade the sale of rejected produce. Canadian grocery chain Loblaws launched a line of "naturally imperfect" fruits and veggies. Another company called the Daily Table collects excess food and ingredients commonly regarded as unattractive to create ready-to-eat meals and sell as regular grocery items, like bread, produce, and canned goods.
But now we can observe the involvement of big companies like Kellogg's who are investing in the solution. A while ago, Whole Foods Market in the US started selling "ugly" produce that would otherwise go to waste at its Northern California stores in collaboration with Imperfect Produce, a California based startup, which marked one of the first forays by a giant grocery chain into the movement to cut food waste. Supermarkets in France, Germany, Austria, United Kingdom, Switzerland, Finland, and Australia all have joined to selling the second-tier produce as a way to reduce food waste. And their customers bought in.
Read also: Lancet Study: 2 Bn People Eating Excess & Wrong Food While 1Bn Starving
In places where supply and demand don't match up, there may be a business opportunity. This fact was highlighted in a study, called "The Business Case for Reducing Food Loss and Waste," analyzes the challenges and opportunities inherent in this colossal global mismatch of supply and demand. The research was commissioned by a group called Champions 12.3, named after UN Sustainable Development Goal 12.3, which reads: "by 2030 halve per capita global food waste at the retail and consumer level, and reduce food losses along production and supply chains including post-harvest losses."
Here is one example from the study of how investing to reduce food loss and waste can pay off:
"A food services company operating in workplace restaurants across 23 sites in a western European country quantified its food loss and waste, finding hotspots due to overproduction, out-of-date food, and uneaten meals by customers. Reduction efforts included using more semi-prepared food, improving meal forecasting, training staff, and engaging consumers. Across these sites, the benefit-cost ratio of the actions implemented was nearly 25:1."
The study suggests that the first step is to set targets; countries, cities, and agribusiness companies should set specific, measurable targets for food waste reduction. The next step is to measure. A helpful tool is the Food Loss and Waste Accounting and Reporting Standard released in 2016. And lastly, implementation plans need to be put in place.
With such high return on investment ratios, companies big and small, all have started designing the next food waste reduction software, or work out the business model so the returns translate into cash, and at the same time save many starving people. This makes the business case a win-win-win: for the entrepreneur, for customers, and for humanity.
(Visited 130 times, 1 visits today)