London Marathons Lessons for Mass Participation Sports Events
The London Marathon took a firm stance against plastic waste and replaced 200,000 water bottles with innovative water "pods" made from edible, biodegradable seaweed, among other moves to become more sustainable
The water pouches are made by Skipping Rocks Lab, a London startup that's developing alternatives to consumer products typically delivered in plastic.
"The changes and the trials we're introducing for this year have the potential to change how mass participation events are delivered in future," Hugh Brasher, the marathon director said to media.
Tens of thousands of runners were offered water in the Ooho! pods during the race. They can be bitten to release the water inside the seaweed membrane. The outer cover can also be ingested. But if not eaten, they biodegrade in a matter of mere weeks as compared with plastic bottles that take hundreds of years to decompose.
This year, London Marathon Events (LME)  worked to ensure the event was more sustainable than ever, by reducing the number of drink stations from 26 to 19, organizers removed 215,000 plastic bottles on the course. They also implemented a new single-loop recycling project for plastic bottles, allowing them to be returned directly to a bottle reprocessing plant, where they will be recycled into new bottles.
700 runners trialed new bottle belts made from 90% recycled materials and there was the largest test of Ooho seaweed pods, with 30,000 being handed out at mile 23. Encouraging runners to carry their own water has the potential to radically change how hydration is provided at mass participation running events. The bottle belts will be collected for cleaning and reuse.
Similar to the capes used at the Berlin and NYC Marathons, 500 runners will trial wearing specially designed Virgin Money London Marathon capes at the start and finish so they don't bring a kit bag. These capes will then be collected and cleaned for reuse. Extensive use of capes in future years would reduce the number of plastic kit bags produced and the need for baggage lorries to transport runners' kit from the start to the finish.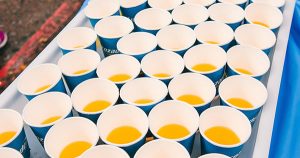 Finally, all runners on the Green Start will have their race numbers printed on demand at the Virgin Money London Marathon Running Show. Currently, race numbers are pre-printed for all 52,000 accepted runners and some 10,000 runners do not make it to the Start Line.
All of these initiatives aim to dramatically reduce LME's environmental impact and set the standard for mass participation events.
Hugh Brasher, Event Director for LME, said: "We are passionate about the concept of Eliminate, Reduce, Reuse and Recycle and fully committed to reducing our environmental impact. We believe we run the best mass participation events in the world and we want to match that by leading the world in mass participation event sustainability."
Other sustainable measures for the 2019 race:
A campaign to encourage spectators to dispose of their waste correctly and to bring refillable bottles and use the free Refill scheme in London to keep hydrated.
Halving the number of generators at the Start and all generators will be fitted with particulate filters.
Using eco-efficient tower lights to reduce the amount of energy used and emissions.
All clothes discarded at the start were to be collected and sent for reuse or to be recycled.
All plastic bottles used were 100 percent recyclable.
All Lucozade Sport bottles used made from 100 percent recycled plastic – a first for the brand – and all Buxton bottles will be made from 50 percent recycled plastic – a UK first.
Recovery bags given to runners at the finish were made from 90 percent recycled plastic and free from unnecessary leaflets and giveaways.
No 'goody bags' given out by LME at the Virgin Money London Marathon Running Show.
All race instructions and registration materials were digital, not printed.
All branding material (scrim) – more than 30 kilometers of it – collected and will be reused or recycled into industrial rags.
The lessons are a great reminder that mass events if they try, can become a bit greener than their predecessor events. These ways can easily be used in other countries like India where many marathons and half-marathons are organized. Event managers can take a few leaves out of the London Marathon's management that could help these events become more sustainable in the future.
(Visited 233 times, 1 visits today)