2nd Global Re-Invest gets underway at Greater Noida Expo Mart
The 2nd edition of Global RE-Invest, envisaged as India's flagship renewable energy event after its inaugural show in February 2015, has finally started today after multiple postponements. The conference is set to run till October 5.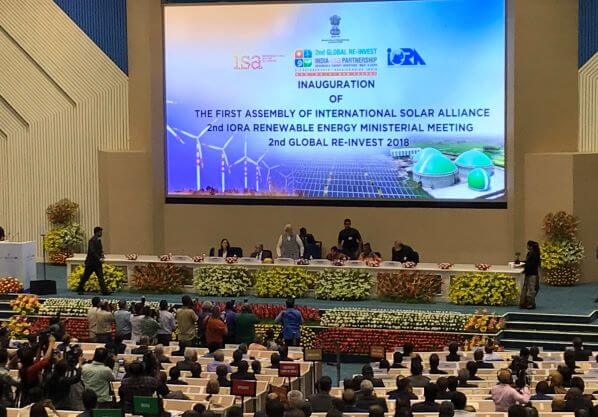 The 2nd edition of Global RE-Invest inaugurated by Prime Minister Narendra Modi
After taking the pledge of cleanliness ahead on 2nd October, that marked the 150th annniversary of Mahatma Gandhi, besides the anniversary of the respected ex PM  Lal Bahadur Shastri,  the Indian government formally inaugurated The 2nd global RE-Invest Event of Investors' Meet & Expo in Delhi. The event is hosted by Ministry of New And Renewable Energy. The Expo is showcasing India's renewable energy potential and the Government's efforts to scale up capacity to meet the national energy requirement in a socially, economically and ecologically sustainable manner.
Simultaneously, the 2nd Global RE-Invest India-ISA Partnership Renewable Energy Investors Meet & Expo is set to be held from 3-5 October, 2018 at the India Expo Mart, Greater Noida. This edition will also host the First Assembly of International Solar Alliance (ISA) and the Meeting of the Energy Ministers of Indian Ocean Rim Association (IORA) countries, makig it a very busy week indeed for developing country plans on renewable energy.
After the fourth postponement, it was scheduled for April 19-21 this year. The MNRE official in April cited that major stakeholders from across the globe wanted the change of date. With 200 speakers from 75 plus countries spread across more than 50 sessions, the second RE-Invest summit in the series seeks to explore strategies for development and deployment of renewables.
Re-Invest 2015 had concluded with commitments for a staggering 266 GW of renewable energy projects in India, much higher than the 175 GW target of renewable energy by 2022 that India has set for itself. Of the 266 GW, 14 global companies across seven countries promised to set up 58 GW, 257 private Indian companies pledged 190 GW, while 22 PSUs committed to the remaining 18 GW. In addition, 27 banks pledged financing of 72 GW. In practice, of course, like all MOU's, most of these have lapsed.
But according to update from MNRE in October last year the commitments made, only 39.3 GW of renewable energy had been commissioned or was under construction, while banks, which had pledged Rs 4 lakh crore, had sanctioned only Rs 1.8 lakh crore.
INDIA TARGETS 175GW RE BY 2022
100GW SOLAR • 60GW WIND
10GW BIO-ENERGY • 5GW SMALL HYDRO
72GW ALREADY INSTALLED
India today is one of the world's largest clean energy market vying for second place after China, with exponentially increasing demand and supply and proactive policy support, including 100% foreign investment in renewable energy development. The country has an ambitious plan for renewable energy and needs an investment of around $76 bn to achieve the balance 103.67 Gigawatt (Gw) of the target of 175 Gw renewable energy capacity by 2020, according to Power and Renewable energy minister R K Singh.
2nd Global RE-INVEST provides India a global platform to showcases its clean energy market and provide an international forum to established players as well as new segments of investors and entrepreneurs to engage, ideate and innovate.
The Participants include Government officials and policymakers, investors and financiers ,project developers, manufacturers, EPC, OEM and ancillaries, e-mobility and storage companies, start-ups and innovators, multilateral agencies, R&D institutions, academia and think tanks.
(Visited 485 times, 1 visits today)