World Bank Commits $1 Billion for Battery Storage to Accelerate Renewable Energy Adoption Globally
A new, $1 billion World Bank Group program aims to help fast-track investments in battery storage, so it can be deployed affordably and at scale in middle-income and developing countries, including some of the fastest growing economies in the world.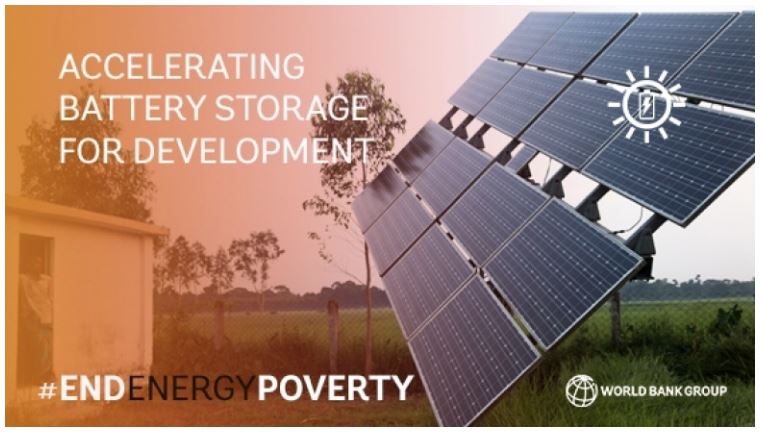 The World Bank Group last week announced at the One Planet Summit that it has committed a $1 Billion fund for a new global program to ramp up investments in Battery Storage for energy systems in developing and middle-income countries.
The program will look to help the countries accelerate their use of renewables – particularly wind and solar to improve their energy security, increase grid stability and expand access to electricity. Effectively, the three stands on which almost every renewable dream is being based today.
The $1 billion in World Bank Group financing is expected to mobilize another $4 billion in concessional climate financing and public and private investments. The program aims to finance 17.5 GWh of battery storage by 2025 – more than triple the 4-5 GWh currently installed in all developing countries.
"For developing countries, this can be a game changer," said World Bank Group President Jim Yong Kim. "Battery storage can help countries leapfrog to the next generation of power generation technology, expand energy access, and set the stage for much cleaner, more stable, energy systems."
Batteries used in energy generation systems are expensive, and most projects are concentrated in developed countries. The "Accelerating Battery Storage for Development" program will finance and de-risk investments such as utility-scale solar parks with battery storage, off-grid systems – including mini-grids – and stand-alone batteries that can help stabilize and strengthen grids.
According to World Bank's announcement the  program will also support large-scale demonstration projects for new storage technologies suitable for developing countries' needs, such as batteries that are long-lasting, resilient to harsh conditions and high temperatures, and that present minimal environmental risks.
"We are seeing historic low prices for solar and wind energy, and countries want to use as much of it as possible to meet their energy needs, But to make full use of solar and wind power, we need at-scale and affordable battery storage. Our goal is to catalyze new markets that will help drive down costs and make batteries a viable storage solution for developing countries," Riccardo Puliti, Senior Director and Head of Energy and Extractives at the World Bank.
The program will help shape policies needed to integrate battery storage and establish procurement practices in favor of environmentally friendly technologies and recycling programs.
It will also convene a global think tank on battery storage, bringing together national laboratories, research institutions, development agencies and philanthropies to foster international technological cooperation and training to develop and adapt new storage solutions that are tailored to the needs and conditions of developing countries.
The move is a timely reminder of the role storage will be playing as the renewables juggernaut moves on. Early innovations that could improve capacities by 5-7 times, as is hoped for, could be game changers in more ways than one, with an impact across Industries and sectors that few can concieve of.  To draw an analogy, if battery storage truly gets on to the same doubling cycle as say, processors, which saw both capacity doubling and miniaturisation happening every 18 months for an almost 25 year period, then the possibilities are endless.
image credits: worldbank.org
(Visited 216 times, 1 visits today)