A 100-MW Fishery Plant Makes a Case for More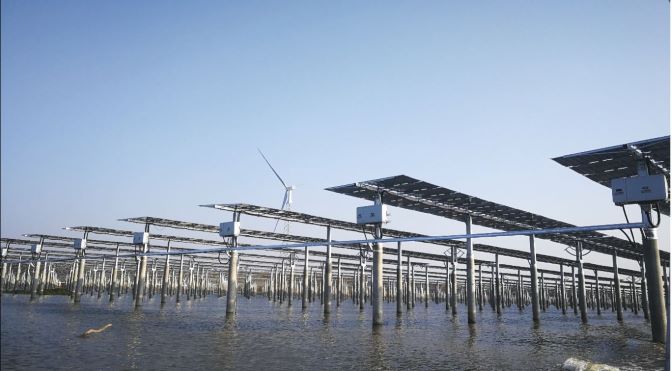 The Sihong Hybrid Fishery-Solar 100MW PV project in China constructed by SPIC Jiangsu Electric Power has opened up a new frontier for Solar Power
Sihong county in China, already well known for its wind power projects and recognition in ecological protection and forest coverage has added another feather in its hat. It is now home to a 100 MW solar PV-fishery plant.
The Sihong 100MW PV project, is constructed by SPIC Jiangsu Electric Power and now has taken the lead in grid-tied power generation. SPIC is one of China's top five power generators and owns a complete industry chain in PV panel making. For Huawei, which has suppplied its 1500V smart PV solution, the project is a great testimonial to the versatility and quality of its inverters.
The Sihong Hybrid Fishery-Solar 100MW PV project is located in Suqian city, Jiangsu province, and covers an area of about 2km2. The large-scale PV power plant was built on the local lake, intertidal zones and fish ponds. The project uses advanced Huawei FusionSolar 1500V Smart PV Solution. Advanced N-type Bifacial PV Modules are used and a total of 51 transformer stations are installed. According to the company, The project has fully adopted Huawei 1500V Smart PV Solution with 1000 inverters in total.
After the project is completed, it is estimated that the project will yield 143.67 million kWh every year. Additionally, it will promote the development of ecological fishery and the construction of an advanced state-level PV power generation application base.
According to Huawei the 1500V PV system can become a 'global trend' as a 'preferred solution to reduce costs'. According to the company statement, the 1500V smart PV system comes with bifacial PV modules which reduces the LCOE (levelised cost of energy) helping customers to achieve grid-tied power generation at a fair price.
An IHS Markit report says that 1500V solar inverters shipments which were just 2 GW  in 2016 will surpass the 30 GW milestone in 2018. The 1500V inverters will continue their growth trajectory, and over 100 GW will be shipped in 2019 and 2020 combined.
The solar-aquaculture project has clear advantages of the hybrid projects as they save land, generate clean energy and farm fish all at once. Additionally, the temperature of the water, which is lower than that of the ground, allows for the optimal operation of solar panels. The panels were placed far apart from one another, in order to allow enough sunlight to penetrate the water, which is critical for the growth of the fish beneath the surface.
The combination of fish farming and solar power generation is no novelty in China. Some of the most notable projects of this kind include- a 120 MW project in Poyang county, Jiangxi province, completed in May 2016; and Hangzhou Fengling's 200 MW project in Cixi, Zhejiang province, which was connected in January 2017.
For more technical details click here
(Visited 808 times, 1 visits today)