Arcimoto Launches Funky Two-seater Fun Utility Vehicle or FUV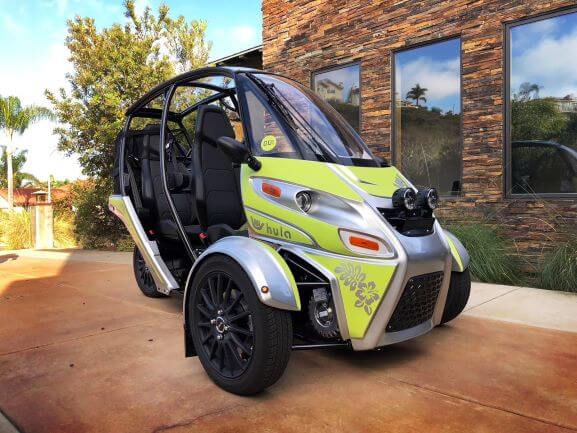 Fun all the way!
Oregon, (US) based Arcimoto Inc has created the Fun Utility Vehicle, which provides an inexpensive and sustainable alternative to a car for urban drivers and starts at $12,000
If you thought electric cars were only in the uber luxury car segment or involved a retrofit hassle, or just the usual 2 wheelers to 4 wheelers , then you are in for a surprise. Arcimoto, an Oregon (US)based company has finished testing the first production series of its three-wheeled electric vehicle called the Fun Utility vehicle or the FUV – and it promises to be real fun.
The company called Arcimoto Inc, has designed the unique FUV with two wheels in front and one in the back, unlike our 3-wheeler auto-rickshaw which has one wheel upfront and two following wheels at the back. The FUV is a tadpole trike, meaning the two-wheel arrangement is on the front of the vehicle, while the back is powered by a single wheel. The semi-enclosure design of the FUV ensures rainy days don't play spoilsport.
As a reference to its capabilities,its independent dual-motor front-wheel drive can take the FUV to speed up to 129 km/h with a 12 kWh or 20 kWh battery providing a 113 to 209 km range on a single charge respectively.
Mark Frohnmayer, President and Founder, says Arcimoto is meant to challenge, and eventually usurp, the current automotive paradigm as the future of sustainable mobility. A kind of motorcycle/scooter electric-vehicle hybrid, which almost all can afford and ride without the installing different charging points as with the case of electric Vehicles.
It has an open frame, handlebar controls, and centered seating to provide a fully engaging driving experience.
Arcimoto claims that two people and their gear can comfortably drive 70 miles(113 kms) or 130 miles(209 kms) on a charge, well over the daily driving average of 33 miles. It can be charged up at a charging station on the road or in a standard outlet at home with no special equipment.
The light weight, and anti-dive optimization promises an extremely agile and responsive ride.
It has 1/4 the mass footprint of the average passenger vehicle and 1/3 the price, the FUV is also supposedly 10 times more efficient than the average passenger vehicle at 230 Miles per gallon gasoline equivalent.
For now, Arcimoto Inc has completed the testing of the first production series of the trike, now moving to the production of the pilot-series vehicle and has priced it at $11,900 (Rs 88,000) (minus the add-ons like the side enclosures and more). Already Arcimoto claims that more than 2900 units of the FUV have been pre-booked by customers with a $100 deposit.
(Visited 863 times, 1 visits today)