EV Charging Infrastructure Policy could allow individuals to participate too: Power Minister R.K. Singh
The Ministry of Power is in the process of bringing out a new EV charging infrastructure policy with provisions that will allow even individuals to set up commercial charging infrastructures, without licenses.
According to comments made yesterday by the Power and Renewable Energy Minister R K Singh, the Ministry of Power will soon bring forth an EV charging infrastructure policy, which through one of its provisions will also allow individuals to set up charging station for commercial use to boost e-mobility.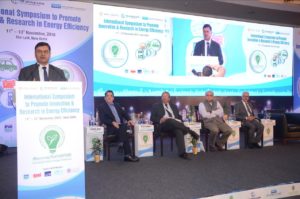 "We have circulated the EV Charging Policy for comments (among other department/ministries). The second line of the policy says that everybody is free to set up EV charging station," Singh told reporters at International Symposium to Promote Innovation & Research in Energy Efficiency (Inspire 2018). The event was organised in collaboration with the Bureau of Energy Efficiency (BEE), The Energy & Resources Institute (TERI), Asian Development Bank (ADB), the United Nations Environment Program (UNEP), and the Administrative Staff College of India (ASCI). 
The EV charging infrastructure has for long been identified as the reason for the poor response to electric vehicles in the country, and with this new policy, the government will look to make amends. Boosting its EV share in the transportation mix considerably by 2030, which is in line with its commitment to reduce emission intensity by one third from the level of 2005. When asked whether individuals would be able to use the facility on a commercial basis, he replied, "Absolutely. You don't need a license". 
Read: The 7 States Leading India's EV revolution
To further mark the occasion, EESL (Energy Efficiency Services Ltd) and the Asian Development Bank (ADB) also signed an agreement for a Global Environment Facility (GEF). The GEF will issue a grant of $13 million to establish an Energy Efficiency Revolving Fund (EERF) to support investments in new, innovative and scalable business models. Aiming to expand and sustain investments in the energy efficiency market in India, building on market diversification, and scaling up of existing technologies. 
India has set a target of achieving 175 GW of clean energy by 2022, with 100 GW of solar and 60 GW of wind energy. Of this ambitious target, Singh said that India has already achieved 72 GW of installed renewable energy capacity, while an additional 20 GW is under various stages of implementation and 27 GW is currently being bid out. Singh also informed that his ministry is working to coordinate with the oil ministry to set up EV charging station at petrol pumps.
Recently, The Town and Country Planning organisation under the Ministry of Housing and Urban Affairs announced that it is considering a draft proposition in building by-laws amendments that will make it mandatory for residential and commercial buildings along with parking lots, to have a specific electric vehicle charging station.
(Visited 194 times, 1 visits today)