"Cownomics resurrects entire ecology around water bodies" – Madhukar Swayambhu, Founder, Vaidic Srijan
The Cownomics Technology being used by Vaidic Srijan,named thus due to its origins in vedic sciences rather than the cow, seeks to rejuvenate water bodies and natural ecology with least CAPEX. In a candid talk with IAmRenew, Madhukar Swayambhu, Founder, Vaidic Srijan, opens up on Cownomics and the speed at which his start-up is growing. Excerpts: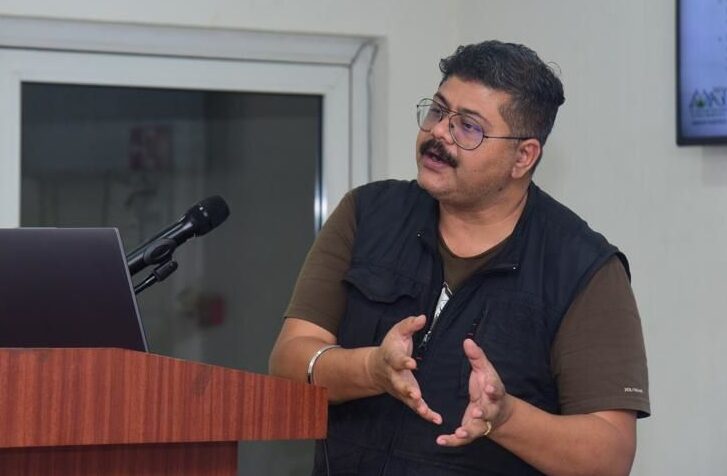 Cownomics Technology Vaidic Srijan water bodies vedic technology Madhukar Swayambhu
Cownomics and Vaidic Srijan have been in the news for its work. Tell us something more about this technology?
Madhukar Swayambhu: Cownomics is a technology created for the complete resurrection of the native ecology around the water bodies and wetlands with a clear cut objective of restoration of ecological services of water bodies and wetlands. Most of the technologies dealing with water are only focused on 'cleaning the water' which is not a sustainable idea. Players often fail to clean water bodies like lakes, ponds, rivers, springs, reservoirs etc. miserably every time because they try to fix an ecological problem through physics, chemistry or biology that are mere subsets of ecology. Today, water bodies are just sick and not dirty. They are waiting to be brought to their normal health. You should not send a sick person to a beauty parlour instead of a hospital to ensure that the person doesn't look sick. The right approach is that water bodies should be brought back to their original health so that the 'ecosystem services' catered by them are restored. Through Cownomics, we have rejuvenated lakes, ponds, drains, sewage drains, rivers, streams, kunds etc. and there is no need for CAPEX in our technology.
How does Cownomics perform in ecological restoration of water bodies?
MS: First and foremost, most of the technologies only clean the water. Cownomics, on the other hand, is restoring the entire ecology at the water body. This includes restoration of soil and air also. Water bodies are the focus area of Cownomics because they are the consumption point of soil, water and air that too in the same order. When a water body is being brought to its pristine form through Cownomics, it has a positive impact on air, soil and underground aquifers. With Cownomics we basically restore the natural native environment of an area – soil, water and air are cleaned in-situ in record time.
How has the response been on the ground?
MS: Cownomics is the most sustainable and result oriented scientifically proven technology project by project.  In every project we have been ensuring that the ecosystem services of water bodies are being restored and the ripple effect is being recorded in every project scientifically. The concept of waste and wealth is a very human concept; in nature there is no waste and no wealth. Everything is cyclic. Waste for one is the wealth for others. Cleaning of water is just one aspect and this happens naturally. Water contamination takes place primarily due to the nutrient overload added to the water. This makes water bodies sick  and they are not able to process or recycle the nutrient overload. Cownomics increases water bodies' digestion capacity and they break nutrients to their elemental forms sending them back to their cycles.
What kind of support have you got from the local communities?
MS: When local communities come across water bodies that have been rejuvenated along with soil and air, we have witnessed automatic community engagement. They collaborate in taking care of the clean waters disallowing any waste being dumped again at the water body.
You are one of the many successful start-ups in this sector. How do you differentiate yourself with others?
MS: We are the most well researched start-up in India. We carried out research for one full decade before starting up. Normally, the technology and business graduates generate an idea and subsequently borrow funds to create a start-up. We are different. We dealt with technologies for years and studied the great vedic science. We delved in pure academic research between 2011 and 2016. From 2016-2021, we carried out field research for practical experience. After perfecting Cownomics , we launched Vaidic Srijan in 2021.
How is Vaidic Srijan doing in terms of business?
MS: Vaidic Srijan has been growing 10 times in terms of business per annum. We are a sustainable, profitable organization from day one. This is a pure Indian way of doing business. As of now, we do not require funds from investors. In 2021-2022, we had meagre revenue of Rs 8 lakhs. In 2022-23, our business rose to Rs 80 lakhs. This financial year, we expect to touch Rs 8 crores. In the first four months of this FY, a pipeline of 4 crore is already created and in the remaining year, a minimum of 4 crore of business will come to us. As a start up, we have one of the strongest business pipeline in the industry.
What are the key projects Vaidic Srijan has executed till date?
MS: Vaidic Srijan has done many projects across India for in-situ water bodies and ecological restoration. The Jhor Pukhari water body in Guwahati that was created in 15th century by the Ahom Dynasty was rejuvenated by us and inaugurated by the Assam Chief Minister recently. Similarly, we also rejuvenated Lahartara Lake in Varanasi which is the birthplace of Sant Kabir. We also restored the Moat water body around Barabati Fort which is 1200 years old. We are working with governments at all levels – Central government, state governments, ULBs, district administrations and also PSUs.  We are experts for teerth/pilgrimage water bodies that once used to be stinking and now people can carry out 'aachman' with the water which has the highest standards in terms of cleanliness as mandated by CPCB and & IS 2296, class A.
Which is your most notable project among all?
MS: Our most notable project is the Moradabad project where we have resurrected seven water bodies spread across Moradabad in one go. The authorities recorded a strong impact on the total environment of Moradabad. Its first such kind of a project where massive positive impact was observed in terms of water quality, air quality, aquifer recharge and biodiversity conservation. This project has been visited by the Central Ministries, WWF and other national and international agencies, to understand how vedic science is changing things dramatically. Also, this year it had rained more in Moradabad than Delhi. On one specific day of early July, it rained 153 mm in Delhi which flooded the city but Moradabad received 160 mm of rain and not a single drop of water overflowed from any of the water bodies that we are rejuvenating. Water bodies treated with Cownomics opens up the earth pores to push the water into the underground water table; the highest recharge of the water table was recorded. This means that Cownomics offers a cushion against natural disasters and the technology has been appreciated by the National Institute of Disaster Management (NIDM), Ministry of Home Affairs.
Since you work on Indic technology, do you have any kind of recognition or certification from the government?
MS: Vaidic Srijan has been recognized by four different central ministries. The Jal Shakti Ministry that conferred us with 'Water Hero Award', Ministry of Housing and Urban Affaris (MoHUA) has certified us as technology partner for AMRUT 2.0 project, MNRE has award for ESG enabler technology for 2023 and NIDM (Ministry of Home Affairs) has also recognized us.
What are the challenges that you face in the industry?
MS: The biggest problem is the mindset of the administration. It's very tough to make an official understand the Vedic or ancient Indian science concepts. Their mindset is still traditional type. It has become their attitude to look towards West for technologies for every problem. They should realize that India is the longest and continuing civilization on the Earth because we cracked the code of sustainability with our science. It is still relevant to search answers of the modern problems in our own vedic science, because sustainability & living in harmony with nature has been in the core of our lifestyle and science.
(Visited 72 times, 1 visits today)