History Set To Be Rewritten In Indian EV Space, Says VC Analysis
Naman Lahoty, part of the investment team at Stellaris Venture Partners, has authored a 3 part analysis on why the Indian EV market could follow a different route from the usual auto market, which has always favoured incumbents. A quick snapshot.
In an insightful analysis based on interactions with over 150 'EV system participants' Mr Lahoty  goes on to outline opportunities as he sees it in the for new OEMs,  within the battery ecosystem,  and energy distribution.
He starts off with the  suggestion that historically, the  creation of a new automotive OEM has been next to impossible,  due to the long product development cycles, high investments in supply chain, distribution and service networks, and the long duration to build brands.
Thus, even with  EV's his bet is on incumbents grabbing most opportunities. However, thanks to slower adoption caused by 'innovation inertia' and the resistance to ' creative destruction',  startups have an opportunity,  especially in two key spaces.
A scooter built for commercial usage/fleets
Intercity bus/ trucks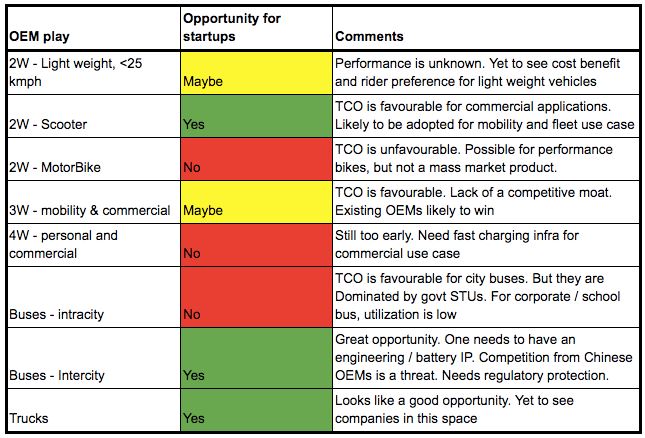 Commercial scooters have a case  because of the logic of total cost of ownership and early adoption, besides the many players already in this market. Dropping battery costs will only strengthen the case here. However, pointing to the failure to build a truly world class electric scooter still (Ather is dismissed as an over engineered and expensive product lacking market fit yet), he stresses on the need to cross this hurdle.
The TCO logic works even more strongly in the market for inter city buses and even trucking, and currently it is only China's massive dominance of this segment that prevents a much more aggressive push in India.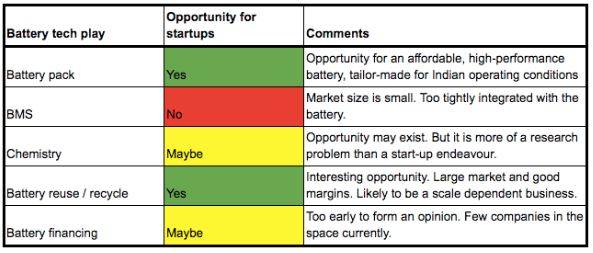 On batteries, the VC sees a clear opportunity in the manufacture of battery packs made for Indian conditions, besides battery chemistry and recycling. Its a sentiment that you can't disagree with, considering the high concentration of power on the supply  side with China. It's also a point an investor we met recently Rajat Verma of Lohum Cleantech, stressed on.
In the battery space when it comes to charging versus swapping , the VC sees an opportunity in an asset light charging network, dismissing the actual manufacture, or swapping business as commodity plays. The charging network is liked for its low capex, as one can build a network of chargers through partnerships. This makes it faster to scale up even with limited capital. Reason two is  Strong network effects  as a larger customer base builds its own c0mpetitive moat for the business.  ChargePoint in the US and New Motion in Europe have been  quoted  as good examples. While New Motion is a pure software play, ChargePoint, along with software, invests in setting up its own hardware network as well.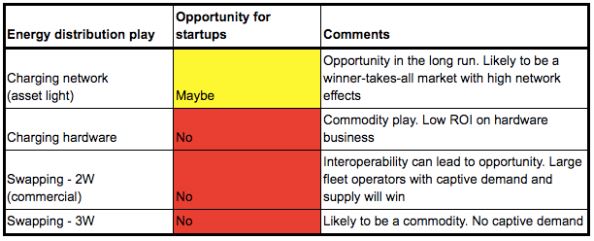 Battery swapping is downgraded for its high capital cost , inventory carrying cost, and risk of obsolescense.
(Visited 318 times, 1 visits today)