Achtung Tesla, Audi Reveals its all electric E-tron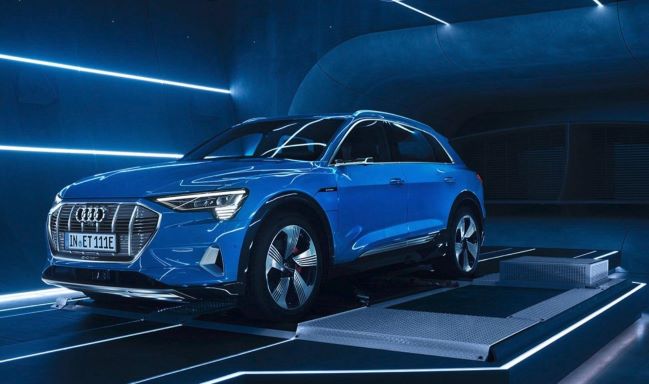 Audi's all electric dream
Audi unveils its first fully electric auto E-Tron, which will be made in Brussels and will arrive in the U.S. during the second quarter of 2019.
Looking at the speed and projections being made by global auto majors , the targets being set by national governments , especially India, seem positively pusillanimous, when it comes to EV's.
German luxury car brand Audi unveiled its E-Tron, a battery-powered crossover that's due to hit showrooms later this year, near Tesla's home ground in California. Earlier, the other big German carmaker Mercedes-Benz revealed its own electric crossover earlier this month, and BMW showed off another Tesla-fighting concept model last week. The current series of events shows that Elon Musk's company will be seeing more serious competition from the leaders in automotive luxury from Germany.
E-Tron, Audi's first fully electric auto will be made in Brussels and will arrive in the U.S. during the second quarter of 2019, the company said in a statement. The five-seater starts at $74,800, Audi unveiled the E-Tron at the site of an old Ford plant in Richmond, California, across the bay from San Francisco and roughly 35 miles north of Tesla's sole auto assembly plant in Fremont.
With the launch Audi took a major step in going electric. Audi chose the San Francisco area of California for the E-Tron's global debut for several reasons: California is the biggest luxury auto market, the tech industry is prominent, and Governor Jerry Brown just hosted a Global Climate Action Summit.
"California is a big, impactful market," Scott Keogh, president of Audi of America said. "Electrification, the tech industry, the ecosystem is all here. It's the right place to do it."
Audi, Volkswagen AG's premium brand, which temporarily held the second spot some years ago in terms of global sales, lost ground to German luxury-car rivals Mercedes and BMW both in terms of deliveries and profit margins. Not least due to a diesel emissions scandal at its parent, the impact of which is still being felt.
The E-Tron, whose anticipated range in the U.S. is expected to be about 248 miles per charge, offers an opportunity for a fresh start at Audi if the model proves popular with customers. The brand plans to add two more battery-powered vehicles by 2020. While the E-Tron is largely based on standalone technology, VW is pushing for deeper cooperation with sister brand Porsche, especially in the area of electric-car development, to share costs.
Audi said it plans to introduce a total of 12 fully electric vehicles in its main markets by 2025. By then, these models and Audi's hybrids will account for about a third of global deliveries, according to a statement.
The E-Tron crossover will be lined by a Sportback variant next year, followed by a slew of other vehicles covering all major segments from compact vehicles to upscale limousines. A new design concept, the E-Tron GT, is scheduled to be unveiled at the Los Angeles auto show in November.
Luxury electric vehicles entering the market now are mostly priced like Tesla's Model S sedan and Model X crossover. But Musk's auto business is increasingly moving toward the mass-luxury market, first with its smaller Model 3 sedan and eventually with the Model Y crossover. However, while the next couple of years may not bring  Tesla heavy competition but Audi as a brand represents a legitimate threat.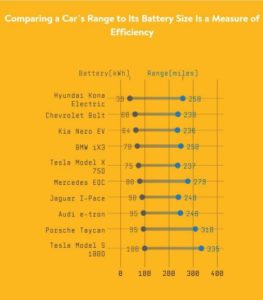 In fact, going by the typical time it takes for features to move from luxury cars to mass market cars, 5 years is the industry rule. So these luxyry cars give a good peek into the future for regular cars too.
A peek into the 2019 offerings from Mercedes Benz, Porsche, Jaguar and Audi reveal batteries, lots and lots of batteries.
Elon Musk is in a race to produce an affordable electric car in large numbers because Tesla is about to lose its near monopoly on the luxury electric car market. If Tesla successfully produces a middle-market vehicle at scale, then electric car production will grow exponentially, transforming the transportation and energy industries.
With  Mercedes to begin producing the EQC, a crossover model that will be the company's first all-electric car next year,  the German automaker is spending $12 billion on new electric-vehicle assembly lines to add more models soon.
Porsche will begin shipping the Taycan next year. Twin electric motors producing 600-horsepower will accelerate the two-seater to 60 miles an hour in under 3.5 seconds and still have a 310-mile range.
Audi is already taking reservations for its E-tron all-electric SUV and Jaguar is also betting on SUVs, entering the electric-vehicle market with the I-Pace.
(Visited 48 times, 1 visits today)