Singapore's SP Group Launches Blockchain-powered REC Marketplace
Singapore's SP Group Launches Blockchain-powered renewable energy certificate marketplace
Days after announcing its plan to install a network of 1000 EV charging points in Singapore by 2020, SP group launched the world's first blockchain-powered Renewable Energy Certificate (REC) marketplace on 29 Oct. At the ASEAN Energy Business Forum, SP Group's Chief Digital Officer Samuel Tan launched this platform, where AEBF forum participants saw screenshots of the first purchases by buyers, City Developments Limited (CDL) and DBS Bank (DBS).
According to its press release, this marketplace enables local and international organisations – regardless of size, business or location in the world – to trade in RECs. The blockchain technology will ensure the security, integrity and traceability of each REC transaction. This will drive the greater integration of renewable energy sources on the electricity grid.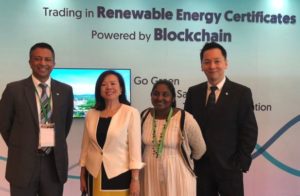 Samuel Tan, said, "Through blockchain technology, we enable companies to trade in renewable energy certificates conveniently, seamlessly and securely, helping them achieve greener business operations and meet their sustainability targets."
It also supports different supply options including types of sellers and renewable energy sources. Local organisations such as CDL and DBS, have signed on as REC buyers. Solar developers such as Cleantech Solar Asia and LYS Energy Solutions, with local and regional solar assets, have signed a collaboration with SP to place their solar assets on the marketplace for sale of RECs.
When a renewable energy producer, whether it's a huge firm or a single household, sends 1000 kWh of energy into the power grid they receive one REC. Hence a REC represents 1000 kWh of energy, and the producer can sell the certificate to individuals and firms. The REC is trackable so governments can see how certificates spread and who owns them.
However, the renewable energy generated, whether through solar, wind, hydropower, or other means is not traceable. The power goes into the grid and hence becomes part of the energy pool. But the producer's certificate represents the electricity generated.
Mr Raju Shukla, Executive Chairman, Cleantech Solar Asia in a statement said, "Cleantech Solar is excited to be onboarded onto one of the world's first blockchain-powered REC marketplace pioneered by SP Group. By having our 120 solar sites in Asia on board this platform, we can now allow consumers, who are unable to generate their own renewable energy, another reliable solution to achieve their clean energy goals. Cleantech Solar is proud to be a contributor to SP Group's innovative green solutions and together to work towards a zero carbon future."
When a buyer purchases a renewable energy asset or certificate from a seller, they are able to make use of renewable energy that is generated by other parties. The use of blockchain means that buyers are automatically matched to sellers according to their unique needs. This system means that businesses of all sizes are able to have their renewable energy needs met. This also falls in line with Singapore's low carbon goals.
SP Group is one of the leading energy utilities group in the Asia Pacific. It owns and operates electricity and gas transmission and distribution businesses in Singapore and Australia, and district cooling businesses in Singapore and China.
(Visited 317 times, 1 visits today)