Simpa Networks Brings Solar Solutions for Rural India's Unique Energy Needs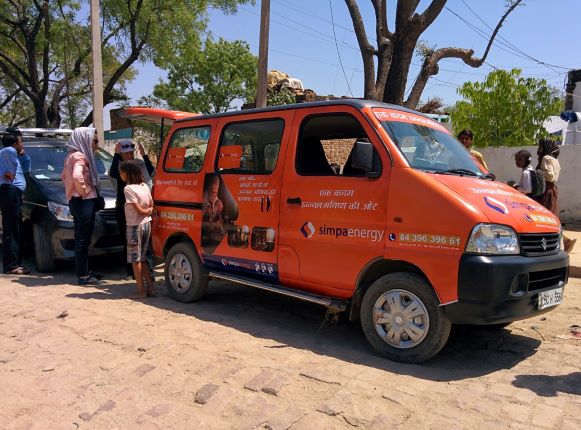 Simpa Netwoks seeks to tackle the 'Energy poverty' in the rural areas of India, with solar. Making waves in one of the most energy deficit districts across UP, Bihar, Orissa, Jharkhand, West Bengal and Assam, Simpa Networks has plans to expand further. Talking to IamRenew's Sneha Verma, Piyush Mathur, CEO, talks about key challenges that have shaped Simpa Network's success.
Last month, when Energy services group ENGIE purchased 90 percent of Simpa Energy India from its parent company, Simpa Networks, Inc, it got attention from a lot of people finally. The purchase could be the next big step for this firm, which has quitely built a reputation and market understanding of selling solar solutions to rural India.
Noida-based Simpa Networks designs and sells solar home systems on a pay-as-you-go price financing to households and shops. They recognize the potential of rural areas and their problems too. Speaking to Iamrenew team, Piyush Mathur, Chief Executive Officer of Simpa elaborated on why Rural India may hold the future for growth.
"Rural markets have a need.  They also have big enough rooftops to install solar to cover their energy needs.  What they don't have is disposable money.  Hence the need for financing to spread adoption of solar." Simpa Network CEO Piyush Mathur said.
The company works on all three levels to provide solar solutions to its customers. They make energy accessible and affordable to the rural homes and shops in India, who don't get reliable energy access from the power grids. The rural folks usually have to rely on unclean sources of energy like Diesel Genset or combination of Kerosene lamps.
Simpa provides them with solar power panels on the rooftop, battery storage units at home or shops and appliances like lights, Fans and TV if they choose so. The packages range from Rs 15,000 to 30,000. They use regular and no maintenance lead-acid batteries which are designed specifically for this use. The company says that they are working on the technology curve which means that people are coming to terms with solar. Their solutions give the option to the consumer and bypass the entire transmission to distribution, or in short the entire grid network setup to acquire electricity for their domestic or commercial use. Solar systems such as Simpa's brings electricity to the end user, without the whole hassle. Especially to those areas where grid connections have yet to reach a 100 Percent. The rural homes or shops and its residents are becoming the prosumers as well as controllers of their own energy needs.
Simpa Networks has identified Rural India's unique energy needs. Notwithstanding that fact that solar technology has existed for many years, rural folks have not yet adopted the solar technology because the upfront cost is very high. Simpa has made financing available and then address the basic anxiety with its after-sale services. This has led to the evolution of energy solutions that Simpa Networks provide.
Or as Piyush Mathur  adds, "We are not simply selling the energy device, we are selling three elements to our customers, the first is energy device, second is the point-of-sale financing and then third is after-sale doorstep services. It is the combination of these three that creates the magic that Simpa is today."
Simpa Networks is not only helping to meet Rural Energy needs through Renewable energy but is simultaneously creating job opportunities. "We recruit sales and service people from the local areas where we operate. We work through Village Level Entrepreneurs (VLEs) who are based in the village and refer customers to us for a commission," he further highlights that they are working in the most energy-deficit areas which have been neglected and policies that are helping, "We have started with UP, Bihar, and Odisha, which are the most energy-starved states in India.  However, distributed solar is relevant all across India.  The biggest barrier to adoption is "awareness: of solar.  Policies aside, Govt. awareness campaigns on the scale of  "Beti Bachao…" and Swacch Bharat… can open up the solar market and also people's eyes to the possibilities with solar."
Simpa Networks has a claimed coverage of over 50,000 homes, shops, and SMEs for their service. Typical system sizes are 100-200w with a battery and appliances like LED lights,energy-efficient fans, TV with an inbuilt satellite receiver, according to Mathur. The Company is targeting  10 Million installations in the next 5 years. "We have raised debt, equity and grants. Grants only in early phases to prove the concept when the activities were seen as sub-commercial. Equity to fund our platform and growth. We are now owned by Engie, the global diversified energy group. Debt to fund our customers' purchase of solar systems.  Today, we have partnerships with local banks for consumer financing of these products and we are looking for more banking partners to scale this up further," Mathur told us.
Simpa Networks has a revenue of $1.3M, and 60 employees. It has received a total of $24.5Million in funding. Key firms with a somewhat similar model are SELCO, Gram Power and Naturetech Infrastructure.
India which has set itself with a goal of 100GW of solar power plans to install 40 GW on its rooftops. According to CEA( Central Electricity Authority), total capacity of 23.12 GW was already installed up to July 2018, with rooftops at barely 2.5 GW. Projects of around 10 GW are under implementation and tenders for additional 24.4 GW have been issued. This leaves 43 GW of the solar capacities yet to be realized.  Simpa chief Piyush Mathur, says that Rural market can offer space for solar companies to grow if they are committed to solving accessibility (sales and service distribution) and affordability (financing) challenges.
(Visited 477 times, 1 visits today)