The road to 2020. It Matters For Renewables
As we come to terms with the fact that nearly half of 2018 is behind us, it's time to start looking at 2020 and how it'll be an important year for renewable energy. Because the road to 2020 is going to be littered with a slew of promises kept, and some unfulfilled, which could impact massively on the long term impact they have on sudden outliers like the United States, which has refused to legislate reductions.
Starting with Europe, 28 EU countries agreed to a cumulative 20% (a breakdown that includes electricity, heat and transport) of energy coming from renewables as per the EU 2020 Renewable Energy Targets that were set in motion. Starting from different points it wasn't a flat 20% for all participating countries. Sweden, for example, was already approaching 40% back in 2004, so had the target of 49% – an aim it has already beaten. The United Kingdom started from the low point of just 1.1% in 2004 and pledged to hit 15% by 2020, and has since remained within sight of its targets, although not always on­­ track.=====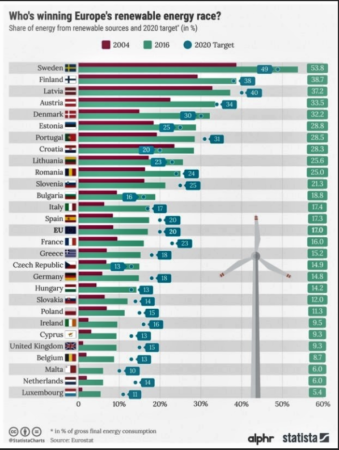 ­ ­­­
Still needing to jump from 9.3% to 15% in two years. France needs a 7% increase, while the Netherlands find themselves 8% short of their targets. Yet, 11 EU nations have already achieved and surpassed their targets. As a whole, the European Union is just 3% off the 20% target, which looks promising.
Further delving into one of the members of the United Kingdom, Scotland is on track to becoming 100 percent powered by renewable energy with the turn of the decade. In just two years, all of Scotland's electricity will be generated by renewable sources, setting the nation on the path to becoming one of the most environmentally sustainable countries in the world. Having achieved and surpassed its initial goal of cutting 42 percent of its emissions by 2020, 5 years in advance by 2015 the country upped it to 66 percent, which they are expected to meet by 2020. Additionally, over the past 15 years, Scotland has gone from delivering 10 percent of its electricity consumption from renewable sources to 60 percent.
On top of that, the government previously set a target for the construction of 500-megawatts' worth of locally-owned energy generation plants. This was attained well ahead of time, so the goal has now been increased to 1,000-megawatts' worth of facilities. Even with all these changes, improvements and additions, the country has successfully maintained a stable economy which has not suffered due to the surge in power shift, only benefited. Now on track to push the green goals further by becoming independent from fossil fuels by 2020.
Heading over, south of the equator, Australia has managed to achieve its 2020 targets well in advance and was confirmed by the state operated Clean Energy Regulator. The 2020 target of 33,000 GWh of additional renewable energy, approximately 6000 MW of large-scale generation capacity projects between 2016 and 2019. This milestone has now been surpassed ahead of schedule, according to Clean Energy Regulator Chair David Parker, following a record level of investment in renewable energy in 2017. Of the 6532 MW of new large-scale generation firmly announced since 2016, more than 4900 MW is fully financed, with most already under construction or operating, while the rest is expected to begin construction early this year. A further 1600 MW of projects have a power purchase agreement in place, which the Regulator expects will progress to financial close. Queensland will see the bulk of this new construction, followed by Victoria and NSW.
"While announcements started slowly in 2016, the momentum we saw in the latter part of that year continued throughout 2017 and has now reached a level that we believe will be sufficient to meet the 2020 target," Parker said.
India, has set its renewable energy sector to meet the target of 175 GW of energy from renewable energy by 2022, the breakdown of which includes, Solar (utility-scale, distributed, off-grid/mini-grid) – 100 GW, Wind (utility-scale)–60 GW, Small hydro-5 GW, Bioenergy-10 GW. The government's think tank NITI AAYOG, which is responsible for long-term planning has set a milestone of 100 gigawatts by 2020 for the country's ambitious renewable energy targets of 2022, expecting an increase of over 42 GW in the coming two years. Making 2020 a key landmark in the timeline which might define the success or failure of the overall achievement of the target set.
Elsewhere, the superpower nations of China and USA do not have legislated or announced targets for the end of the decade but it's a fact that China has already moved to achieve way more than anyone expected when it comes to shifting to renewable sources for energy.
A new report recently published by the International Renewable Energy Agency (IRENA), predicts the cost of renewable energy will experience a noticeable drop by 2020, putting it on par with, or cheaper than, fossil fuels. "This new dynamic signals a significant shift in the energy paradigm," said Adnan Z. Amin, IRENA Director-General, in a statement. "These cost declines across technologies are unprecedented and representative of the degree to which renewable energy is disrupting the global energy system."
All these pointing directly to one fact that the shift in the energy market is on the rise and sooner rather than later renewables will undercut and then completely replace fossil fuels in the energy share, and the beginning of the shift will be marked as 2020.

(Visited 142 times, 1 visits today)