India's Aggressive Renewables Push a Loss For US Coal Exports
The one segment that could perhaps be on the losing end of India's aggressive push for renewables in the coming years is the US Coal Exports market. Accounting for almost 9 million tons in exports from 2017 through the end of September in 2018. And that number has now peaked, according to a new report by IEEFA.
Exports had never been a major segment of the U.S. coal market, generally accounting for less than 10 percent of its production. However, in 2017 and 2018 that changed. According to the Institute of Energy Economics and Financial Analysis' new report, "Coal Outlook 2019: Domestic Market Decline Continues", Exports in 2017 totalled 97 million tons, 12.5 percent of the year's overall 774.6 million tons produced. Unexpectedly, the increase continued in 2018, with exports rising to 115.6 MT and accounting for 15.4 percent of the year's 753.7 MT in production.
Turning to the thermal coal side of the export market, the U.S. has traditionally been regarded as a swing supplier, selling into the market when other suppliers could not meet demand, largely because the distance to major importers such as India and other Asian countries rendered the economics borderline except during the strongest markets. And, the past two years have been just that, strong markets that pushed U.S. thermal coal exports up sharply.
In 2017, those markets more than doubled, to more than 41 MT from 19.7 MT in 2016. The upswing continued in 2018, with total thermal exports hitting 54.2 MT. Thermal coal exports to India accounted for much of the growth, climbing 92% to just under 9 MT from 2017 through the end of September in 2018. "But these numbers could fall as quickly as they go up," the report adds.
Five years ago, India committed to an ambitious transformational target of 275 GW of renewable energy installations by 2027 (175 GW by 2022). The target for new installs of 30-40 GW annually puts it on track to be one of the largest developers of renewables globally, potentially second only to China. Currently, it is at no 3, just behind CHina and the US, in fact.  And this growing trend could well put an end to the rising demands for US coal.
"We believe the mini-export boom of the past couple years has hit its peak. India has aggressive plans to reduce its reliance on coal-fired generation, and in the Indian market, U.S. exporters face intense competition from Australia and other closer-to-market suppliers. In addition, European countries are moving quickly to reduce their thermal coal consumption, with more than 20% of current U.S. shipments bound for Europe," the report stated.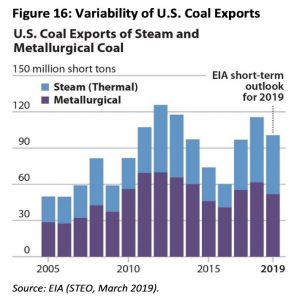 "We think the problem of diminishing export demand is going to begin showing up this year, with markets for U.S. thermal coal declining around the world due to slowing economic growth, government policies to curb coal consumption, continued development of renewable energy technologies and competition from other exporters."
IEEFA expects this steady decline to continue and perhaps even quicken this year and into the 2020s, driven by the ready availability of low-cost natural gas and the steadily rising amount of renewable energy generating capacity. And efforts to replace lost domestic thermal coal sales by boosting exports will be constrained by changing overseas markets, particularly efforts in Europe and India to reduce their coal use.
The findings make for interesting reading, as worldwide, green activists fret at the continued growth in the coal consumption of both India and China, despite their professed commitments to renewables. In fact, thermal power continues to power the country, with close to 3/4ths demand being met from thermal plants. However, people are hopeful that a lot of production in the pipeline will either be stalled or cancelled outright, as the country aligns its renewables capacity to its grid, and adds capacity in nuclear to take up the slack.
To read the full report click here.
(Visited 75 times, 1 visits today)