IBEF's Contrarian View: India To Overachieve its Renewable Energy Targets by 2022
India Brand Equity Foundation (IBEF) in its latest report shows high optimism for the Indian Renewable sector starkly different from the picture painted by other global and Indian agencies
Indian Renewable Energy sector is fast becoming an attractive area for foreign investments. The IBEF in its latest report on renewable sector said that the sector has attracted about $6.8 billion FDI since April 2000 to June 2018.
Indian Brand Equity Foundation (IBEF), after taking into consideration the figures from the Ministry of New & Renewable Energy (MNRE) and Central Electricity Authority (CEA) pegs the figure of $42 Billion that has been invested in India's RE Sector till 2014 and adds that additional $80 Billions is expected to be invested in the next 4 years.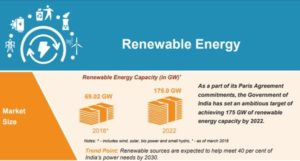 IBEF report attributes the renewed interest in the sector to the Governments' 'action plan' to achieve a total capacity of 60 GW from hydro power and 175 GW from other RES by March, 2022, which includes 100 GW of Solar power, 60 GW from wind power, 10 GW from biomass power and 5 GW from small hydro power.
IBEF paints a rosy picture of over achievement of the targets and says that " As of June 2018, Government of India is aiming to achieve 225 GW of renewable energy capacity by 2022, much ahead of its target of 175 GW as per the Paris Agreement." Incidentally, June 2018 is just around the time that euphoria, or optimism about prospects for the sector peaked, with bid rates dropping to their lowest. In fact, talk of over achievement to as high as 225 GW was thrown around, thankfully toned down now. After that, between the Safeguard duties, rupee depreciation and price caps from SECI, the industry mood seems to have soured significantly. So much so, that 2018-19 is clearly not going to repeat the performance of 2017-18 in terms of installations.
IBEF  of course adds to the optimism and says, " The Indian renewable energy sector is the fourth most attractive renewable energy market in the world as per the Renewable Energy Attractiveness Index 2018."
According to its report India's installed renewable power (grid interactive) generation capacity (including hydropower) increased from 42.4 GW in FY07 to 116.82 GW in July 2018, which is 33.72 per cent of the total installed capacity. Power generation from renewable energy sources in India reached 101.84 billion units in FY18 and 46.28 billion units in April-July 2018.
It however does underline the importance of Hydro power which is the biggest contributor to India's renewable power generation. According to the report Hydro(big and small) projects generated about 50 GW of energy out of 114.4 GW for 2017-18 FY.
Other Key Highlights:
Installed renewable power generation capacity is posting a compounded annual growth rate (CAGR) of 9.29 per cent over FY 08–18
India added record 11,788 MW of renewable energy capacity in 2017-18
Northern India is expected to become the hub for renewable energy in India with a potential capacity of 363 gigawatts (GW)
India will need investments of around US$ 125 billion to reach 175 GW target
IBEF expects that around 49% of the total electricity will be generated by the renewable energy by 2040
Use of renewables in place of coal will save India Rs 54,000 crore (US$ 8.43 billion) annually. Presumably in import costs.
The report by IBEF is in contrast that other firms like Moody's, Wood Mackintosh have said. Wood Mackenzie said in a report that India is set to achieve 76% of its Renewable energy target by 2022, which translates into 133 GW out of 175 GW target. Global ratings agency Moody's Investors Service in its report says that the share of renewable energy in India's electricity generation mix is likely to rise to around 18 per cent by 2022, from 7.8 per cent at present, as of March 2018. While on the other hand, report released by research and rating agency CRISIL, India's renewable energy generation capacity is expected to reach 140 GW by 2022-23 and solar power would account for around a half of this followed by wind energy with 40 percent.
(Visited 340 times, 1 visits today)