GWEC Report: Asia-Pacific Added Over 24 GW of New Onshore Wind in 2018
The latest data released by the Global Wind Energy Council (GWEC) shows Asia-Pacific installed 24.9 GW capacity of onshore wind power in 2018
The Asia-Pacific region brought online 24.9 GW of onshore wind capacity in 2018, bringing the region's cumulative installations to 256 GW, the Global Wind Energy Council (GWEC) said.
"Wind markets in South-East Asia offer an opportunity for growth if policy commitments focus on the competitiveness and efficiency that wind energy can offer" – Karin Ohlenforst, Director of Market Intelligence on our latest Asia-Pacific statistics.
Fresh onshore wind additions last year rose by 4.2% in annual terms, according to preliminary figures. The top three countries that led the growth were China, with 21.2 GW of deployments, India with 2.2 GW and Australia with 0.55 GW. China took the number one spot in terms of new installations both in the region and globally.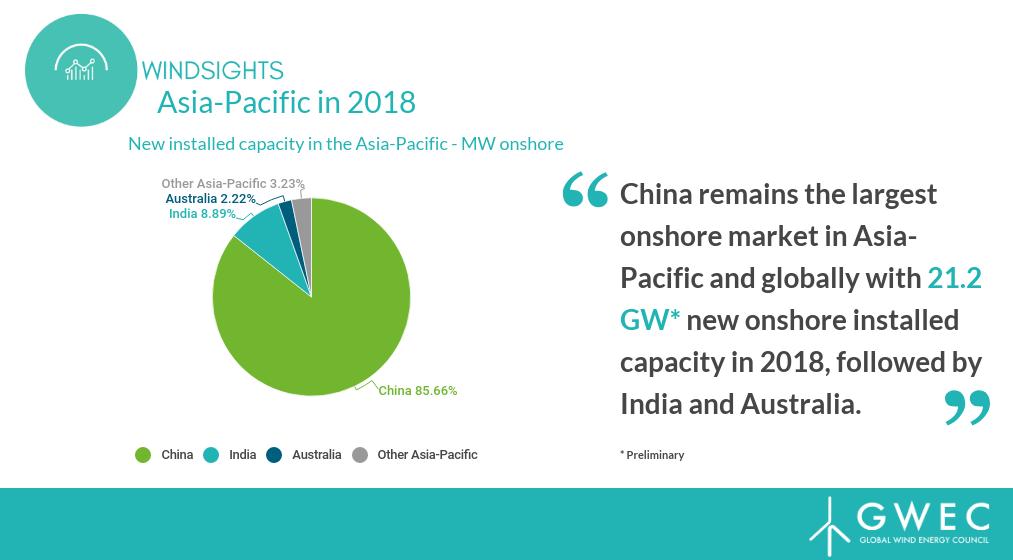 Other highlights:
Total installed onshore wind capacity in Asia-Pacific is now 256 GW
Leading countries in the region for onshore installations in 2018 were China (21.2 GW) and India (2.2 GW)
The surge for wind energy in Asia-Pacific is expected to continue with GWEC forecasting over 145 GW of new onshore wind capacity to be installed by 2023
GWEC expects that more than 145 GW of new onshore wind parks will be installed in Asia-Pacific region by 2023, with China remaining the world leader. It further said that more mature markets like Japan and South Korea will continue to grow and other markets will make further steps in their progress. One of these is India, where the annual deployments could surpass 5 GW following the conduct of auctions.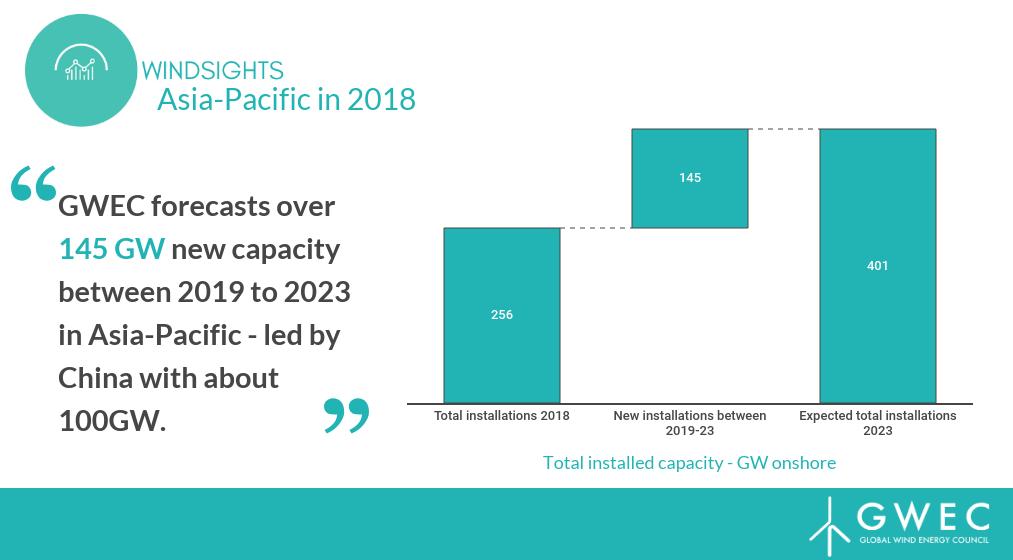 Read: World Bank Launches New Wind Atlas
"Aside from the largest markets in China, India and Australia, GWEC expects positive developments in South-East Asia with onshore wind representing a cost-competitive choice for markets with growing energy demand," said Ben Backwell, GWEC's CEO.
Global Wind Report adds that the projected growth if continues would mean that total installed onshore capacity will reach over a whopping 400 GW in the region.
Earlier this week, GWEC had released similar data for Africa and Middle East. The area showed installed 962MW capacity of onshore wind power in 2018, an increase of more than 300MW compared to 2017. The preview data from GWEC's Global Wind Report forecasts that a further 6.5 GW capacity will be added by 2023 – this would mean more than double the current installed capacity of 5.7GW.
Read more: Africa Updates. Consultancy Launches Africa's First Energy Data Book
Top three markets in Africa and the Middle East in 2018 are Egypt – 380MW, Kenya – 310MW and Morocco – 120MW.
Karin Ohlenforst further adds, "After two years with lower installations, Africa and Middle East reached almost 1GW of new wind capacity, reaching a similar level as in 2015 (983MW). The outlook is that Africa and Middle East will add more than 1GW each year of new wind capacity."
Growth in renewables has become a priority across the world in a bid to meet international climate agreements whilst also satisfying their rising energy demand. RE forms a crucial part of the solution to reduce emissions, strengthen the energy mix and boost investment into local economies.
Interestingly, while Onshore wind continues to grow and has a large market, offshore wind is also catching the fancy of these markets now, and targets though modest, could ramp up very quickly if initial experiences are good. India, China and Japan could all be looking at this segment in a big way.
Image Courtesy: GWEC
(Visited 247 times, 1 visits today)