Solar Promise. German Institute led Consortium achieves 41.4% Module efficiency in CPV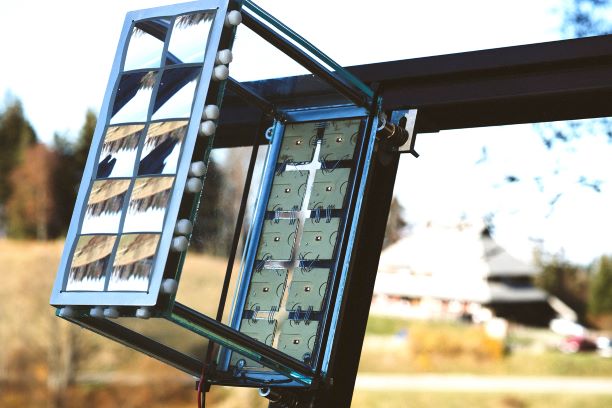 Research by German Institute on Concentrator Photovoltaics shows peak performance – Module Efficiency Reaches 41.4 %. The ISE Institute performs applied scientific and engineering research and development for all areas of solar energy
Concentrator Photovoltaics or CPV technology due to its high cost rarely gets attention but a research by a German Institute, Fraunhofer Institute for Solar Energy Systems-ISE has peaked its efficiency to reach 41.4%, which marks an exciting milestone for this technology.
In the EU-funded project CPVMatch has achieved the highest efficiency for the conversion of sunlight into electricity in CPV. The latest achievement lies in the special multi-junction solar cells as well as the perfect interplay between the cell and the module optics.
The Module is 122 cm2 and ISE claims that this is the highest level ever measured for a PV module. In these solar cells, several thin subcells are stacked on top of each other in order to convert the solar irradiance more efficiently. Optical lenses concentrate the incoming sunlight onto the miniature sized solar cells. The modules are mounted on a two-axis tracking system that follows the sun's path during the day.
The CPVMatch headed by Fraunhofer ISE, is a consortium of research institutes and industry partners from Germany, Italy, Spain and France who have worked on new solutions over the past 3.5 years.
"In CPVMatch, we have addressed all production steps for concentrator modules starting from the materials, through cell fabrication and production systems, and up to the challenges facing module manufacturing," reports Dr. Gerald Siefer, project head  and group leader of III-V Cell and Module Characterization at Fraunhofer ISE.
The Project has achieved not one but two feats for the technology:
By using innovative cell architectures for multi-junction solar cells with new materials, processes and manufacturing equipment, the researchers were able to optimize the production of four-junction solar cells
They were able to improve the design of high-concentration modules, primarily by modifying the optics and making use of achromatic lenses.
"We are extremely pleased about these results that pave the way for further efficiency increases in the concentrator technology," says Dr. Andreas Bett, institute director of Fraunhofer ISE. "Photovoltaics is booming worldwide, and we see great potential for this particularly efficient module technology. It significantly decreases the use of resources for energy conversion per unit area and thus contributes to more sustainability."
The CPV is similar to PV and generates electricity from sunlight but contrary to conventional photovoltaic systems, it uses lenses and curved mirrors to focus sunlight onto small, but highly efficient, multi-junction (MJ) solar cells. They are especially ideal for regions with high direct normal irradiance but have limited space. But being one of the most expensive PV technologies in the world, its adoption has so far been limited to Italy, China and South Africa. The Middle East has seen some adoption lately, with large projects in Saudi Arabia and other countries in the region.
An improvement in efficiencies could be a big move for the technology, as CPV already enjoys the advantage of being able to 'store' power for generation on demand, and prices have tracked the overall drop in regular module prices too.
Since 2016, ISE has been in Co-operation with NTPC Energy Technologies and Research Alliance (NETRA) in India.
Image Credits: ISE, Germany
(Visited 244 times, 1 visits today)