V Resorts: Pitching the Right Way To Travel
Aditi Balbir, the founder of the 135 resort strong V Resorts is a convert to sustainability. Happy to describe herself as more of a financial specialist initially, Ms Balbir  is now completely sold on the idea, and need for sustainable practices.
Today, her whole firm runs on that premise.  The experiential resort firm has carved a niche of its own, offering 135 resort options across 17 of the country's states to an audience that seems to be young, looking for short breaks from the city, and hopefully, something meaningful in terms of the resort experience.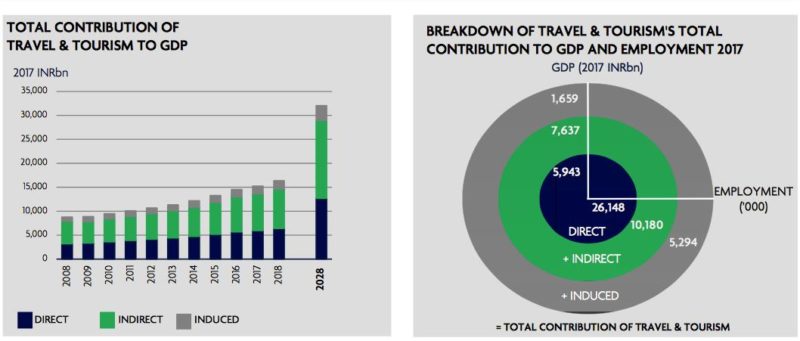 Source: www.wttc.org
As per the World Travel and Tourism Council (WTTC), India ranked 7th in the world in 2017 in terms of tourism's total contribution to the country's GDP (India's rank is predicted to up to 6th by the end of 2018). The report indicates the direct contribution of tourism to GDP was Rs 5,943.3bn (USD91.3bn) i.e. 3.7% of total GDP in 2017 and is forecast to rise by 7.6% in 2018. Moreover, in 2017 tourism directly supported 26,148,000 jobs (5.0% of total employment), a number expected to rise by 2.8% in 2018.
In fact, while it is safe to say that the tourism potential remains high in this country for jobs as well as growth, its relationship with the environment is a lot more complex.
Uncontrolled conventional tourism has put enormous pressure on some areas and resources, especially in India where the laws are frequently poorly enforced. The uncontrollable growth of the tourism industry in popular tourist destinations (building of hotels, resorts, restaurants, golf courses, etc.) often leads to the exploitation of the area's resources and has adverse environmental impacts such as soil erosion, deforestation and increased pollution. Lack of water resources is another important side effect of uncontrollable tourism, the most recent example of this is the case in Shimla. (you can read more about it here).
With, the rise in tourism all around the world one needs to ditch the conventional tourist industry and adopt ecotourism as the new normal.
So, what is ecotourism, you might ask.
Ecotourism, as defined by the World Conservation Union is the environmentally responsible way to travel to natural areas, in order to enjoy and appreciate nature (and accompanying cultural features, both past and present) that promote conservation, have a low visitor impact and provide for beneficially active socio-economic involvement of local peoples.
In simpler terms, it is travelling in a sustainable manner that benefits both the local community and the environment of the area.
V Resorts is an ecotourism project built around the concept of creating a positive impact on local communities. It was founded in 2014 by Aditi Balbir, an ISB graduate who left behind an accomplished career in finance to become an entrepreneur in a male-dominated industry (but then, which isn't?), with the aim of providing standardized boutique experiences in the leisure travel space in a sustainable manner.
Till date, V Resorts has raised 7mn USD as Venture Capital funding with investors such as IFU from Denmark and the UK-based CDC Group.
"We operate resorts in offbeat destinations and bring them into mainstream tourism focus by implementing best practices across the leisure travel sector. Our operations are deeply ingrained around sustainability and the three pillars of Environment, Social and Governance," says  Aditi.
Instead of building a new property V Resorts "builds up" existing properties and works extensively with their property owners to electrify their buildings using solar panels. They also employ strict measures to collect and dispose of the waste in an environmentally friendly manner.
"All our wet waste (from the kitchens) is used towards making natural compost, for which we create dumping pits, 30-70 meters from the main building. Across our 150 resorts, we annually recycle approximately 450 tonnes of waste through these practices."
Moreover, V Resorts also employ water conservation techniques at their resorts. Apart from rainwater harvesting, they have guidelines laid down for staff as well as guests that help conserve water. This has enabled them to recycle/conserve approximately 65 lakh litres of water per annum across their 150 resorts.
"Our guests are asked to reuse towels and linen is replaced only when a guest checks out and we reuse water coming from our kitchens for watering the plants and maintaining our herb gardens."
Staying true to the concept of the ecotourism, V Resorts has a policy of hiring and procuring locally. More than 90% of their staff in a resort is made up of people from the local villages and the minimum salary given is 12.5% higher than the minimum wage slatted by the government. Unlike other hospitality chains, they have a policy of 100% Local Procurement i.e. there are no centralised vendors involved. All their produce is fresh and from local areas, in fact, some of their resorts like those in Leh and Rohtak offer the "farm to fork" experience where guests can pick their own produce by hand from the resort's organic farm.
The experience offered by each of these resorts concentrates on promoting the local culture of the area and the ecotourism concept of the company boosts the socio-economic lifestyle of the locals.
V Resorts besides expanding its base is currently working with the IFC to have all their resorts certified as Green Buildings on the basis of their work done around solar electrification, water re-use, waste disposal & minimizing the use of plastics
copyright:imarenew.com
(Visited 894 times, 1 visits today)