NASA To Provide Real Time Alerts for Forest Fires to India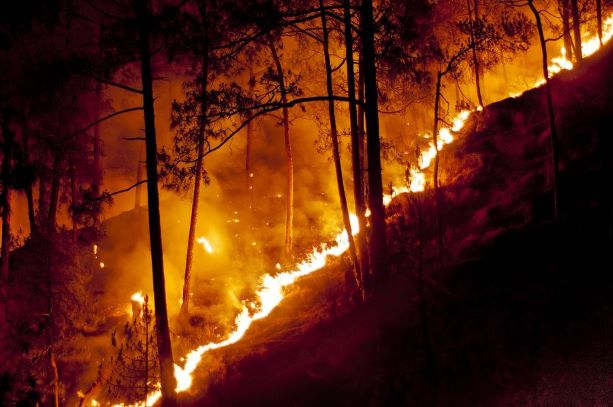 Too Close to Home
Indian efforts to combat forest fires have just received a fillip, thanks to two new NASA-monitored satellites deployed over the Pilibhit Tiger Reserve (PTR) in Uttar Pradesh.
Every year before Monsoons, the risks of forest fires in India rises significantly. In the past two years forest fires have increased by 125% owing to falling moisture levels in air and ground and rise in mean temperatures all across the country.
To make the job easier for FSI, two new NASA-monitored satellites have been deployed over the Pilibhit Tiger Reserve (PTR) in Uttar Pradesh. The satellites will keep an eye on any untoward forest fire incidents and will immediately notify PTR forest officials so that they can respond promptly to such incidents.
The SNPP-VIIRS satellite helmed by NASA and the National Oceanic Atmospheric Administration (NOAA), will send fire sensing data to the Indian Space Research Organisation (ISRO). The ISRO, in turn, will share this information with the FSI. On receiving the update, the FSI will send fire alerts to affected forest regions in the country, including the team at PTR.
What will really come in handy is that the satellites will provide fire alerts and GPS locations, along with the exact longitude and latitude of the affected area. This will help the respective forest authorities to pinpoint the affected area with accuracy.
Of the two satellites, one is equipped with a high-resolution camera that can sense even small fires, and the other is capable of detecting only big fires.
Just between January 1, 2019, and February 26, 2019, 558 forest fires have occurred before the summers, according to the Real-Time Forest Alert System of the Forest Survey of India (FSI). The data also reveals that among all the states, Mizoram and Maharashtra recorded the most number of such cases. India loses around Rs 550 crore every year owing to damages caused by forest fires. The reason to worry is 23 out of 33 states and union territories have all reported an increase in forest fires. As much as 64.29% of the Recorded Forest Area (RFA) is prone to fires, according to the India State of Forest Report (ISFR).
(Visited 612 times, 1 visits today)