Delhi's HSRP Fracas a Reminder of Poor Priority for Pollution Issue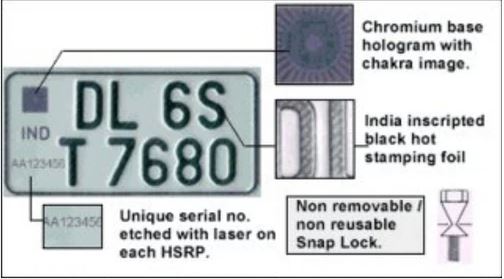 Like the sudden drive to get pollution under control certificate, one has to wonder just how well the sudden drive for High Security Number Pates with fuel stickers will really help.
The Delhi government on Tuesday, September 21, issued a public notice reminding vehicle owners that the installation of High Security Registration Plates or HSRP and a colour-coded sticker to indicate the fuel-type or the 'third-registration mark' in new and old vehicles was mandatory.
The notice also said that the transport department will enforce this with an enforcement drive soon and advised all owners to get them affixed or face prosecution and a challan under the Motor Vehicle Act.
In February 2019, the Supreme Court-appointed Environment Pollution Control Authority had directed that all vehicles in Delhi-NCR should have the HSRP and colour-coded stickers by October.
This move, especially the colour-coded stickers to identify the fuel-type of a vehicle, was aimed at helping authorities control pollution in Delhi-NCR and usually during the onset of winter by implementing an odd-even traffic plan and even stopping the running of a particular type of fuel vehicle during the bad days to ease air pollution.
But the October deadline could not be completed as the material for HSRPs was not available. And now with the notice, the mad rush for figuring ways to get the HSRP and the sticker has begun.
Since only vehicles sold since April 2019 came fitted with HSRPs, the sheer number of vehicles looking to register and line up to get street legal is boggling and what's more, stressful for the owners.
So what was a move aimed at helping Delhi-NCR fight the dreaded seasonal smog come winter, is now a mad scramble for the coveted plate and sticker and all this during a raging pandemic.
What the notice has effectively done is forced owners to choose between safe mobility over risking their lives in what should have been a cause for clean lungs and healthy life.
What's more, the website to register for the HSRPs does not list manufacturers who have shut shop in India since like General Motors and Chevrolet so many owners are left scratching their heads to figure out how.
With well over a million vehicles suddenly due to get one, one can't but wonder if this isn't a small 'stimulus' for firms in the business as the charge for an HSRP in Delhi for a diesel vehicle is Rs 637.
Eventually, the HSRP drive might actually help the city and the vehicle owners with a far more pressing issue for them of vehicle thefts. These are the state's most reported and least solved crimes by far. Over 45,000 thefts ere reported in 2019, well over 5 every hour.
Some would say that this the only way to get going in India to ensure an order is followed, that too for the good of the environment and its residents. But then all this during a pandemic and in a state which is only seeing more numbers added daily to its Covid-19 count is what makes us wonder if the authorities have got this one right.
(Visited 465 times, 1 visits today)