Government Launches #SelfieWithSapling for World Environment Day 2019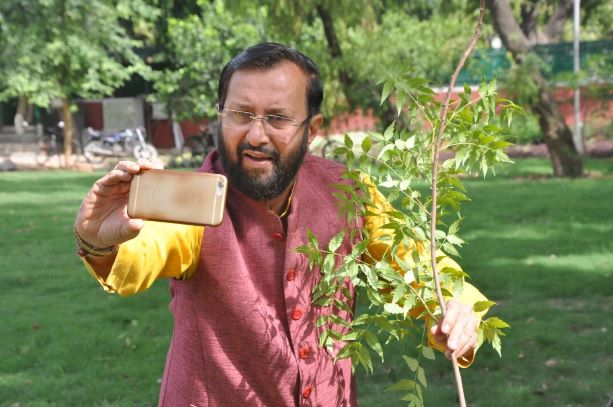 Union Minister Javadekar taking a selfie with a Plant
Newly appointed Environment Minister Prakash Javadekar launched #SelfieWithSapling initiative to commemorate this year's World Environment Day
The government on today launched 'Selfie With Sapling' initiative to spread awareness about building a clean environment. People across the nations will celebrate World Environment Day on June 5. To mark the occasion, Union Environment Minister Prakash Javadekar said that similar programs will be held in next 2-3 days. World Environment Day is widely celebrated in over 100 countries across the globe on June 5.
Javadekar said," We appeal to people to plant a sapling and have selfie with that plant and that should be sent to #SelfieWithSapling"
The theme for this year's World Environment Day is "Air pollution" as only 12 percent of cities in the world have air quality measures that meet WHO standards. India houses nearly half of the most polluted cities in the world. WHO released its list of the world's most polluted cities in the world and Indian cities, unfortunately, did not surprise. 14 out of 15 are in India and all in the northern part of the country clustering in and around UP, the agricultural belt of India.
Last year India played host to the 43rd edition of World environment day which was centered around the theme 'Beat Plastic Pollution'. Since 1974, World Environment Day is celebrated on the 5th of June each year to raise awareness and improve actions towards protecting the environment.
This event has become a global platform for public outreach which is celebrated within over 100 countries. The theme for each World Environment Day is decided by what has drawn the attention and is a particularly pressing environmental concern.
Ahead of the World Environment Day this year, the Environment Ministry had released a music video featuring Akshay Kumar and other Bollywood actors and dedicated to the #BeatAirPollution campaign. Check out the video below
(Visited 185 times, 1 visits today)