Suez's Trail Of Missteps At Okhla STP Ensures Failure To Deliver
Official documents disclose that at Okhla WWTP project site, contractor Suez indulged in malpractices like carrying out constructions without approval, constructions against approval, non-submission of necessary plans & documents, abrupt change of vendors, in defiance of directions by the authorities. Such incredible defiance of laid down procedures points to only one possible answer. That the company is confident of the political backing for it, and understands that such actions will not impact its payments or earnings from the project.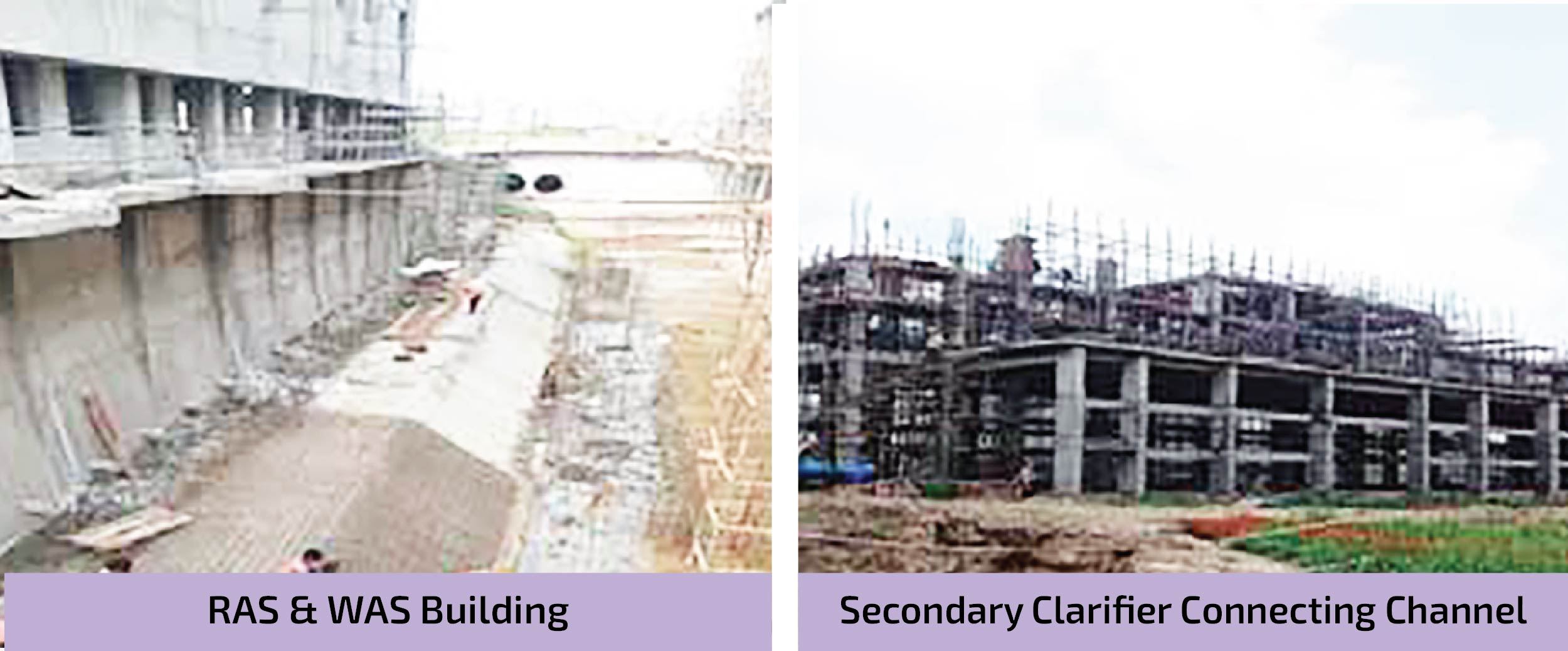 Pic: Incomplete structures at Okhla WWTP project site
The IAmRenew investigation has revealed in the previous articles that Suez India – a joint venture of French major Suez International – had failed on multiple deadlines to complete the world's fourth largest WWTP being built in Delhi's Okhla with the ultimate objective to help clean the holy river of Yamuna. The investigation revealed that delay by Suez was principally caused by manpower shortage and slow construction works.
The detailed study of the documents that are part of the Progress Report of June 30, 2023 reveals the casual attitude and malpractices that are rampant at Okhla WWTP. These practices had their own impact in terms of delaying the construction work and the entire project.
Okhla WWTP – Suez's Series Of Missteps
The investigation reveals that despite several site visits and reminders by the authorities, Suez India did not comply with the recommendations or observations of the Project Management Consultant (PMC) or government authorities. The company has failed to tender detailed work plan on regular basis (i.e, monthly) with the authorities to help keep a proper track of the work progress.
Suez continued to delay the submission of civil design documents with the PMC/authorities that impacted the construction timelines. Ever since the project began, Suez India never submitted the documents related with the construction of some of the important buildings and structures of Asia's largest WWTP.
A letter of PMC dated June 26, 2023, discloses the casual attitude of Suez, "Despite of repeated reminders by DIB/PMC, Contractor (Suez) has failed to resubmit the documents within 10 days of receiving comments from DJB/PMC. It has also been noticed that there has been delay in submission of civil design documents/drawings after approval of Mechanical GA Drawings, which has also impacted overall construction timelines."
The strange approach of Suez comes out in other observation of the PMC, "Contractor has failed to submit the documents of buildings/structures even after 30 months of start of project like Solar Sludge Drying Beds, Biogas Scrubber, Biogas Holder, Treated Water Sump & Pump House and Digester Control Building." The structures mentioned are critical ones for the holistic functioning of the WWTP project.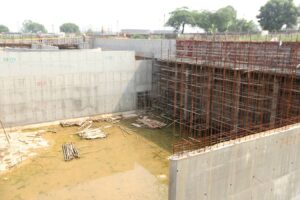 Abrupt change of vendors
The Progress Report says that Suez didn't provide 'List Of Vendors' from the approved list of the vendors meant to supply material for the entire Okhla WWTP project. Instead, the company proposed a new list of vendors for approval that too with incomplete documents leading to further delays in decision making and the project suffered.
PMC reveals the unprofessional conduct of the company to Delhi Jal Board in the letter, "Even after approval of vendors, contractor has proposed change of vendor for E&M equipment, which has led to delay in approval and supply of E&M equipment."
Even after failing on the timelines, Suez India still continues to change vendors. In June 2023 itself, the company applied with the authorities to change the vendor for MAD and get a new vendor for TAD. This implies more delay in the project.
No end to discrepancies
It has been found in the investigation that several revised plans and documents by Suez India have not been tendered with the authorities or the monitoring body PMC. During the June inspection, certain structures were found constructed not as per approval. The monitoring team found that many installations are not aligned as per approved plans or general arrangement drawings (GAD). Despite several reminders, Suez India did not submit documents of these structures for approval and make WWTP installations as per approved designs.
Some areas of the WWTP couldn't be visited by the officials of monitoring body and DJB for inspection purposes. One such example is digested sludge storage sump in Sludge Treatment Building – 2. Foundations of centrifuge feed pumps were found to be broken and misaligned that affects the project. Proper supply of Decanter Centrifuge is not done and the installation is yet to start.
Rusting and corrosion is another problem that has marred the Okhla projet site. In many of the installations, proper protection or canopies are not provided. Hence, installations or equipment are lying under the open sky.
Mesophilic Digester is presently being built and this is one structure where Suez India did not give heed to many of the observations and directions of the PMC and showed no compliance. The company did not submit valid WPS, PQR and WPQ certificates for review before commencing the wielding works. The Progress Report mentions that Suez didn't perform DPT and RT as per contracts for wielding and maintaining a record of it. Also, MS sheets which were heavily rusted are used in the structure. Fabrication, fit-up and wielding works were not being carried out as per Approved Fabrication Drawings. Suez has also not provided catholic protection arrangement to the dome structure which is in mild-steel. Similar observations were found in Thermophilic Sludge Digester. The Progress Report says said that civil work has not even started in both Mesophilic Digester and Thermophilic Sludge Digester.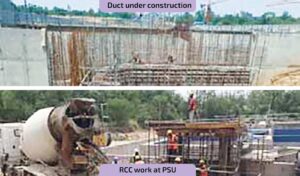 Certain structures or installations were made without even having proper approval from authorities like the installation of bypass motorized sluice gates and grit pumps.
Suez India is also not submitting some crucial test reports despite advices by the PMC.
Grid transfer pumps have been installed in Grit chambers without completing civil work for the foundation. The installations were also not proper and despite Monitoring authority's request to tender documents for proper approval, no documents were submitted by Suez.
There are several sections in the WWTP for which the Progress Report says "information not available." It looks like that Suez India did not provide information to the PMC to enable proper inspection of these structures. Some of these structures are firefighting pump house, 1-MLD polishing unit, primary sludge thickener distribution chamber, primary sludge thickener, gas holder, gas flare, gas scrubber unit, power generation unit etc.
Power supply is not been completely secured in many structures as of June this year when the third deadline ended. Cabling work is still on. These blatant discrepancies were raised by the monitoring body from time to time, but Suez India did not comply, mentions the Progress Report.
The progress report shows some factors that caused delays like delay in permission for tree cutting, EPCA ban on construction work, pandemic led restrictions and monsoon. But these look insufficient causes such long delay in the project completion. The delay in payment from Delhi Jal Board has been rejected by the PMC as a cause of delay.
Cold response to 'show cause notices'
Delhi Jal Board has issued multiple 'show-cause notices' to Suez after the company missed on the extended deadline of December 31, 2022. These show-cause notices were issued on January 01, March 29 and April 06 of this year. The Suez India did not bother to respond to any one of these. Moreover, the company failed on the extended deadline of June 30 as well.
Delhi Jal Board Vice Chairman Somnath Bharti went a step ahead and declared on his May 2, 2023, visit to Okhla WWTP, that the project will be completed by June, 2023. It looks like the announcement was made just for the 'political consumption.' Not very different from the statement made by Union Jal Shakti Minister Gajendra Singh Shekhawat the previous year. It has been found that despite several correspondences by the authorities, Suez India made no serious efforts to complete the project works in time.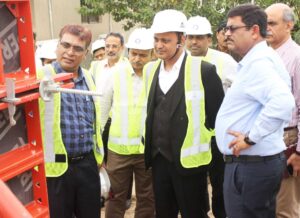 What is more shocking is that the project is under direct observation of the Prime Minister's Office (PMO) and the National Green Tribunal (NGT). Delhi Jal Board, Lt Governor's office and NMCG have direct involvement in the project and they were aware that the speed of the work by Suez was far below expectation levels.  It looks like that Suez was bound to fail despite multiple extensions in deadlines. The official documents read, "contractor has not taken serious efforts to complete the works on all available fronts and not following directions given by DJB on various forums and site visits."
All authorities that are keeping an eye on the Okhla mega project, including Delhi Jal Board and NMCG, have a lot to answer on this. Meanwhile, the Yamuna River continues to be most polluted in the 22-km stretch of Delhi where it's merely reduced to the status of a filthy drain hampering the natural environment of Delhi and Uttar Pradesh.
Yamuna Action Plan: a gist
Yamuna Action Plans (YAP) were created with the objective of creating sewer networks, catching wastewater and treating it before releasing it into the Yamuna river to ensure that river is cleaned. Previously, YAP-I and YAP-II were executed but the pollution level in Yamuna has gone from bad to worse. The river doesn't have any life in a stretch of 22-km in Delhi; its literally dead.
Now the Central Government has come with YAP-III which envisages construction of three major WWTPs in Okhla, Kondli and Rithala. All of them have missed their multiple extended deadlines and Yamuna continues to bear the brunt of it. A huge quantity of wastewater is out-falling into Yamuna untreated. Okhla WWTP is being built to South Delhi, NDMC area and other parts of Delhi to benefit over 40 lakh residents.
YAP-III is an integral part of the broader initiative to cleanse the Ganga river system, recognizing the vital importance of a clean Yamuna River as a major tributary to the Ganga.  In next article of the exposé series, IAmRenew will get into details as how Triveni Engineering failed to deliver the 204-MLD Kondli WWTP situated in East Delhi.
(Visited 40 times, 1 visits today)