Meet two 'Champion's Making Meat from Plants to Save the Earth
Impossible Foods and Beyond Meat are joint winners of the Champions of the Earth Award, in the Science and Innovation category.  The firms are focused on developing and marketing 'meat' like products made from plants. Success for their model can make a serious impact on the environment.
According to Ethan Brown and Dr. Patrick O. Brown, founders of Beyond Meat and Impossible Foods, the destructive impact of animal agriculture on the environment far exceeds that of any other technology on Earth. The greenhouse gas footprint of animal agriculture rivals that that of every car, truck, bus, ship, airplane, and rocket ship combined. There is no pathway to achieve the Paris climate objectives without a massive decrease in the scale of animal agriculture.
Meat and Dairy based food remains an important source of nutrition and one of the greatest sources of pleasure in the daily lives of billions of people around the world. However the founders believe, the global community can eliminate the need for animals in the food system by shifting the protein at the centre of the plate to plant-based meat.
For their pioneering work towards reducing our dependence on animal-based foods, Ethan Brown and O'Reilly Brown were recognized as the 2018 Champions of the Earth in the category of science and innovation.
Burdened by persisting doubts on what's the most effective way to tackle greenhouse gas emissions – and aren't livestock major contributors? Is there a better way to produce protein? Are certain amounts and types of animal protein harmful for our health? Ethan Brown founded Beyond Meats in 2009.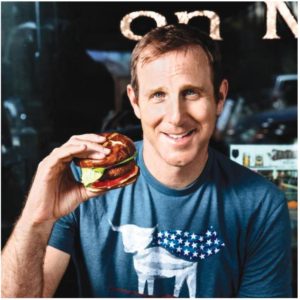 "These four things kept coming back to me: human health, climate change, natural resource, and animal welfare implications of using animals for meat.  And what fascinated me is that you can simultaneously tackle all these concerns by simply changing the protein source for meat from animals to plants. If we shift our thinking to focus on the composition of meat versus its animal origin, we have a huge canvas to work from," he said.
Working with top scientists, their teams strip down the core components of meat and extract them from plants instead, using ingredients like peas, beetroot, coconut oil and potato starch.
"Meat is composed of amino acids, water, lipids, minerals and water. Animals use their digestive and muscular systems to convert vegetation and water into meat. We're going straight to the plant, bypassing the animal, and building meat directly. We get better every year and are on a relentless march toward that perfect and indistinguishable build of meat from plants," Brown says.
According to a research study commissioned by the company and conducted by the University of Michigan, a quarter-pound Beyond Burger requires 99 per cent less water, 93 per cent less land and generates 90 per cent fewer greenhouse gas emissions, using 46 per cent less energy to produce in the U.S. than its beef equivalent. This equates to the fact that a 41-square-foot plot of land can produce just one beef burger for every 15 Beyond Burgers.
"Corn, soy and wheat dominate agriculture in America. We can replace that. Take that same piece of land to grow protein directly from plants, and we can slash natural resources needed, using land more efficiently."  
The plant-based meat substitute maker has seen sales ramp up by 70% in the last year, selling 25 million burgers since its commercial debut in 2016. Besides its key client Whole Foods, the company claims to sell at Amazon Fresh and 20,000 other grocery retailers–as well as 10,000 restaurants, hotels, and universities.
As Member of the National Academy of Medicine and Professor of biochemistry at Stanford University, Dr. O. Brown wanted to assess which global problems are the most urgent and which he could help to solve. Concerned by humanity's land footprint being plagued by animal agriculture, Dr. Brown founded Impossible Foods in 2011.
Impossible Foods has an ambitious goal: to reduce humanity's destructive impact on the global environment, replacing the use of animals as a food production technology and eliminate animals as a food-production technology by 2035.
"By far the most urgent problem to me was the use of animals as a food production technology – the most destructive technology on earth," Brown said. "This problem wasn't going to be solved by pleading with consumers to eat beans and tofu instead of meat and fish. And it wouldn't be enough just to find a better way to make meat; to succeed we would need to make the best meat in the world."
The team made an important discovery: the "magic ingredient" heme – an iron-containing molecule that occurs naturally in every cell of every animal and plant. It is responsible for the unique flavours and aromas of meat. By adding a plant gene to a yeast cell, they could produce heme in unlimited quantities, with a tiny fraction of the environmental impact. The Impossible Burger requires approximately 75 per cent less water and 95 per cent less land, generating about 87 per cent lower greenhouse gas emissions than beef burgers.
"Based on all we've learned, there's no question that the use of animals as a food-production technology will soon be obsolete. Making meat directly from plants is not only far less destructive to the environment, but it will enable meat to be more delicious, healthy, diverse, and affordable. Create the best meat in the world, let consumer choice drive the change and the use of animals as food technology will soon be a fading memory," he added.
Having raised more than $450 million in funding, the company is ramping up operations at its Oakland facility to produce 500,000 pounds of meat each month to satisfy demand from the 3,000–and rapidly growing–restaurants that now serve Impossible Foods.

People are increasingly looking for meat substitutes such as Beyond Meat and the Impossible Burger. The plant-based "meat" industry saw sales top $670 million in the last year–up 24% from the year prior, reports the Plant Based Foods Association. The overall plant-based industry, meanwhile, saw $3.7 billion in sales.
(Visited 772 times, 1 visits today)