BNEF Reports a 78% Growth in Sustainable debt Issuance in 2019
According to a report by Bloomberg New Energy Finance, issuance of sustainable debt rose by a huge 78 percent to $465 billion in 2019.
Green Energy Faces a Financing Drought
For those who thought all debt should be sustainable, the headline might be a little perplexing. But sustainable debt, in so far as it refers to debt for projects considered green, or liked to environmentally responsible firms and spending, do matter. From $261.8  billion in 2018 to $465 billion in 2019, sustainable debt also raced through a cumulative 1 trillion in issuances in 2019. However, to put the number in context, the global debt market is variously estimated at about $250 trillion currently.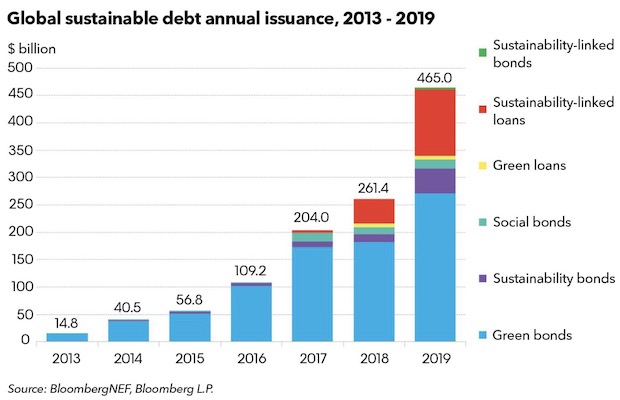 According to Jonas Rooze, the lead sustainability analyst at BNEF, said that "our data show sustainable finance continuing to power ahead on a global basis. The steep increase is fuelled by end-investors' concerns about the threat of climate change, and the desire of many big companies, banks and government leaders to be seen as behaving responsibly."
Sustainable debt covers a variety of instruments, from the well-established area of green bonds to the fast-emerging category of sustainability-linked loans. Green bonds, constituting more than half of the entire sustainable debt market in 2019, saw USD 271 billion issued – up from USD 182 billion in 2018. Green bonds are securities with proceeds used entirely for environmentally friendly projects, like a renewable generation or marine habitat conservation.
The report also saw an almost-threefold increase in the volume of sustainability bonds issued last year, to a record USD 46 billion. "This is the biggest jump for sustainability bonds ever, showing interest from borrowers and investors in securities that combine support for both social and environmental activities," said Mallory Rutigliano, green and sustainable finance analyst at BNEF.
Some of the most spectacular growth of all is being seen in sustainability-linked loans, now the second most popular thematic debt type. This category, consisting of loans linked to the borrower's performance on defined environmental, social or governance (ESG) criteria, enjoyed a 168 percent jump in volumes to USD 122 billion in 2019. A new sustainability-linked bond category was introduced in the last half of 2019. Enel, the Italian utility company, issued the four inaugural bonds in this category in September and October. The coupons on these securities are tied to Enel's renewable energy generation goals.
The report further added that innovation of this kind is not unusual in Europe, which has pioneered the field and still makes up 53 percent of the global market for all sustainable debt. In 2019, the EMEA region issued USD 262 billion worth, with AMER and APAC vying for second place with USD 95 billion and USD 80 billion, respectively.
For yet another year, the mortgage financing organization Fannie Mae was the number one issuer of global sustainable debt, securitising mortgages to the tune of USD 22.8 billion. Following this is the energy provider Royal Dutch Shell PLC, which issued a sustainability-linked loan for USD 10 billion (its first-ever themed instrument of any kind) in December. The governments of the Netherlands and of France were notable sovereign issuers in 2019, together issuing USD 13.3 billion.
Of course, while the shift in the financial markets should be welcome news for sustainability advocates, the fact that firms with an iffy to even poor record on sustainability action be it thermal power firms, oil firms can raise so called sustainable debt, should be an issue worth keeping an eye on. For in many cases, established firms raising sustainable or green funding are planning to use proceeds for solutions that while greener than existing options, are not necessarily the fastest  option to go green. The pitch to use gas as a bridge fuel between renewable energy and fossil fuels, is just one example.
(Visited 601 times, 1 visits today)