Chennai Metro Goes Solar to Cut Costs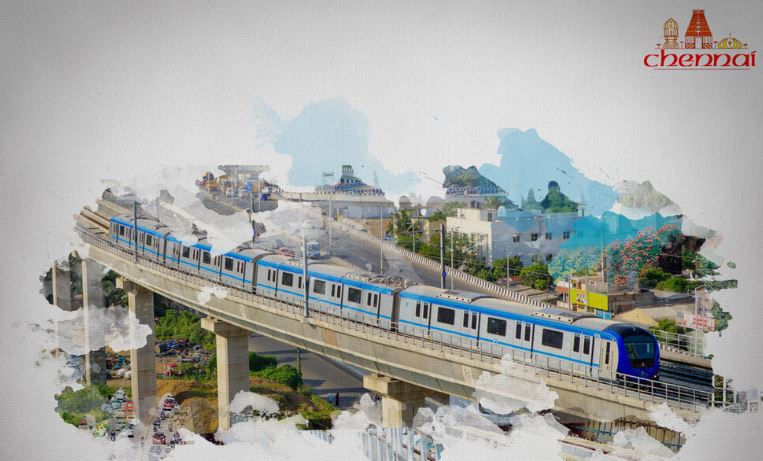 A little shade of green
Chennai Metro Rail, much like its counterparts in other Indian cities, has made its first solar moves.
Chennai Metro Rail, a joint venture of the Union government and the state government of Tamil Nadu which currently operates two stretches, the Green and Blue lines, has started on its renewable journey with the commissioning of its 410 KWp plant at its Koyambedu depot. Under its objective to achieve energy security and reduce carbon energy, CMRL is also close to commissioning a further 5.5 MWp of solar power plants atop it's elevated and underground metro stations and premises of its administrative office.
Sourcing it's energy demands from renewable sources is important to the city metro service's financial health as it needs electricity for lighting and escalators, air-conditioning etc at its stations, besidess the actual rakes of course. Energy costs typically make up 30 per cent of the entire operation costs. With the installation of solar panels across most of its premises, CMRL is hoping to save ₹75 lakh a year through purchase and consumption of solar power.
"Currently, CMRL is producing 2.1 Mega Watt peak (MWp) of solar power. By the end of the current financial year, the organisation hopes to generate 4.5 MWp," said S Pandian, PR, CMRL.
All the solar power panels are being installed at a zero upfront installment cost to the organisation based on Cleanmax solars 'energy sale" model, similar to the 'opex' model prevalent in the sector. Under its energy sale model the Bengaluru based solar solutions firm installs the solar power panels with its own investments at the customers' premises. It will then sell the power that is produced to Chennai Metro at a cost that is lower compared to what it would have to pay the Tamil Nadu Electricity Board.
The business model of CleanMax Solar has come in handy for CMRL to not invest any money upfront for the solar panel installations that will be increased to a generation capacity of around 6 MWp with the upcoming metro stations. CleanMax believe that CMRL could save nearly ₹1.5 crore a year, thanks to its business model as it will bring down the Rs 8 per unit of electricity CMRL is paying Tamil Nadu Generation and Distribution Corporation to ₹3.50 per unit with renewable power purchase.
CleanMax which is in charge of installation as well as O&M, CMRL also saves costs on maintenance with plans to generate close to 20 MWp of power according to the centre's target.
Interestingly, for Indian metro operators, solar will hopefully be an unfolding long term opportunity, since most have gone in for large elevated sections for their routes, which have, in their own way, done significant damage to city aesthetics, environment and greenery too.  Adding solar energy generation is the least the operators can do to compensate for the damage caused, especially to city greenery. In almost every case, the reason for elevated corridors has been cost reductions, though experts are finally beginning to question these, as the ramifications have become clearer.
(Visited 224 times, 1 visits today)