Starbucks Goes Green in Illinois, US with 100% Wind Energy Deal
About 340 Starbucks stores in Illinois will operate on 100% renewable energy from wind farms from Enel Green Power and Constellation.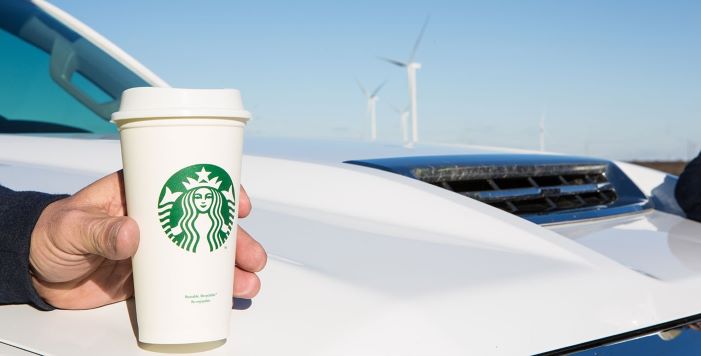 Now, Starbucks stores in Illinois will make their world famous lattes with wind energy. Exelon company Constellation will supply electricity to Starbucks stores in Illinois from Enel Green Power's 185MW Hill Topper wind farm in the US state. This means that all 340 stores will brew its coffees with 100% renewable energy. This is made possible under a separate agreement between Enel and Constellation for 14MW of the output from the wind farm.
Hill Topper is expected to start operations by the end of the year and will generate about 570 gigawatt-hours of electricity a year.
"The agreement with Constellation is an example of an innovative approach we are taking to meet the needs of these commercial and industrial customers to enable them to achieve their sustainability targets in a cost-effective way," says Enel Green Power North America head Georgios Papadimitriou
"It's exciting to see Starbucks continue its commitment to play a role in the growth of renewable energy markets," said Rebecca Zimmer, Director of Global Environmental Impact for Starbucks. "We are identifying and investing in new green power projects that are close to our retail communities and give our store partners a story they can be proud of."
Starbucks which drew flak over plastic straws littering streets and waterways, in September had announced that it will build and operate 10,000 "Greener Stores" globally by 2025. "Simply put, sustainable coffee, served sustainably is our aspiration," said Kevin Johnson, president, and CEO of Starbucks.  "We know that designing and building green stores is not only responsible, but it is also cost effective as well. The energy and passion of our green apron partners has inspired us to find ways to operate a greener store that will generate even greater cost savings while reducing impact."
Read: Global Brands Pledge Commitment in Fight against Plastic Pollution
Starbucks and Mc Donald's have started to rally up the work to limit their plastic straw use with alternative-material straw options. And because it makes business sense too. "Starbucks Greener Stores" framework is anticipated to save the company an incremental $50 million in utilities over the next 10 years.
The deal in Illinois will enable Starbucks to support the generation of approximately 48,000 megawatt-hours of wind power from EGP's HillTopper wind project, enough to brew nearly 100 million cups of coffee or more than seven cups of coffee for every Illinois resident. It will deliver annual environmental benefits equivalent to removing nearly 8,000 passenger vehicles from the road. Nothing beats a good old cup of Joe and Greener dollars.
Of course, the big question remains, when will the plastic coffee containers go green? We will wait for news on that one.
Picture Credit: Enel Green Power Group
(Visited 271 times, 1 visits today)