Africa Updates: Kenya gets solar system at Airport & Launches RE Plan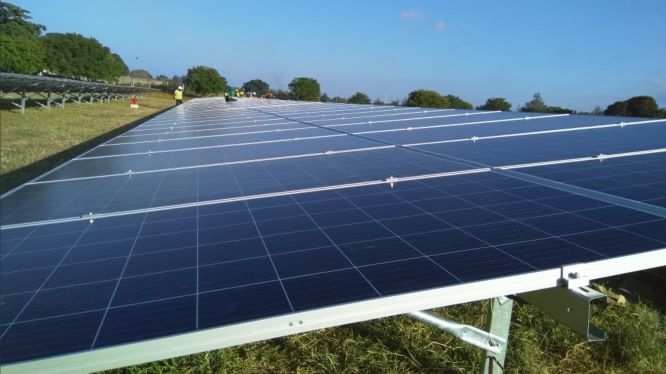 Up, Up and Away
Last week Kenya became the first country in Africa to install a solar power generation system at an airport in a move to combat air pollution; the move is sweeter as the nation also announced its electrification plan which is heavily relying on Renewable energy to power its houses.
Beating all other African nations, a 500 KW solar power installation was launched at Kenya's Mombasa's Moi International airport. According to Kenya Civil Aviation Authority chief Gilbert Kibe, the solar system will reduce the airport's emission and dependence on fuel.
As reported earlier by Iamrenew, the ground-mounted 500kW solar power generation facility which was launched on last Thursday at Moi International Airport will help reduce at least 1,300 tonnes of carbon emissions (CO2) through providing pre-conditioned air and compatible electricity that runs on solar energy to aircraft during ground operations.
The solar project will also have savings on electricity hence efficient operations at the airport. Currently, planes use their auxiliary power unit (APU) powered by jet fuel or airport ground power units (GPU) fueled by diesel to run onboard systems and cooling before departing for the next flight.
"It is not only a transformative development in Kenya's aviation sector – and of the continent – but also an inspiring model of how such change can best be accomplished", said Dr. Olumuyiwa Benard Aliu, president of the Council of the International Civil Aviation Organization (ICAO).
The solar project is a pilot in the country and is funded by the European Union. It is dubbed as a Capacity Building for Carbon Dioxide Mitigation from International Aviation.
The initiative is slated to be repeated in twelve other African Countries and another Two of the Caribbean region.
Kenya's 2022 universal electrification goal bets on off-grid solar
The renewable push is in line with its National Electrification Strategy called KNES. Recently, Government of Kenya, together with the World Bank, presented a roadmap to universal energy access in Kenya by 2022. The plan underlines the importance of off-grid solar installations in reaching that goal. The investment opportunities for the coming five years are around US$14.8 billion.
Kenyan Ministry added that till date, 6.9 million people have been connected to the grid – or around three-quarters of the population. The new plan sets out a plan for connecting the remaining 650,000 households in 14 off-grid counties.
"Tremendous achievement in scaling up connectivity has been made over the last few years. Total access to electricity now stands at 75%. However, there was a need to come up with a new National Electrification Strategy to deal with the challenges of bringing the entire country under electrification in an economically viable manner," said Charles Keter, Cabinet Secretary, Ministry of Energy.
The government has cited the importance of off-grid solar installations and will rely heavily on renewable energy to achieve this goal. A statement made by the World Bank further says that the electrification strategy will make use of a geospatial tool, which will allow national and county policymakers to make informed decisions about the requirements for both grid and off-grid investments.
"The World Bank is committed to helping Kenya extend modern, affordable, reliable and clean energy services to all its citizens,'' said World Bank Country Director, Felipe Jaramillo. "Currently, the Bank is financing electrification under the ongoing Kenya Electricity Modernization Project (KEMP) and Kenya Off-grid Solar Access Project (KOSAP) which targets to connect 235,000 and 1.3 million new beneficiaries, respectively."
The off-grid solar installations make economical sense too as grid expansion into low-income rural areas was found to be economically unviable. BloombergNEF calculates that energy from solar home systems costs around $1.5/kWh and if sourced from microgrids, would be $0.29-0.77/kWh. The report goes on to claim that the costs of electricity after a new connection would be $1/kWh, hence higher than the costs of energy if a microgrid is deployed.
Kenya also launched the Electricity Sector Investment Prospectus, which maps investment opportunities over the next five years. The instrument considers power generation, transmission, distribution, off-grid electrification, mini-grids and solar systems for homes and institutions. Overall, it finds that the country offers $14.8 billion in energy investment opportunities.
(Visited 339 times, 1 visits today)