Fury In Oil Sector As IEA Shocks With Net Zero Report
The International Energy Agency(IEA) has always been seen as sympathetic to the cause of fossil fuels. In that context, its latest report on getting to net zero by 2050 has made possibly the most dramatic shift for the agency founded in 1974. The erstwhile supporters in the oil sector are not happy at all.
The report, called  " Net Zero By 2050- A Roadmap For the Global Energy Sector" has certainly had its moment, and its repurcussions are still being heard, perhaps even more loudly than May 17, when it was launched.
For the International Energy Agency (IEA), long seen as more sympathetic to the oil lobby as compared to say, the renewables lobby, seemed to have done a sharp turn. Consider some of the key recommendations, to ensure the world limited warming to   1.5 degree, or net zero by 2050, the speed, and extent of actions being taken right now needed to be accelerated. Massively.  From coal plants that still see a future beyond 2050, to oil firms that have made voluntary 'pledges' to reduce emissions even as they continue to extract and supply oil, the details were a jolt.  The new temperature target of 1.5 degrees Celsius or 2.7 degrees Fahrenheit, is also more ambitious than the 2 degree Celsius target set in the Paris climate accord in December 2015.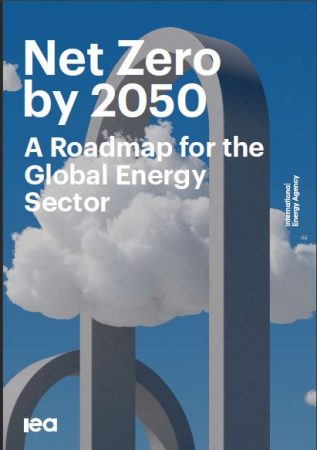 Coming to the 'roadmap' ,consider the recommendation to stop funding new coal power capacity, starting now. Thus, the recommendation to phase out coal power in advanced economies by 2030, and in other economies by 2035 to 2040 at most. That is certainly part of almost no one's plans or pledges, especially the largest emitters, be it the US, China, or India. China in fact, with a 2060 net zero target, is still adding on coal power, and 2021 consumption of coal is already 15 percent over 2020.
The second big shock was the prescription to stop further investment in oil and gas discovery and drilling.  That's a huge shock to the trillion dollar oil and gas industry still in private hands.
Finally, the headline grabber that follows from the above. That the world must stop selling combustion engine based vehicles by 2035.  Keep in mind that the most optimistic projections currently for achieving even 50 percent electric vehicle sales worldwide are for 2035. So effectively, the IEA is asking industry to move twice as fast, in a 14 year period.
There were other interesting observations to see too.
By 2030 the world must install the equivalent of the current largest solar park — every day. Or the need to triple the rate of energy efficiency improvements as compared to the past two decades.
 While welcoming existing pledges being made by countries, the report points to a serious issue. None of these pledges are binding, or even close to it. and even with current pledges, there will be an extra  22 billion tons of carbon dioxide emissions worldwide in 2050. So no net zero.
The agency predicts that following up on its recommendations could take energy investments to $5 trillion by 2030, adding 0.4 percentage points to annual global growth. Thirty million jobs would be created, though 5 million would be lost. And by 2030, global GDP could be 4 percent higher than it would be if the world economy continued on its current path.
The naysayers make some good arguments too, in calling the roadmap a road to nowhere.  On EV's for instance, to get to the 2035 figure, EV share will need to move from 5 percent currently to 60 percent.  Technologies still in prototype or
demonstration phase
would need to ramp up without fail.
Areas like battery storage, that are needed desperately to be cheaper to make Solar and wind at a massive scale work, are still evolving.
Investment  on electricity transmission and distribution grids, would need to more than triple  from now through 2030.  Even as funding issues and losses cripple some of the largest grids , especially in the developing world.  India itself has a distribution system steeped in losses close to $15 billion, even as raising prices to recover has been almost impossible. The number of public charging points for electric vehicles would soar from around 1 million today to 40 million in 2030, requiring investments of almost $90 billion in 2030.
The IEA report admits that the new technologies could lead to new competition for critical materials such as copper, cobalt, manganese and rare earth metals, use of which would grow almost sevenfold between 2020 and 2030 on the net zero pathway. The materials are used for climate-friendly energy devices such as batteries.
As Fatih Birol, the IEA head says, "This creates substantial new opportunities for mining companies. It also creates new energy security concerns, including price volatility and additional costs for transitions, if supply cannot keep up with burgeoning demand."
Energy efficiency is supposed to pay a key role taking global energy demand to around 8 percent lower than today by 2050. But it will be serving an economy more than twice as big and a population with an additional 2 billion people.
The report makes no mention of a technology that exists, and is providing over 10 percent of global electricity. Nuclear power. In fact, despite its relatively clean overall record, and its zero emission status once started, this willful ignorance of nuclear power, and all the improved technologies that are making it even safer and better, is testament to the pressures even an agency lie the IEA faces from strong anti-nuclear lobbies. With over 50 countries using nuclear power, and many still adding on nuclear power stations right upto 2035 for now, it appears clear that nuclear has to actually shoulder a large part of the load from shutting coal plants, without any acknowledgement. That is plain silly.
Countries like Saudi Arabia and Russia, where oil firms are virtually state owned,  have warned of oil prices going to $200 a barrel, well before 2035, if these proposals are acted upon.  Even though these countries stand to benefit, according to another set of doomsayers . Perhaps even apparent beneficiaries like Russia and Saudi realise that beyond a point, very oil prices will simply destroy demand, creating unrest in too many places for there to be a net benefit to even the largest producers.
For private oil producers protesting most loudly, the report, coming as it does after some setbacks last week, simply points to the fact that their promises are ringing hollow for too many people who matter.  Making pledges without disturbing the existing status quo too much is playing to vested interests. Betting on technologies of the future like carbon capture and storage to meet their pledges, is even worse.
(Visited 230 times, 1 visits today)