Falling Costs sees Japanese Coal Giant Invest in Renewables
Japan's Marubeni Corp has decided to diversify its energy portfolio with investments in renewables, driven by the faster than expected drop in clean energy costs.
Japan's largest independent power producer, the Marubeni Corp. never expected the prices of clean energy to drop as low as they have. The trading house for which coal makes up for a quarter of its power generation plans to seize the falling prices of renewable energy and will be looking to expand its clean energy portfolio in the next 5 years. Masumi Kakinoki, CEO, Power Business and Plant Group, confirmed in an interview last week.
"No one thought the cost of renewable energy would drop this much. There have been breakthroughs in energy technologies all over the industry," he said.
According to Kakinoki, the company plans to add 1 GW of renewable capacity by 2023. The falling cost of renewables has strengthened the business case for shifting away from coal. Marubeni said in September it will cut its coal-fired power generation capacity to about 1.5 gigawatts by 2030 from roughly 3 gigawatts as part of its efforts to tackle climate change. The company also said it will double the share of clean energy to 20 percent of its total power generation capacity by 2023."As a general principle, Marubeni will no longer enter into any new coal-fired power generation business," the Tokyo-based company said in a statement at the time.
The trading house plans to reduce its coal capacity by selling projects or not extending existing contracts. However, as of now, the company has declined to comment on which ventures are being considered for sale.
Marubeni, which is active in 25 countries including Japan and has about 12.2 gigawatts of capacity, still has two new coal-fired projects in the process of beginning operation abroad. The much contested Nghi Son 2 in Vietnam and Cirebon Expansion in Indonesia, both expected to begin operation by 2022. The company is also considering supplying new gas-fired power plants in Asia, Kakinoki said. "We want to expand our service to procuring gas, beyond just being in charge of power generation," he said, with Vietnam, Bangladesh, and Myanmar seen as potential markets.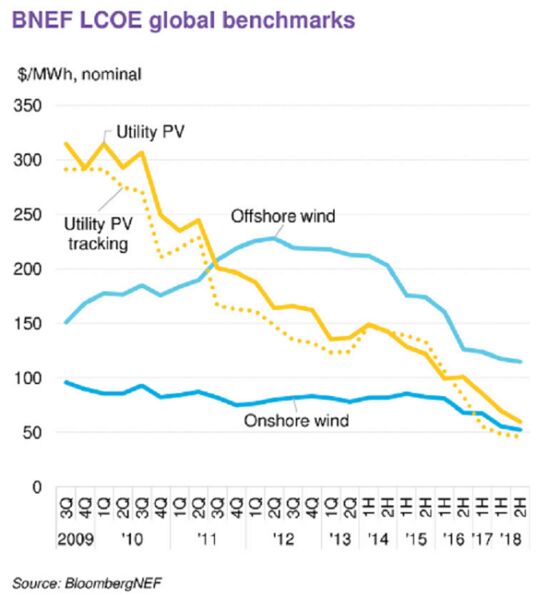 The plunging cost of renewables has been so drastic that for the first time last year, developing countries added more clean power capacity than fossil fuel generation, according to a Bloomberg report. The cost of solar power generation has plunged 53 percent from the first half of 2015 while that of onshore wind dropped 39 percent, according to BNEF.
(Visited 160 times, 1 visits today)