Bhadla Solar Park hit after Massive Storm in Rajasthan
Udaipur Railway Station After the Storm
After a massive storm on April 17 that hit parts of Northern India including Rajasthan and other neighboring states, we have confirmation of significant damage to the Bhadla Solar Park, besides rooftop installations at the Udaipur Railway station
Risks to Solar Installations from natural causes are an ever present one, and something most firms try to hedge against by way of quality of construction, insurance and a prayer perhaps. At Bhadla Solar Park none of these seem to have worked in the massive storm that struck, leaving behind a significant trail of damage and questions.
The park, which has an existing installed capacity of over 1500 MW, is one of the  largest solar parks in India, spread over a total area of 10,000 acres (40 sq.km) in Bhadla, Jodhpur district, of  Rajasthan, India. The park was slated to have a capacity of 2,255 MW. The park gained extra prominence when it witnessed one of the lowest bids for tariff of Rs 2.44 per kWh, still the lowest in India. the bid was made by ACME, which also confirmed commissioning 200MW of capacity back in September last year.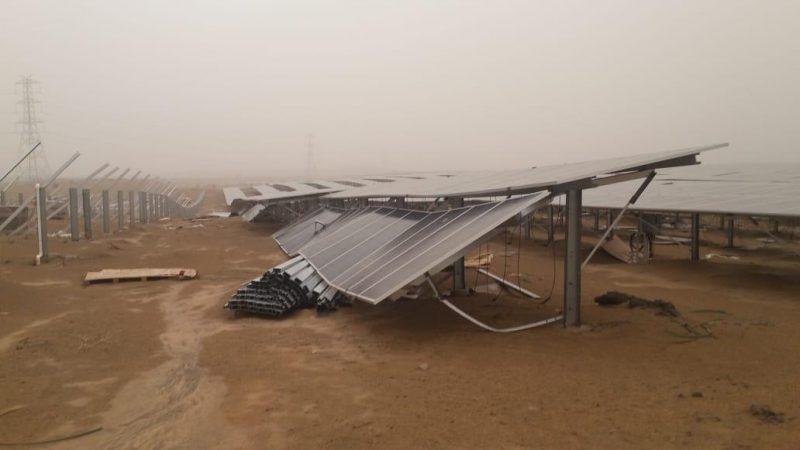 The park has a who's who of developers, from Acme to SB Energy, Azure Energy and Adani Energy and Renew Power.
The storm has reportedly damaged a large number of solar panels, due to wind speeds as high as 130kmph, recorded at the site. The storm caused widespread damage across states, with over 50 fatalities and damage to other infrastructure too
In fact, Udaipur's  Solar Powered railway Station has suffered too, as these pictures make clear.
For the developers involved, it will be a tough task to arrive at the reasons for the damage, fix it as soon as possible, and find out ways to avoid these occurrences in the future.  While the area has always been prone to sandstorms and extremely high temperatures, damage from these storms was provided for in the design and specifications, according to an EPC contractor we spoke to. Speaking on condition of anonymity, the contractor claimed that while specifications is one thing, factors like undulating terrain, or even the slightest mistake in construction, can get massively exaggerated in case of the type of wind speeds that were experienced last week.
Either way, its a time for reflection and repair for some of India's top developers now.
(Visited 816 times, 1 visits today)