The Green Hydrogen Economy Will Need To Nurse India's Water Economy Too
As India bets big on Green Hydrogen, with the National Green Hydrogen Mission initiating multiple efforts to ramp up production, it's a good time to ensure that mistakes are not made at the beginning. And by far the biggest risk that barely finds mention is the risk of the impact on water resources in the water stressed country.
AVAADA Group Joins Hands with Tata Steel SEZ for Green Ammonia Plant in Odisha
Green Hydrogen, which needs pure water for electrolysis, is now viewed by governments and energy companies as a viable alternative to the traditional fossil fuel-based energy industries. As per a recent report by the Hydrogen Council, 680 large-scale hydrogen project proposals have been announced around the world, totaling US$240 billion in direct investment between now and 2030 – an increase of 50% since November 2021 alone. That number is likely to touch half a trillion dollars by 2025, as plans elsewhere, including in India, are firmed up for more investments,
Akin to other countries looking at hydrogen for a sustainable future, India considers Green hydrogen essential achieve energy security. So much so that the country has set a long term target of replacing fossil fuel imports completely with green hydrogen, by 2047. This has been enshrined in the country's newly launched National Green Hydrogen Mission, which envisages a complete ecosystem of production, including equipment.
However, the dependency of hydrogen production on high-quality water means there is a need to plan for the water required judiciously, as some of India's most industrialised states are also water stressed already.
Future of Hydrogen in India
The National Hydrogen Mission was announced in the Budget Speech of FY 2021-22 to produce hydrogen from green energy sources. India is ramping up its renewable energy transition to achieve its target of generating 500GW from RE by 2030.
The Government of India (GOI) further endorsed its Green Hydrogen stance. The GOI allocated a fund of Rs 17,490 crore, unwavering support to its Green Hydrogen Mission for India. The fund will be used for a special PLI (Performance Linked Incentive) scheme for manufacturing a base for electrolysers and other related equipment for green hydrogen manufacturing in India.
According to a report by TERI, in 2020, India's hydrogen demand stood at 6 million Tons (MT) per year.
While a lot depends on lowering the cost of green hydrogen to US$ 1 per kg by 2030, solving the water challenge is also essential to meet tht goal sustainably.
Hydrogen and Related Projects in India
The government has remained at the forefront in promoting hydrogen Research, Development & Technology Demonstration projects for hydrogen, such as hydrogen fuel-based two-wheelers, developed and demonstrated by Banaras Hindu University. Hydrogen fuel-based three-wheelers are also demonstrated by Banaras Hindu University, IIT Delhi, and Mahindra & Mahindra.
IROAF has called for proposals to develop a hydrogen fuel cell-based hybrid power train to convert the 700 HP diesel-hydraulic locomotives operating on the Kalka-Shimla narrow-gauge stretch in Himachal Pradesh. The energy conglomerate NTPC is allocating 5 GW of its 60 GW renewable capacity for green hydrogen and ammonia.
IOCL patented Hydrogen Spiked Compressed Natural Gas (H-CNG) technology, while AHODS (Advanced Hydrogen On Demand System) Technologies signed an agreement with IOCL to commercialize hydrogen technology called "Hydrogen on Demand".
PM also laid the foundation stone for the Green Hydrogen Mobility Project in Leh, as well as the Kawas Green Hydrogen Blending with Natural Gas project in Gujarat. The latter is India's first green hydrogen blending project, which aims to reduce the amount of natural gas consumed.
Private Push
The government endorsement of hydrogen has also become a catalyst for more and more firms to explore the possibility of commercialising the future fuel. Indian behemoths like Adani Group and Reliance Industries Ltd. are seeking newer technologies to make electrolyzers towards their efforts to get a headstart on producing low-cost green hydrogen in the country.
Globally, Mainstream Energy announced the launch of a generator that can run on Hydrogen and Ammonia. Other firms like Ohmium have already started making electrolysers in India.
Pure Water – A Bone of Contention
Producing hydrogen from renewable resources involves the electrolysis of water. An electric charge splits water molecules into hydrogen and oxygen. Now, the problem is that generating the required power usually means building factories in areas where industry, agriculture and households are already heavily competing for the resource when the requirement is not small for hydrogen either.
According to the Australian government's National Hydrogen Roadmap, it takes nine to 10 litres of water to create one kg of hydrogen. However, that only accounts for the final stage – the stoichiometric process. Getting to that point requires a larger amount of water, while more is needed to keep the electrolyser cool. That's a lot of water. As per GHD, the number is in the range of 60-95 L/kg of hydrogen. Another estimate calculated the future hydrogen market of 2.3 Gt, requiring 20.5 Gt, corresponding to 20.5 billion metric cubes of sweet water (pure water).
One of the factors affecting the requirement is the raw water quality. For instance, higher salinity and other contaminants result in higher water requirements. Hence, the pure water. On the other hand, recovery of water from blowdown, brine, and other waste streams could significantly reduce raw water intake while also addressing the potential environmental challenge of industrial wastewater management. Even purifying water to the level required will increase the carbon footprint or energy requirement for the overall process.
While the estimates on how much water is needed to make green hydrogen may vary, it is safe to say that it is problematic for a country like India which faces acute shortages of water in summer. Claiming 18 per cent of the world's population, the country shares just 4 per cent of the world's water resources – making it one of the most water-stressed countries in the world – as per a World Bank report.
What Others Are Doing?
Water scarcity has already shown challenges to the green hydrogen revolution. Kallis Energy cancelled the development of a 6-gigawatt green hydrogen facility in South Australia in May this year due to a lack of water. The concern hovers over other large projects such as well. So, how are they planning to tackle it?
Water desalination is mostly the saviour. The Australian hydrogen production for export and domestic use could generate more than $50 billion in 2050, requiring about 225 billion litres (gigalitres) of water. Desalination seems to be the only viable solution for feeding such a mammoth requirement.
The water-scarce Saudi Arabia intends to use desalination to remove salt from seawater to produce green hydrogen and drinking water at its planned NEOM city on the Red Sea.
A report by WEF shows a visible trend among the countries with a significant increase in water withdrawal to transition to hydrogen. These countries are either desert countries with little annual precipitation, such as Qatar, Israel, Kuwait or Bahrain, or small island states, such as Singapore, Trinidad and Tobago or Malta, which would also struggle due to limited freshwater reservoirs.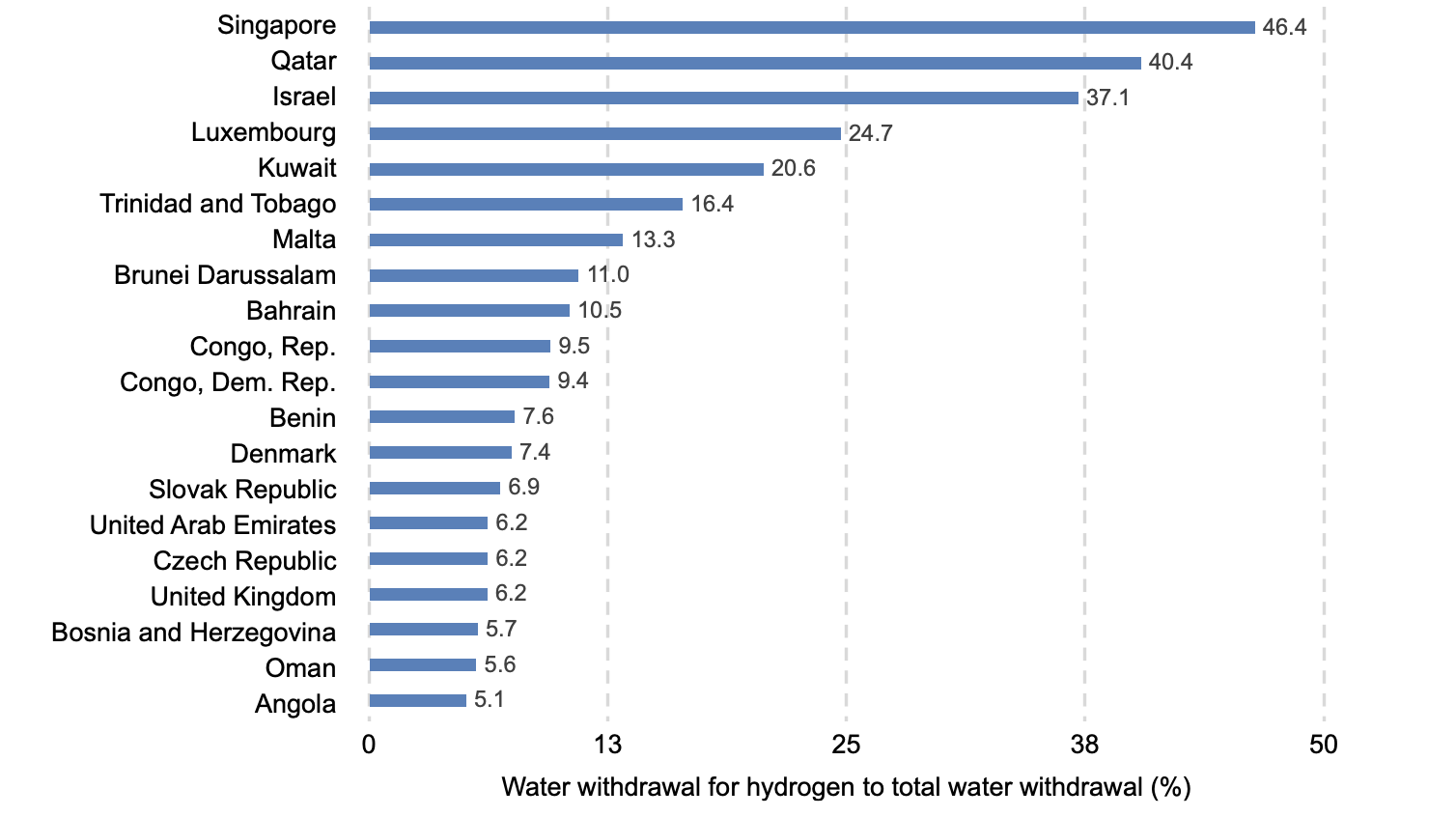 Countries like Singapore and Qatar would need considerably more water – by over 40 per cent. Thus, it is highly unlikely that these states will produce their hydrogen, they will rely on imported hydrogen. This will allow them to capture water produced from the reconversion of hydrogen back into energy, either via combustion or fuel-cell technology, and then reuse this high-purity water locally.
What is Way Forward for India
Keep in mind that India is in the middle of the largest global effort to deliver tap water to households presently. This laudable effort however, is only likely to place more stress on water resources, unless a strong circular economy for conservation, resuse and recycling is put in place.
The availability of sufficient water streams is critical as it is a valuable and limited resource having multiple application areas. India may start by setting up desalination plants to process wastewater or seawater for electrolysis. This way, it may bring down the cost of hydrogen production, while also avoiding freshwater water shortages and possible water usage conflicts. Recovery of water from waste streams could significantly reduce raw water intake while also addressing the potential environmental challenge of industrial wastewater management. Moreover, freshwater from such desalination plants can also be provided to the local population if the plants are set up in water-scarce regions.
Green hydrogen not only possesses the potential to substantially spur industrial decarbonisation but also promote economic growth for India in the coming decades. The emergence of a green hydrogen economy is critical for India to achieve its net-zero ambitions by 2070 towards sustainability.
(Visited 406 times, 1 visits today)