Government Raises Ethanol Prices for Fuel Blending, Sugar Producers Rejoice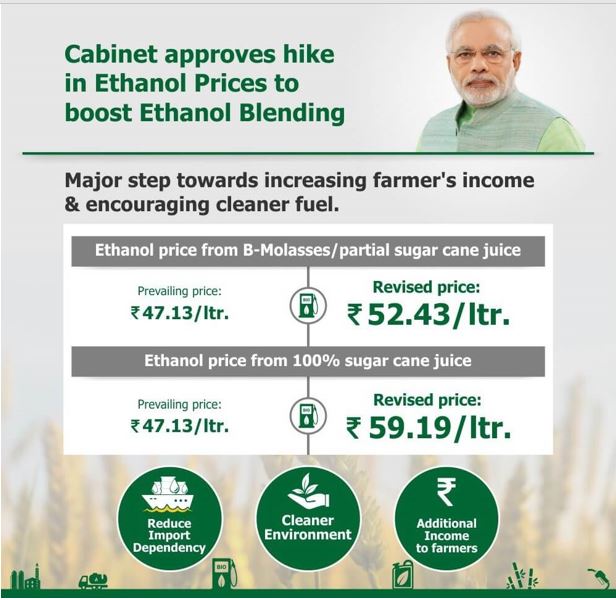 As oil imports cross 4.4 million barrels per day, the Indian government has announced the increase in ethanol prices for blending purposes, which should go some way in pushing fuel blending further. However, a long term solution contains many 'ifs' and will require a lot more effort.
Amidst surging oil prices and an economy guzzling over 4.4 million barrels per day (bpd), the Indian government has announced the increase in ethanol prices which will be manufactured for blending purposes. India plans to triple production of ethanol to 450 crore litres under its ethanol blending program over the next four years.
The government statement says, that "It is the first time an increase in ethanol prices derived out of B molasses, partial sugarcane juice & also for the first time increasing the price for ethanol derived from 100% sugarcane juice to increase the percentage of ethanol blending in Petrol."
Dharmendra Pradhan, Minister of Petroleum & Natural Gas and Skill Development & Entrepreneurship, said, "This intervention will help in reducing import dependence for our energy requirements, provide a boost to agriculture sector and significantly increase farmers income. This will also promote the use of alternative and environment friendly fuel for a cleaner environment."
The government wants to incentivise ethanol output and investments in capacity addition, as the approved increase in ethanol prices for the 2018-19 comes at a crucial time before the sugar season starts in October and ethanol production starts from December. With production shifting to some proportion from sugarcane juice too, the move is even better at a time when the country is facing a stock glut.
The move though targeted for the farmers too may not trickle down to benefit them, as their dependence on millers for fair price leaves a gap in monitoring. The government to avoid this situation fixes up a MSP, ie minimum support price. But the sugar mill owners facing price control for the end product, there have invariably been delays in payments to farmers, leading to an unending cycle of micro managing by government agencies, and we all know how that goes. 
The current season has seen a surge in output and forecasts for the new season, beginning October, is also expected to see a bumper crop. That has created a problem of plenty, and unpaid cane arrears (read dues to the farmers which stood around 20,000 Crores in June, 2018).
Previously, GOI had hiked the prices of ethanol to 47.13 per litre. These hikes are to encourage sugar industry to take up ethanol production, which could kill not two but four birds with one stone. Farmers could get their arrears, govt can set a reachable  target on mandated blending of up to 10 per cent ethanol in petrol which has been reached to only 4% due to inadequate production of current 141 crore liters and sugar prices would not fall below MSP (currently at Rs 275/quintal, applicable from October, 2018) avoiding another line of subsidy for govt pockets and also reduce Carbon emissions in line with its climatic stand. But, Sugar mills prefer to sell to higher-paying spirit distilleries, where they get a better and quicker deals.
Ethanol produced from C-heavy molasses will continue to earn Rs 43.70 per litre.
The ex-mill price of ethanol derived out of B heavy molasses / partial sugarcane juice to Rs.52.43 per litre (from prevailing price of Rs.47.13 per litre).
The ex-mill price of ethanol derived from 100% sugarcane juice at Rs.59.13 per litre (from prevailing price of Rs.47.13 per litre) for those mills who will divert 100% sugarcane juice for production of ethanol thereby not producing any sugar.
Additionally, GST and transportation charges will also be payable. OMCs have been advised to fix realistic transportation charges so that long distance transportation of ethanol is not disincentivised.
OMCs are advised to prioritise ethanol from 1) 100 % sugarcane juice, 2) B heavy molasses / partial sugarcane juice, 3) C heavy molasses and 4) Damaged Food grains/other sources, in that order.
A molasses

(first molasses)- is an intermediate by-product resulting from first sugar crystal extraction (A sugar), from initial processing at the sugar factory. A molasses contains 80-85% DM. If it has to be stored, it should be inverted in order to prevent crystallization.

B molasses 

(second molasses)- It has approximately the same DM content as A molasses but contains less sugar and does not spontaneously crystallize.

C molasses 

(final molasses, blackstrap molasses, treacle)- is the end by-product of the processing in the sugar factory. It still contains considerable amounts of sucrose (approximately 32 to 42%). C molasses does not crystallize and can be found in liquid or dried form as a commercial feed ingredient. 

*DM-Dry Matter
The global cost of producing ethanol roughly stands to about Rs 23.57/Litre, which translates about Rs 3800 per barrel. India buys per barrel of crude oil at almost Rs 5400. So even if the country could lower its dependence on oil by a small percentage, each barrel may save precious dollars, which it pays for oil before refining and diversify its fuel portfolio.  The price difference for 100% juice to ethanol is because this process produces only ethanol, instead of a mix of sugar and ethanol in the B and C categories. This is a big step for the government, because it allows sugar mills to produce only ethanol as One million metric tons(MMT) of Sugar sacrificed can potentially produce produce 60 crore litres of ethanol.
We can take notes from Brazil that has replaced almost 42 percent of its gasoline needs with sugarcane ethanol – making gasoline the alternative fuel in the country. Brazil is the world's largest sugarcane ethanol producer and uses ethanol as a motor fuel, called gasohol.  In 2015/16, Brazilian ethanol production reached 30.23 billion litres (8 billion gallons). Most of this production was absorbed by the domestic market where it is sold as either pure ethanol fuel or blended with gasoline. Currently, all gasoline sold in Brazil includes a blend of 18 to 27.5 percent ethanol.
Since 2003, Brazil has cut its emissions of carbon dioxide by more than 350 million tons. That's as good for the environment as planting and maintaining 2.5 billion trees for 20 years!
Of course, the biggest challenge for this new equation remains the price of crude, as a steep fall could make it unviable for oil marketing firms to blend the ethanol with fuel.  So if oil was to fall to say, $50 per barrel, blending will definitely not work, creating fresh challenges for the industry. Who knows, the government might just create an 'ethanol' reserve then!
(Visited 874 times, 1 visits today)