India's plastic free pledge for 2022 is a daunting task
Describing the World Environment Day celebrations hosted by India as 'historic', the Chief of the United Nations Environment Program, Erik Solheim announced that India has pledged to eliminate single-use plastics by 2022.  This is truly significant as till recently, the biggest pledges to stop single-use plastics were typically being made with a target of 2025 and beyond.
#India to phase out single-use plastics by 2022
"By announcing that the country will phase out single-use plastics by 2022, India has demonstrated global leadership and it's now up to other countries to follow India's lead," he said while addressing the gathering during the World Environment Day event held in the capital.  For India 2022 is, of course, significant for being the 75th year of Independence too, thus becoming an automatic target for a host of initiatives.
For the plastics industry in India, that comprises over 30,000 units and employs near 4 million people,this move is just one of many that seem set to disrupt the industry repeatedly over the next few years.  Lofty projections of turnover and exports seem under threat at this stage, and it remains to be seen how the industry adapts.
As per the WHO index India is home to 14 of the 15 most polluted cities in the world, but on a scale that tracks air pollution. However, as a nation we've always been accustomed to reusing and recycling products and knowingly or unknowingly have found multiple usages for single-use plastics. The global impact of single-use plastics nonetheless is wide scale and at present only increasing. The need of the hour being innovation, implementation and adoption of products and techniques that can help phase out single-use plastics and the similar idea has now been incorporated in the Prime Minister's Swachh Bharat Abhiyan.
Addressing the Plenary Session of the World Environment Day 2018 celebrations, PM Modi said that plastic now threatens to become a menace to humanity.
"Plastic pollution is already having a deadly impact on our marine ecosystem. Scientists and fishermen alike have pointed to signs of trouble. These include declining fish catches, warming ocean temperatures, and vanishing habitats," he said adding that "plastic pollution is now entering into our food chain. In fact, microplastics have now even entered basic food like salt, bottled water and tap water." He said that the per capita plastic consumption in India is much lower than in many parts of the world.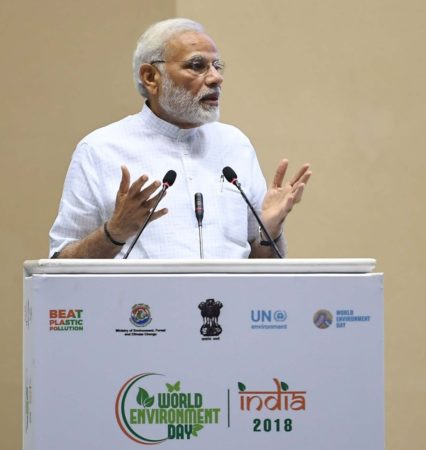 (http://www.pmindia.gov.in)
"As global host of World Environment Day 2018, I reiterate our commitment to sustainable development. Let us all join together to beat plastic pollution and make this planet a better place to live," he added.
Challenges will arise in realisation of the idea to "Beat Plastic Pollution" which would be around wide scale implementation, better and faster reforms in policies etc, but the intent to stop it by 2022 has definitely set a roadmap for all stakeholders.
India Inc has pledged to reduce usage of plastics. Companies across sectors including PepsiCo India, ITC, Nestle India, Maruti Suzuki India, and Hyundai India expressed their commitments to the cause. Ahmed El Sheikh, President & CEO, PepsiCo India, said: "In line with reducing the impact of our packaging on the environment, we are committed to working with partners to leverage new technologies and developing sustainable, environmentally friendly packaging solutions." The company plans to launch to launch its pilot plant for packaging of Lay's and Kurkure using 100% compostable by-products.
By reiterating its desire to improve its plastic waste management systems, India has again demonstrated its global leadership and the impact it plans to have at the global scale. But with its dodgy planning and implementation system the set targets will be achieved, but it remains to be seen if they'll be achieved on time or way past the deadline. Here's how you at an individual level can avoid using single-use plastics.
(Visited 453 times, 1 visits today)