ICC Cricket World Cup 2019: See UK Stadiums Going Green!
While the world is busy rallying for their teams and enjoying the spectacular sporting action during this year's Cricket World Cup, behind the scenes many UK stadiums hosting the games are crushing renewable energy goals.
You can see the crowds roaring from the stands of UK's most gorgeous and iconic stadiums during the World Cup 2019 cricket extravaganza where 10 teams from various countries are playing against each other. The six weeks of cricket will conclude with the final at Lords on Sunday 14 July. While you may enjoy this mega sporting event, let's not forget what these stadiums have done to make this event a bit more greener…
1) Lord's Stadium, London
Referred to as the 'Home of Cricket', this iconic and almost spiritual cricket ground was inaugurated in 1814. Lord's has so far hosted 10 ICC Cricket World Cup fixtures including 5 final matches. This cricket ground can be easily recognized by a look at its pavilion.
As part of its sustainability pledge, the ground moved towards having 100% of its energy sourced from renewables in October 2016. The following year it announced it would get its energy entirely from wind power, using the London Array offshore wind farm in the Thames Estuary, the second largest offshore windfarm in the world. This has helped the ground reduce its carbon footprint by 80%.
Steeped in history with its legendary honours board, Lord's has one foot firmly in the future with its renewable energy policy.
2) The Oval, London
The Oval, with a capacity of 25,000, was established in 1845, the Oval is one of the oldest cricket grounds in the world. The first ever Test match in England was played at this venue. This is the ground where Ashes came started.
The Oval made the switch to renewable energy in April 2018. It signed a deal with Fidelity Energy and French company ENGIE to supply the ground in a deal that will last until 2022. This move will save the ground a total of 6,252 tonnes of CO2 per year.
With a current capacity of 25,500 thanks to the magnificent OCS stand, the Oval will eventually expand to 40,000, making it the largest cricket ground in England.
3) Old Trafford, Manchester
Old Trafford is the busiest venue at the ICC Cricket World Cup 2019. The ground, with a capacity of 19,000, also was the venue for the most-watched fixture in international cricket when India took on Pakistan.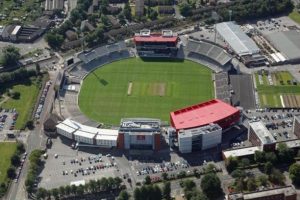 However, Old Trafford also boasts of green credentials. As part of its recent redevelopment, Lancashire committed to incorporating environmentally-friendly features through its architects BDP. Alongside harvesting rainwater and recycling, the ground is powered by solar panels on its roof to power the facilities. The club was awarded gold certification by the Green Tourism Business Scheme (GTBS), particularly for its work on The Point extension on its pavilion.
4) Edgbaston, Birmingham
Established in 1886, the ground is remembered by the cricket fans for 1999 World Cup semi-final between Australia and South Africa as arguably the greatest-ever ODI.
Edgbaston is also home of Warwickshire County Cricket Club, and in December 2018, Warwickshire signed a two year deal with Haven Energy to ensure that its energy comes from renewable sources.
Haven has so far installed solar panels, battery storage and electric vehicle (EV) charging points at its head office, and the company also hopes to install further charge points at its entrances and car. This in order to meet Warwickshire's goal of being the most sustainable cricket ground in England.
5) Trent Bridge, Nottingham
First opened in 1841, Trent Bridge is a truly historic cricket ground. The stadium has a capacity of 17,500 and is hosting five matches at the ICC Cricket World Cup 2019.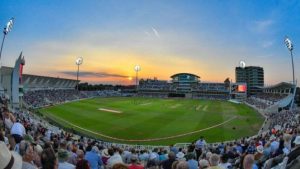 Trent Bridge stadium which is also home Nottinghamshire County Cricket Club came into agreement with Yü Energy in 2018.
The Nottingham-based business energy and water supplier will provide utilities for the next three seasons and will also be partnering on a range of energy-related initiatives, including the provision of mobile phone charging points and future renewable energy solutions for Trent Bridge.
6) Bristol County Ground
The ground, which first opened in 1889, has a capacity of 11,000 and is a perfectly circular area.
Bristol County Ground is the home of Gloucestershire Country Cricket Club, which just before the start of the 2019 County Championship announced a partnership with local company Bristol Energy to supply the ground with 100% renewable energy. The company buys its electricity from renewable generators in the UK and uses the Green Plus plan to replace units used on the national grid with certified green units.
Bristol can claim to be one of the most important sites in English cricket. It is now making its mark on history as an eco-friendly icon.
So there you have it. While we will keep our fingers crossed for India to win the ICC cup, we hope that many more sporting events and venues like these stadiums continue to bat for Renewable Energy and hit a successful six against Global Heating.
(Visited 567 times, 1 visits today)